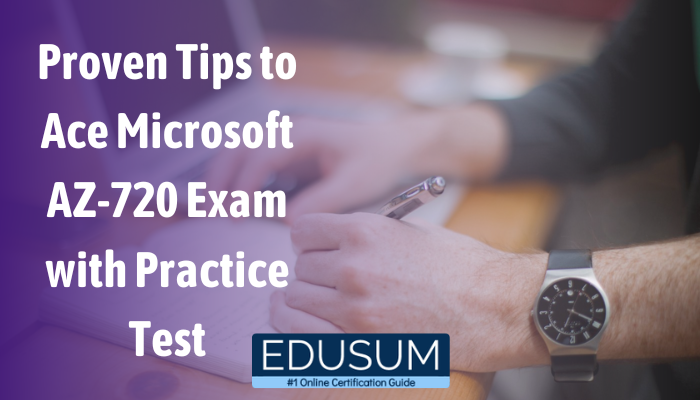 Becoming Azure certified can help you promote your cloud computing career by demonstrating you know the basics of the cloud along with Azure's services, architecture, governance, and management. This guide will shed light on AZ-720: Troubleshooting Microsoft Azure Connectivity certification exam.
About Microsoft AZ-720 Certification
The AZ-720 test concentrates on building abilities and the capacity to identify issues with hybrid environments, business continuity, Platform as a Service (PaaS), access control, Infrastructure as a Service (IaaS), networking, and virtual machine connection utilizing readily accessible technologies.
This certification could be an excellent fit if you troubleshoot hybrid environments comprising issues with virtual networks, Azure Virtual Machines, and connectivity within on-premises and Azure services. You also utilize different tools and technologies to identify and determine root factors for several complicated technical problems.
As an applicant for Microsoft AZ-720 certification, you require experience with networking and hybrid environments, comprising an understanding of routing, permissions, and account limits. You must be able to utilize available tools to diagnose issues related to business continuity, infrastructure as a service (IaaS), platform as a service (PaaS), access control, networking, and virtual machine connectivity.
Microsoft AZ-720 Exam Details
The Microsoft AZ-720 exam that you need to pass consists of 40-60 questions. To pass it successfully, you need to score 700 points or more out of 1000.
The exam is available in English, Japanese, Chinese (Simplified), Korean, German, French, Spanish, Portuguese (Brazil), Russian, Arabic (Saudi Arabia), Chinese (Traditional), Italian, and Indonesian (Indonesia). And the fee you should pay is $165, and the price can change due to your residence.
Main Topics of Microsoft AZ-720 Exam
The Microsoft AZ-720 certification exam is divided into five broad subjects listed below:
Troubleshoot business continuity issues (5–10%)

Troubleshoot hybrid and cloud connectivity issues (20–25%)

Troubleshoot Platform as a Service issues (5–10%)

Troubleshoot authentication and access control issues (15–20%)

Troubleshoot networks (25–30%)
Proven Tips for Passing the Microsoft AZ-720 Exam
The Microsoft AZ-720 certification exam is a little difficult, and not everyone can pass it on the first try. Here are some proven tips that would help you gain a flying score on the first attempt.
1. Understand the Microsoft AZ-720 Exam Details
As you sit and study for the exam, it is better to understand all the essential information about the exam. Make sure that you are informed of the exam time limit, the number of exam questions you need to answer, and every other minor detail that would help you qualify for the exam. This method will help you answer more Microsoft AZ-720 questions as you study.
2. Go through the Exam Topics in Detail
The exam syllabus topics are the second thing you understand. Read over this list with utmost attention and list down the areas that would be easy for you to master. The list also comprises information about the percentages of every section that would help you prepare correspondingly. Make sure that you mark all the essential topics for you and start the exam preparation with the easy ones.
3. Take Up Training Course
This is the best approach for exam preparation. If you need to be ready for the Microsoft AZ-720 exam, you should take an appropriate training course. Microsoft provides an instructor-led video training course named ''Course AZ-720T00: Azure Support Engineer Troubleshooting Azure Connectivity''. Taking the training course will help you learn difficult topics smoothly.
4. Avail the Best Study Resources and Other Preparation Resources
The Internet is laden with books and resources relevant to the AZ-720 exam. But make sure you choose only the suitable books and resources while preparing for this Microsoft certification exam. This means that you should look forward to AZ-720 study guides written by experienced professionals. You can also explore various blogs, articles, manuals, and other materials that can be readily downloaded.
5. Use Microsoft AZ-720 Practice Tests
Assessing your understanding and skills concerning the AZ-720 exam topics is essential for your preparation. If you want to gauge your level of preparation, you should perform practice tests. They can help you quickly recognize your weak areas and take time to work on them before the actual exam. Microsoft provides links to samples of practice questions that you can answer to gauge your skill set. You will have to explore some trustworthy online platforms if you want to perform a practice test. Edusum is one of the leading platforms for exploring authentic and updated online practice tests. Practice tests on the edusum website will be delivered in a simulated exam environment to help you sharpen your exam-taking skills.
6. Join Microsoft AZ-720 Exam Discussion Forums
Through online communities and forums, people can share experiences, difficulties, and tips on studying for and passing the Microsoft AZ-720 exam. The first thing is to ensure you choose a community that will deliver more help with your learning. You can determine whether you are engaged in a helpful community or forum by reviewing the posts and comments, and a suitable platform shares practice tests and other valuable learning materials.
Benefits of AZ-720 Practice Test
Applicants can benefit greatly by practicing and studying for exams through practice tests. Some of these benefits are-
Lets you become familiar with the actual exam environment.

Enhances your time management skills.

Helps you overcome exam anxiety or boosts performance.

Helps you come up with a better preparation approach to finish your Microsoft AZ-720 exam on time with the best possible accuracy.

Let you evaluate yourself throughout the preparation journey.

Works as a revision tool.
Conclusion
Now that you know how you can pass the Microsoft AZ-720 exam. Follow the above-mentioned tips to excel in your Troubleshooting Microsoft Azure Connectivity certification exam. When you're always learning, you'll keep improving and growing in your career. The most crucial factor is dedication and consistency. Also, make the most out of all available resources and practice tests from the edusum website, and you will be successful.