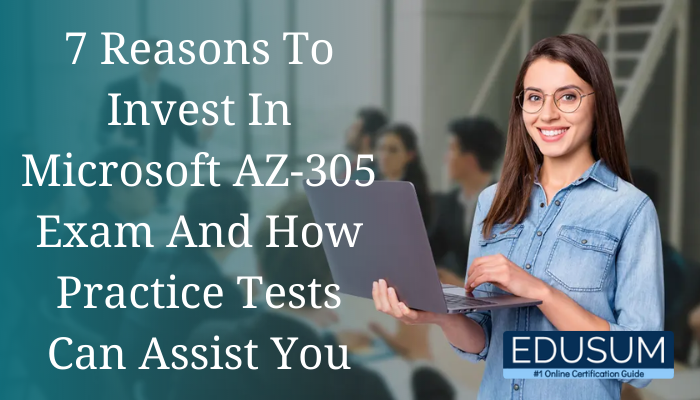 Microsoft Certified: Azure Solutions Architect Expert certification investigates your solutions skills that are required to operate applications in Azure, secure transfer, and more. This Microsoft certification will help you acquire all the essential technical skills for Microsoft Azure solution architect certification. You need to pass the Microsoft AZ-305 exam to get this Microsoft certification.
The certification helps exam takers sharpen skills in advanced IT operations, such as virtualization, identity, networking, security, business continuity, disaster recovery, data platforms, and governance.
Who Should Obtain Microsoft AZ-305 Certification?
People who have knowledge and experience in IT operations, along with virtualization, networking, identity, security, disaster recovery, business continuity, data platforms, and governance.

Applicants also have experience designing and architecting solutions.
Prime Reasons to Invest in Microsoft AZ-305 Exam
To excel in your career as an Azure Solutions Architect Expert, try passing exam AZ-305 certification exam and notice that it ends up being a turning point for you. This exam is deemed the best way to affirm your presence in the organization. So, is the Microsoft AZ-305 exam worth the investment? Let's explore.
1. Microsoft Certification Is Respected
Every organization or professional possessing Microsoft certification in any field will tell you how much they respect this Microsoft Certified - Azure Solutions Architect Expert certification.
Microsoft certifications certainly demand time and effort to achieve them. So, your certifications would be considered with excellent respect and acknowledgment, which is to become a significant plus to your IT career in general.
2. AZ-305 Exam Guarantees You Finally Get Hold of MCT Certification
Passing the Microsoft AZ-305 exam would confirm that you are completely qualified to become certified. It's worth investing time and money in the Microsoft AZ-305 exam preparation because it provides you the skill to make a crucial effort in the career path.
3. Exam Validates Your Skills As Microsoft Azure Cloud Solutions Architect
Every exam is designed to evaluate the understanding of the issues learned and a way to know whether applicants have mastered the essential concepts and how they will use them in their working place. By passing the Microsoft AZ-305 exam, you apparently show what you've understood and practiced and will provide excellent results in designing and implementing Azure solutions architecture.
4. Passing AZ-305 Exam Proves Your Commitment
The Microsoft AZ-305 exam is a difficult exam, and passing it is sufficient proof that you are a committed person. It also suggests that you are determined and devoted to the work; thus, you'll get a benefit as every organization would consider you as being able to go the extra mile and provide the needed solution and even more!
5. Excellent Career Opportunities
Every individual who achieves a certification strives to get a higher-level position or sharpen their skills in due course, or, maybe, Career transformation. Getting a job with Microsoft Certified: Azure Solutions Architect Expert certification, which comes after passing the Microsoft AZ-305 exam, is much simpler and more effective. Therefore, you won't battle in your quest to discover a job that matches the cultivated skills and certifications added to your resume. After passing the Microsoft AZ-305 exam, you can apply for such job positions as a Solution Architect, Cloud Architect, Technical Architect, Azure Architect, and Data Architect.
6. Increase Your Earning Potential
Employers reward professionals who have achieved the Microsoft Certified - Azure Solutions Architect Expert certification by passing the AZ-305 exam with multiple perks and benefits as such professionals are known to fetch value to the organization they work for. With Microsoft Certified - Azure Solutions Architect Expert certification, its holders will qualify to receive a salary of $155,000 per year. This apparently shows why the Microsoft AZ-305 exam is worth every minute and penny spent on it!
7. Provides an Opportunity to Join Microsoft Events and Seminars
Microsoft organizes seminars and events to aid in creating and marketing unique services and products. Once you do pass the Microsoft AZ-05 exam, you get a ticket to partake in Microsoft's seminars and events as you're acknowledged as a member of its widespread community. Opportunities like these have many perks like participating in assurance and proof of Microsoft solutions. You can also participate in competitions that are planned to enhance inventions and innovations in the IT field.
How to Prepare for Microsoft AZ-305 Certification Exam?
Thorough preparation is the only way an individual can pass the exam. Therefore, you need to give your best to pass the Microsoft AZ-305 exam receive Microsoft Certified - Azure Solutions Architect Expert certification. For effective preparation, keep on reading:
1. Understand the Microsoft AZ-305 Syllabus Topics
Understanding the AZ-305 exam syllabus is important, and you can avail it from the official website. Go through the complete syllabus before beginning the preparation. Topics that are included during the exam are listed below:
Design identity, governance, and monitoring solutions (25-30%)

Design data storage solutions (25-30%)

Design business continuity solutions (10-15%)

Design infrastructure solutions (25-30%)
2. Obtain Appropriate Study Resources
Study resources can be obtained from a lot of platforms. Microsoft itself provides many learning resources to prepare for the AZ-305 certification exam. Yet, do not rely on one study resource alone; try to learn from different study resources.
3. Online Communities
You can join different related online communities to make preparation fun. In these communities, you can share your experiences and learn from other member's experiences. By doing so, you will perceive how you should go about your preparation and how hard you should work.
4. Enroll in an Official Training Course
If you can spend some money on the Microsoft AZ-305 exam preparation and have some extra time, the official Microsoft training course is a great option. Specialists in the field conduct this training course, and it will boost your preparation and learning.
5. Use AZ-305 Practice Test
You can perform the AZ-305 practice tests on different websites. Edusum.com is a greatly accepted provider of updated practice tests that suit even exam takers on a budget. Performing AZ-305 practice tests will help you in becoming familiar with the exam structure and type of questions. Practice tests are vital for preparation as they let you find knowledge gaps and make your preparation more productive.
Conclusion
Microsoft AZ-305 exam is an excellent way to get a better job. It will unlock doors to brilliant career opportunities for you and help you accomplish your goals much faster. It is vital that you prepare well and put in 100% effort in this Microsoft exam preparation.