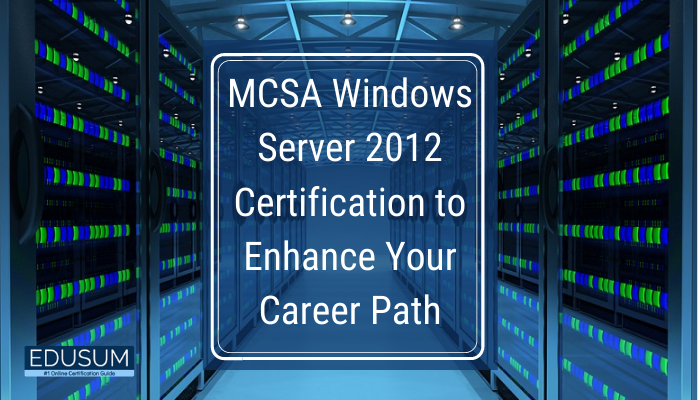 Microsoft Corporation has built an exceptional reputation for many years as the foremost provider of top IT certifications. Microsoft certifications are indeed among the best, and achieving them draws with instant rewards. But earning the reputable Microsoft certification is never going to be a cakewalk.
An Overview of Microsoft Certification Paths
MCSE certifications are the top-level Microsoft certifications, which offer sure rewards as soon as you achieve them. Considered as the expert-level certifications, these certifications are best for professionals aspiring to prove their skills to produce solutions on the basis of various technologies.
Next on the line is MCSD certification, which is designed for developers. Then comes the associate MCSA certifications. MTA certification completes the distinct list of Microsoft certifications and is best suited to the individuals looking to acquire a basic understanding of fundamental IT concepts.
MCSA certifications work as the prerequisite for higher-level Microsoft certifications such as the MCSE as specified earlier, and MCSD. This article is an updated guide to MCSA: Windows Server 2012 certification. Earning this certification is worth the time and effort due to the plenty of advantages it fetches.
MCSA: Windows Server 2012 Certification Details
MCSA: Windows Server 2012 certification certifies your knowledge and skill to execute different tasks related to Windows Server 2012. By achieving this certification, you qualify to undertake multiple jobs such as a computer systems administrator or computer network specialist. Above all, earning MCSA: Windows Server 2012 certification paves your way towards earning the most distinguished MCSE: Core Infrastructure certification.
You need to pass three relevant exams to earn the MCSA: Windows Server 2012 certification:
However, there is another way to get MCSA: Windows Server 2012 certification: if you already own a certification that is related to Windows Server 2000, Windows Server 2003, Windows XP, or Windows Server 2008, you can pass exam 70-417 and upgrade your skills to the entirely new level. Below we will explain the details of these exams.
Microsoft 70-410 exam addresses installing and configuring Windows Server 2012. This covers working with Active Directory and other core services.
Microsoft 70-411 exam is focused on how to manage the server operating system to a number of computers. Network access, group management, and general security are among the keys included in the exam.
Microsoft 70-412 exam is all about configuring the operating system. Identity analysis, fault tolerance, and many other exceptional functions are outlined in this distinct exam.
Microsoft 70-417 exam is an updated exam that confirms your skill and expertise to conduct a broad array of activities concerning the Windows Server 2012 infrastructure. This exam certifies your skills concerning the key features and functions of the Windows Server 2012 R2. The purpose of this exam is to measure if you have the appropriate knowledge essential for achieving MCSA: Windows Server 2012 certification.
Microsoft 70-417 exam syllabus includes the topics of 70-410, 70-411, and 70-412 exams. Before looking at the exam objectives, it is helpful to understand the role played by each of the three stand-alone exams to your MCSA Windows Server 2012 certification journey.
Microsoft 70-410, 70-411, and 70-412 exams should be taken in the order. You can only qualify for the higher-level exams if you have completed them in their proper order.
How to Prepare for the MCSA Windows Server 2012 Certification Exam?
The updates in Microsoft certifications have been quite like a whirlwind. Retirement of old exams, replacement of new exams, then retirement of new exams again―all these may have given you some anticipations whether becoming Microsoft certified is still worth it.
Well, the answer is YES! Even with the non-stop changes, Microsoft certifications are still on a high platform when it comes to their prestige in the IT field. Microsoft is one of IT's most distinguished organizations with lots of certification paths to pick from.
Though it might sound that the certification syllabus is too wide and too difficult, you can make it simple! As long as you have a precise study schedule and the appropriate study resources, you will not go off-track. And prepare for one exam at a time! Keep in mind that you need to pass the first exam, which is 70-410, before you can break through the second and third exams.
When preparing for the Microsoft exams, begin with the training courses developed by Microsoft. There are self-paced and instructor-led courses to select from, which include all the topics for each exam. Moreover, physical study resources like books are also important resources you should invest in. All the MCSA Windows Server 2012 exams come with exam refs and study guides that entirely elaborate on the main areas.
After understanding all the required information, don't forget to take practice tests. You can start with the official Microsoft practice exams, and then increase your practice with other online sources. Performing practice tests help you to strengthen your weak areas as well as strengthen your basic skills.
Conclusion
With the Microsoft certifications, not even the ever-evolving nature of the IT field is going to stop you from reaching your goals.
And with the development of role-based certifications, Microsoft is absolutely ready to adopt the changes in the field. If you ever thought of taking your career to new heights, then earning MCSA: Windows Server 2012 certification is a big step towards bringing that goal to accomplishment. It's your time to shine, so make every opportunity count.