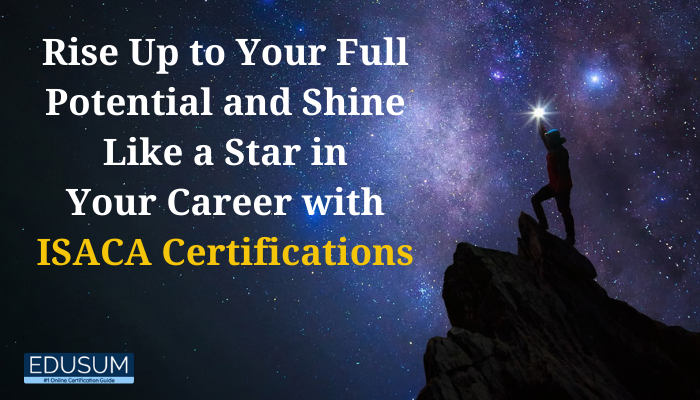 ISACA certifications are globally recognized and highly in-demand throughout the world. According to a survey, all four CISA, CISM, CGEIT and CRISC- ISACA certifications are among the top ten highest paying IT certifications.
With globalization cybersecurity threats increases; the need for skilled IT and cybersecurity professionals is rising as the day passes in both the government and private sector. According to a study, there will be over 3.5 million IT security job openings that will be vacant in 2021. For IT professionals who want to sharpen their skills and interested in making a career in the IT security and cybersecurity field, ISACA certifications are the best option.
What is ISACA and ISACA Certifications?
ISACA, which is known as the Information Systems Audit and Control Association, is an internationally recognized leader in cybersecurity certification. ISACA administers certification exams that prove to satisfy the need for skilled information security managers.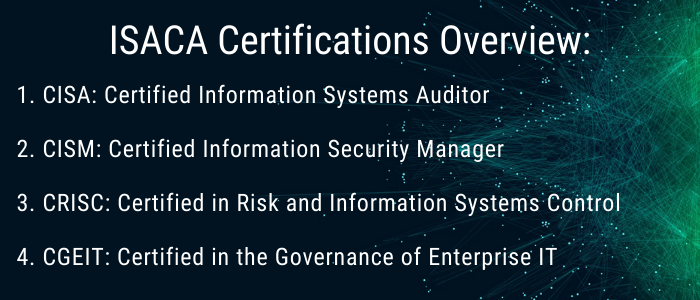 ISACA CISA and ISACA CISM certification are designed to diverse professionals and provide different abilities for persons on various career paths. The CISA certification is geared towards IT auditors, whereas the CISM certification is indented for information risk managers and IT security managers.
ISACA's Certified Information Systems Auditor – CISA certification is considered one of the most sought-after IT certifications for system auditor. The CISA is a globally recognized certification for security, assurance, and IS audit control professionals.
Certified Information Security Manager or CISM certification is an intermediate level or higher certifications for those seeking the best in information risk management and information security management. Earning ISACA CISM certification carries off career growth because the Certified Information Security Manager (CISM) is classified as one of the most sought-after IT certifications with the highest wages.
CGEIT - Certified in the Governance of Enterprise certification has become the foremost certification for those responsible for managing and governing the governance of IT in a vast organization. ISACA has confirmed that CGEIT certified professionals are having 77% senior positions as audit directors, IT directors, CEOs, CIOs, and CISOs globally.
How ISACA Certifications can Make Your Career Shine
ISACA Certifications Elevates Your Career Skills, Job Profile, and Pay Scale:
At the present time, ISACA certification is a perfect assessment to evaluate the professional's abilities to cope with the challenges of the modern enterprise. The professionals who achieve this certification help their organization to understand the business risk and technical understanding to carry out suitable IS controls. Those who earn ISACA certification are among the highest paid IT professionals.
ISACA certification Represents a Symbol of Knowledge and Skills as a Security Professional:
ISACA certified professionals have a profound understanding of IT risk and how it can impact the entire organization. Such professionals can generate effective plans to reduce risk. They develop an essential prospect and can fix the norms for the enterprise.
Organizations Want to Hire ISACA Certified Professionals:
ISACA certified professionals bring skills in the organization by confirming a valuable standard of proficiency, pursuing continuing education, and corresponding with the standard of ethical conduct as represented by ISACA.
Not only ISACA certifications universally respected and trusted by organizations, but ISACA certified professionals are included in one amongst the highest paid IT professionals.