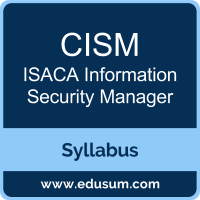 Use this quick start guide to collect all the information about ISACA CISM Certification exam. This study guide provides a list of objectives and resources that will help you prepare for items on the ISACA Information Security Manager (CISM) exam. The Sample Questions will help you identify the type and difficulty level of the questions and the Practice Exams will make you familiar with the format and environment of an exam. You should refer this guide carefully before attempting your actual ISACA Certified Information Security Manager (CISM) certification exam.
The ISACA CISM certification is mainly targeted to those candidates who want to build their career in IT Security domain. The ISACA Certified Information Security Manager (CISM) exam verifies that the candidate possesses the fundamental knowledge and proven skills in the area of ISACA Information Security Manager.
ISACA CISM Exam Summary:
ISACA Information Security Manager Exam Syllabus Topics:
Topic

Details

Weights

Information Security Governance

A. Enterprise Governance

Organizational Culture

Legal, Regulatory, and Contractual Requirements

Organizational Structures, Roles, and Responsibilities

B. Information Security Strategy

Information Security Strategy Development

Information Governance Frameworks and Standards

Strategic Planning (e.g., budgets, resources, business case).

17%

Information Security Risk Management

A. Information Security Risk Assessment

Emerging Risk and Threat Landscape

Vulnerability and Control Deficiency Analysis

Risk Assessment and Analysis

B. Information Security Risk Response

Risk Treatment / Risk Response Options

Risk and Control Ownership

Risk Monitoring and Reporting

20%

Information Security Program

A. Information Security Program Development

Information Security Program Resources (e.g., people, tools, technologies)

Information Asset Identification and Classification

Industry Standards and Frameworks for Information Security

Information Security Policies, Procedures, and Guidelines

Information Security Program Metrics

B. Information Security Program Management

Information Security Control Design and Selection

Information Security Control Implementation and Integrations

Information Security Control Testing and Evaluation

Information Security Awareness and Training/td>

Management of External Services (e.g., providers, suppliers, third parties, fourth parties)

Information Security Program Communications and Reporting

33%

Incident Management

A. Incident Management Readiness

Incident Response Plan

Business Impact Analysis (BIA)

Business Continuity Plan (BCP)

Disaster Recovery Plan (DRP)

Incident Classification/Categorization

Incident Management Training, Testing, and Evaluation

B. Incident Management Operations

Incident Management Tools and Techniques

Incident Investigation and Evaluation

Incident Containment Methods

Incident Response Communications (e.g., reporting, notification, escalation)

Incident Eradication and Recovery

Post-incident Review Practices

30%
To ensure success in ISACA Information Security Manager certification exam, we recommend authorized training course, practice test and hands-on experience to prepare for ISACA Information Security Manager (CISM) exam.