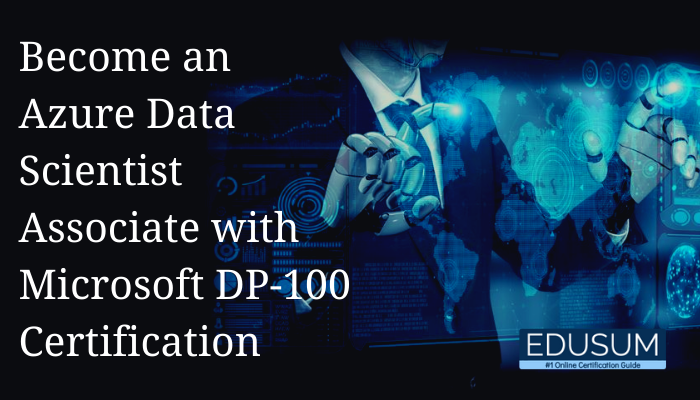 IT professionals, intending to develop their career in Data Science and require recognition, may track down Microsoft Certified - Azure Data Scientist Associate Exam DP-100 as their best option to begin with. This certification confirms the skill of an IT professional to work with the tools and applications used in Data Science and relevant fields under the Azure platform.
Microsoft Certified - Azure Data Scientist Associate certification also allows the IT professionals to function mainly as Azure Data Scientist who can deploy machine learning workloads on the Azure platform. This involves designing and deploying an effective and flawless working environment to execute data experiments; train, manage and upgrade machine learning models.
Microsoft DP-100 Exam Details
Microsoft Certified: Azure Data Scientist Associate - DP-100 exam held online and can be taken from anywhere around the world. To sit for the exam, applicants require to register and schedule the exam by paying $165.
DP-100 Exam Structure
Time: 2 Hours

Number of questions: 40-60 questions

Question Type: Different types such as short answers, case study, mark review, multiple-choice, drag, and drop, etc.
Applicants will see various formats of questions in the exam. Some questions are multiple choice-based where only one option is right and some with more than one option right. Many questions will be there where you can drag the options and choose the correct one, and in a few questions, you will have to drag an opportunity to fill a space. The exam marking is done on a scale of 100 to 1000, where the minimum passing marks are 700.
Topics Covered in DP-100 Exam
This certification expects aspiring candidates to have the skill in implementing data science and machine learning to execute and run machine learning workloads on Azure. This exam evaluates the skill of the applicants to accomplish a set of various chores in the field of data science and machine learning. These topics and their weightage in the exam are given below:-
Manage Azure resources for machine learning (25-30%)

Run experiments and train models (20-25%)

Deploy and operationalize machine learning solutions (35-40%)

Implement responsible machine learning (5-10%)
How to Prepare for the DP-100 Exam?
Microsoft Azure Data Scientist Associate DP-100 certification exam can be passed by following the best methods. Some steps are discussed below to help in preparation for the exam.
After determining to take the DP-100 exam, visit the official page of the Microsoft DP-100 Certification. All the essential details about the DP-100 exam, its objectives, and training resources are listed on the official page.

The following step is to get familiar with the syllabus topics. Understand the exam objectives thoroughly.

Obtain fundamental knowledge of data science technology and predictive analytics models.

Practicing is an essential aspect of passing out the Microsoft certification exams. Register yourself in a training course offered by Microsoft before appearing for the real exam. Free online courses or paid online courses can help to get penetrations into the exam pattern of DP-100.

DP-100 practice tests are an excellent tool in determining where you still need to work and need further knowledge to pass the exam. It is also helpful in improving time management skills.

The official page provides various links to resources and study materials that might help prepare for the DP-100 exam. Take help of them to understand the topics in depth.

Explore the various videos and articles available on the internet considering this certification.

Join a lab session to acquire hands-on experience with various tools.
Benefits of Passing DP-100 Exam and Earning Microsoft Certified - Azure Data Scientist Associate Certification:
Learn to run machine learning models by developing distinct work spaces.

Execute and run Machine learning workloads on Azure, practicing Machine Learning Service

Skills to plan and create a working environment for data science workloads on Azure, run data experiments, and predictive train models

AI/ML Data Scientist jobs are trending and give salaries in the IT industry than expected

IT market surges with jobs for people who work with data and utilize Microsoft Azure Services. Applicants having Microsoft certification certifications in their resumes have a considerable benefit.

Microsoft certification is proof to let others know that your skills have been confirmed.
Microsoft Certified Azure Data Scientist Associate Salary
As stated by PayScale, the average salary of certified data scientists with Microsoft Azure skills is approximately $ 95,102 per year. This salary can reach US $ 110,000 per year as your skills and experience grow.
Time to Build Your Career
In this comprehensive article, you will know about the Microsoft DP-100 certification exam, its syllabus and structure, preparatory steps, benefits, and more. This certification is designed for professionals who understand data science methods and are intensely involved in becoming an Azure Certified Data Scientist Associate. So if you want to be one, pass the DP-100 exam with a flying score!