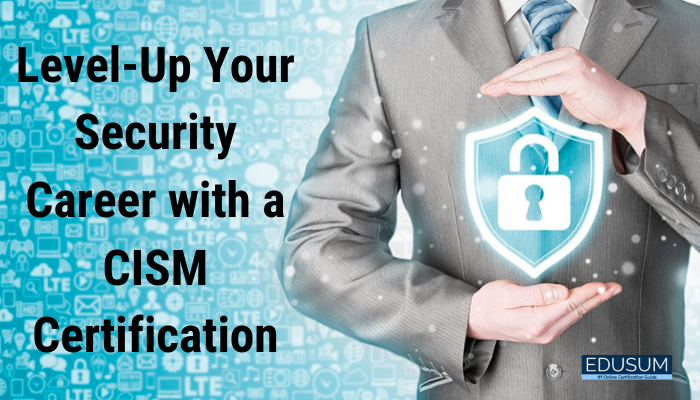 The Certified Information Security Manager (CISM) is one of the topmost certifications for professionals in the IT Security field.
CISM was introduced by the Information Systems Audit and Control Association (ISACA) in the year 2003. Thereby, ISACA has set a standard for the powerful IT security of enterprises.
Professionals who are responsible for the management, development, and governance of information security systems in organizations go for a CISM Certification. CISM Certification gives them an advantage in their everyday metier of instilling the top security practices into their enterprise applications.
CISM is, without doubt, one of the most significant, beneficial, and important IT Security certifications today.
Why CISM Certification?
With the security threats growing as the days pass by, data breaches and hacks have become very common. Has it become an outrageous trend and the worst part? – The rate of this malpractice won't decelerate.
To treat this, the same-old generalized, obsolete methods are not enough to give a persistent protection system. The industry requires certified and qualified professionals to combat these threats and to fill in the breach. And that is why organizations don't mind proposing lavish pay packages to the certified IT Security Professionals.
CISM Certification carries power to differentiate you as a professional with information security proficiency along with robust command in the development and management of information security programs. The certification, apart from positioning you right in the network of best group, strengthens your value delivery to companies, and so, your career growth.
Reasons to Get the CISM Certification
For IT Security professionals who are seeking to upgrade their skill set in the field, CISM is a perfect choice.
Professionals learn a good amount of theoretical facts about Information Security in the preparation CISM exam. There is a huge scope for life-altering personal learning and growth. With the promptly growing and fierce competition in the job market, a certified professional always gets the advantage. Today, professionals in all fields must require it. Without a trustworthy certification like CISM, you are just a different System Security Officer caught in a stalemate job with the same traditional skill sets, desk, and salary for the past five years!
The industry requires efficient resources with excellent system security management skills.
Hiring managers are on a constant search of System Security Design professionals. The best fit for them is someone who can analyze and design a security plan, secure the organization from any theft or cybercrime, and simultaneously, manage a large team of auditors, security admins, and analysts without effort!
In a nutshell, enterprises need adept system security management professionals who have extensive, confirmed expertise in the field.
The CISM confirms an aspirant's skill level and knowledge across these four domains:
Information Security Governance

Information Risk Management

Information Security Program Development and Management

Information Security Incident Management
Who Should Earn the CISM Certification?
CISM is designed for those Information Security professionals who are skilled, confident, and competent enough to manage an organization's IT Security. It requires everything right from addressing various security threats to promoting security strategies and application methods.
So, any organization will obviously expect you to undertake security assessments & audits, product assessments, budget meetings, facilitate technical and non-technical stakeholders, interdepartmental discussions, policy & compliance analyses, and different operational and leadership activities.
The CISM certification is for you if you are experienced in the IT security field, looking to qualify and hold one of the following designations:
Security Auditor

Security Analyst

Security Specialist

Security Engineer
If you already own the expected work experience, you can enroll for a CISM Certification right away and get your hands on these top-level jobs:
IT Security Manager

Information Security Manager

Systems/ Applications Security Manager
This is what comes after you are CISM certified. These top-level jobs should perfectly be your next target after a few years:
Information Security is a field where there are definitely no limits to your development as a cutting-edge professional.
Pre-requisites for CISM Certification
ISACA has set specific standards and regulations for experienced IT security professionals who want to apply for CISM Certification Exam.
The applicant must agree to ISACA's Code of Professional Ethics

He or she must own at least five years of security experience, conform with the organization's persistent education policy, and provide a written application.

Some blends of education and experience may be replaced for the experience requirement.
The validity of the CISM Certification
The CISM certification is valid for three years.
Should you wish to maintain the certification, you must pay a yearly maintenance fee of $45 if you are a Member of ISACA. The same for a non-ISACA Member certification holder is $85.
ISACA also asks the certification holders to get at least 120 continuing professional education (CPE) credits. And professionals have to receive those over the term of three years to maintain the certification. So, professionals must earn at least 20 CPEs every year.
As the demand for information security management professionals increases, the globally-recognized CISM certification is a measure well-received by enterprise and government firms.