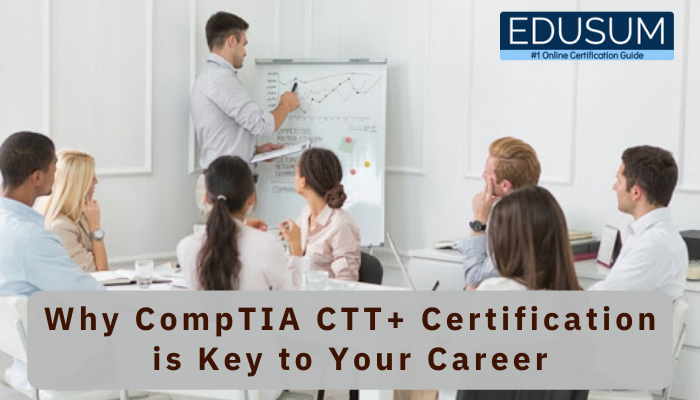 CompTIA CTT+ (Certified Technical Trainer) certification confirms brilliance in teaching. It is a vendor-neutral certification that refers to training professionals across industries. CompTIA CTT+ acknowledges the mastery of basic instructor skills, comprising presentation, communication, preparation, facilitation, and assessment in both a classroom and virtual classroom environment.
Certified instructors are vital for candidates who want to undergo top-notch training, and organizations agree that Certified Technical Trainer is an asset to the organization. Microsoft, Adobe, Dell, Novell, and Ricoh recommend that their trainers pass the CompTIA CTT+ exam. The Training Associates also ask for CompTIA CTT+ certification when employing trainers.
CompTIA CTT+ is a cross-industry certification appropriate for anyone wanting to prove that they are a skilled technical trainer. The CompTIA CTT+ exam is based on a set of objectives aimed to gauge the core knowledge and skills that qualified instructors must confirm to finish an instructional assignment accurately in a physical classroom and a virtual classroom environment.
Essential Information about CompTIA CTT+ Certifications
To obtain CompTIA CTT+ certification, applicants need to pass two exams:
One of the exams is CTT+ Essentials (Exam Code: TK0 – 201)

and other is applicants have the option to select anyone from either CTT+ Classroom Trainer (Exam Code: TK0 – 202) or CTT+ Virtual Classroom Trainer (Exam code: TK0 – 203).
CompTIA CTT+ TK0 – 201 is a multiple-choice exam.

The exam will be a Computer Based Test (CBT).

The duration of the exam is 90 minutes.

CompTIA TK0-201 exam comprises of 95 questions.

You need to obtain a score of 655 out of 900 to pass the exam.

CompTIA CTT+ exam cost is $338.
Jobs for CompTIA CTT+ Certified Professionals
CompTIA CTT+ Certified professionals have the option to select among a variety of job opportunities available for them. Followings are some such job roles where CTT+ certified professionals might be take up:
Corporate Trainer

Microsoft Certified Trainer

Certified Technical Trainer

Lead Technical Trainer

Adobe Certified Instructor
Reasons to Earn CompTIA CTT+ Certification
There are many advantages to earning the CompTIA Certified Technical Trainer certification, such as:
Authenticate essential teaching abilities like preparing, presenting, facilitating, and assessing a training session to an industry-accepted standard.

Accomplish a standard for excellence in training. CompTIA CTT+ is broadly accepted by leading organizations such as Microsoft, Adobe, Verizon, IBM, Cisco, and Dell as a requirement of instruction skills.

Empower you to lead a virtual or in-person classroom with conviction through equal evaluation of teaching skills.

Learn and practice new approaches, tools, and methods to training and instruction.

Acquire persistent credentialing as it does not need to be renewed and does not need Continuing Education.
Essential Tips and Tricks for Passing CompTIA CTT+ TK0-201 Exam
Applicants of the CTT+ TK0-201 exam are recommended to create an excellent study plan and make sure they follow it strictly.
Applicants for this exam should ensure they perform CompTIA CTT+ practice tests use them in their preparation to assure they get used to the questions likely to be asked in the real exam.

Applicants should carry out their studies in a contributory surrounding free from disturbances.

CompTIA CTT Plus exam takers should allocate enough time to their studies to ensure that they read broadly to cover all the exam topics.

Before the exam starts, applicants should eat a nice meal, ideally proteins and not carbohydrates, to ascertain they have sufficient energy to take them through the exam session.

Students are advised to tackle the easy questions first to boost their confidence and save time. This will also help reduce panic feelings that may arise when trying to attempt more challenging questions.

Applicants should not waste a lot of time on one question. They should proceed ahead and answer the questions which are easier for them.
3 Core Reasons to Take Practice Tests
1. Acquaint Yourself with the Exam Environment
Practice tests are based on actual exams format, so you will become acquainted with the exam structure and questions likely to be asked in the TK0-201 exam. Becoming familiar with the question types and structure of the exam will help you tackle questions more swiftly and accurately.
2. Figure out Your Strong and Weak Areas
Practice tests will help you identify your strong and weak areas of exam topics. If you repeatedly tend to get a specific type of question wrong on your practice test, you will know what to go back and study. You'll also make out which topics you've mastered, so you can save time by not contributing any more time to those topics.
3. CompTIA CTT+ Practice Tests Alleviate Anxiety and Stress
Practice tests will make you feel more ready for the exam day and reduce stress concerning the exam. You won't waste time on instructions you already know or making efforts to figure out the structure and syllabus of the exam if you are already well-versed with it from taking practice tests. Performing a lot of many practice tests will also give you the experience to know if you require to move more quickly through questions or on the path with your current speed.
Passing the CompTIA CTT+ exam not only gives you monetary benefits in your career but also smoothens your journey as a Technical Trainer. Applicants for the TK0-201 exam need to be committed and study intensively to finish the exam successfully. Hope the tips and information given in this article are also a great help for you. Good Luck!!