Nowadays, cybersecurity threats are rising with increasing frequency. Moreover, network intrusions, several other types of attacks, such as high-level persistent threats, are being propelled by malicious hackers day by day. Software threats and vulnerabilities have serious security consequences for individuals, along with organizations. When creating a software application, software developers unintentionally leave loopholes in source code that becomes a hidden channel and vulnerability for the hackers. Earning CSSLP certification will guarantee software developers own the most contemporary knowledge of how to retain their software safe.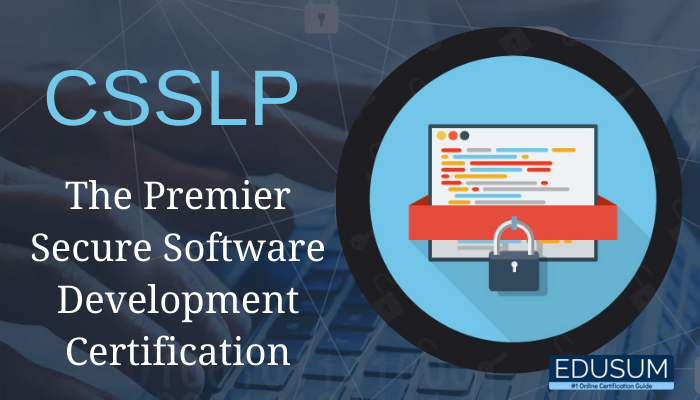 Certified Secure Software Lifecycle Professional - CSSLP is a certification offered by (ISC)2 that addresses application security within the software development lifecycle (SDLC).
CSSLP certification was launched in 2008, is created for project managers, programmers, IT analysts, or engineers engaged in the SDLC. The CSSLP certification's syllabus emphasis on application vulnerabilities, risk, and compliance problems that emerge during the application development lifecycle and is split into eight domains.
CSSLP Certification Domains
Secure Software Concepts

Secure Software Requirements

Secure Software Architecture and Design

Secure Software Implementation

Secure Software Testing

Secure Software Lifecycle Management

Secure Software Deployment, Operations, Maintenance

Secure Software Supply Chain
CSSLP is meant to help applicants prove their expertise in application security, be qualified to manage application vulnerabilities better, and prove a working knowledge of application security.
To be eligible for the CSSLP exam, applicants must have at least four years of the aggregate paid full-time work experience in at least one of the eight CSSLP domains. Alternatively, applicants can replace a year of this work experience with a four-year college degree in a related field.
The CSSLP exam takes four hours to complete and consists of 175 multiple-choice questions. Candidate needs to achieve a minimum of 700 out of 1000 points to pass the exam and gain the certification.
Prerequisites for CSSLP Certification
Applicants must have a minimum of 4 years cumulative, paid full-time Software Development Lifecycle (SDLC) professional work experience in 1 or more of the 8 domains of the (ISC)2 CSSLP CBK, or 3 years of cumulative remunerated full-time SDLC professional work experience in 1 or more of the 8 domains of the CSSLP CBK with a 4-year degree conducive a Baccalaureate, or local equivalent in Computer Science, Information Technology (IT) or related fields.
A candidate that doesn't have the required experience to become a CSSLP may become an Associate of (ISC)² by successfully passing the CSSLP examination. The Associate of (ISC)² will then have five years to earn the four years required experience
Who Should Obtain a CSSLP Certification?
Software Architect

Software Engineer

Penetration Tester

Application Security Specialist

Project Manager

Security Manager

IT Director/Manager

Quality Assurance Tester
Recertification
Once you have passed your CSSLP exam and are certified, you need to recertify every three years by:
Earning 30 continuing professional education (CPE) credits each year.

Paying an Annual Maintenance Fee (AMF).
The Advantages of CSSLP Certification
Many organizations have approved the CSSLP as the preferred certification to fetch one's skill on security in the software development lifecycle. In today's interlinked world, security must be incorporated within each stage of the software lifecycle. The CSSLP CBK contains the most comprehensive, most extensive bunch of best practices, strategies, and methods to provide a security initiative across all stages of application development, despite methodology.
Looking Forward
Software security is a crucial element of computing today. Although the CSSLP certification is new, the genealogy of the organization has been affirmed for more than 20 years, and the people behind this establishment are confident and will play a definite role in computing for the coming 65 years.