Network+ is a vendor-neutral certification that proves an IT professional's expertise in operating, advancing, troubleshooting, installing and configuring primary computer networks. CompTIA Network+ (N10-007) certification is the entry to a range of in-demand IT certifications.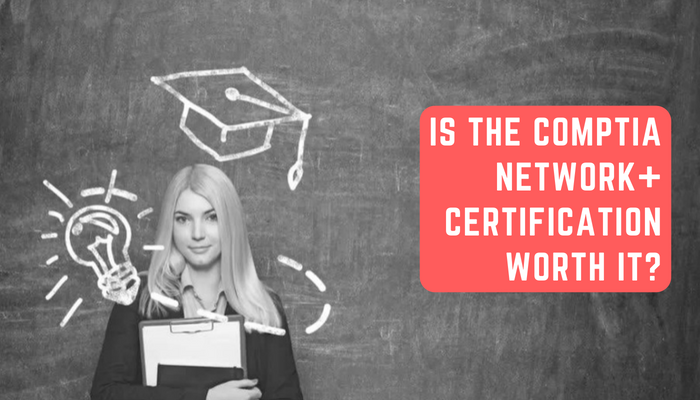 Network+ certification assures that the successful candidate has the mandatory skill sets to manage fundamental network infrastructure and maintain it efficiently by having information of troubleshooting, installing, configuring and operating the infrastructure.
1) DOES THE ORGANIZATION REQUIRE NETWORK+?
If the answer is yes, then obtain the certification. In the private commercial sector, the certification is not a must, but particular employers may require you to have the certification or get it within a set period after hiring you.
Also, remember hiring managers may need to check off the experience, specific skill, and certification provisions when reviewing resumes. Therefore, not having the Network+ certification could disqualify you from a candidate pool. This is not meant to disparage those experts with vital networking, and overall IT experience that a hiring manager should acknowledge and bypass the certification requirement. Each job availability and employer varies.
In the public sector, the government mandated D0DD 8570 asks for CompTIA Network+ (N10-007) and similar certifications to work for specific agencies.
For example, employers and hiring managers all value experience over the certification and stated skills. You may remain the hiring and interview process, but a professional's true colors begin on the job.
However, Network+ certifications do demonstrate an understanding of the exam objectives as stated by CompTIA exams. A person may put in sufficient study time and come to understand networking for the CompTIA Network+ review, but this in no way guarantees the person to become a successful network administrator or technician. Only time will tell.
2) WHO PAYS FOR TRAINING AND THE CERTIFICATION EXAM?
When employers pay, there is no reason to say no. Skeptics may call the certification ineffective, but having the accreditation is better than not having it.
Let's assume you are in between jobs or searching for a better job and must pay you for the certification yourself. John Cesca explained how he self-studied for the CompTIA A+ certification and paid for it on his own. Why did he use the money on the exam? He believed the process was studying and initiative needed to obtain the certification was worth it.
He considered the money used as a worthwhile investment in his future, especially when compared to the higher costs of college courses. John took the problematic independent path to pass the A+ exams. Future posts will contrast and explore how learning methods produce different levels of success.
3) DOES YOUR SKILLS AND EXPERIENCE MATCH THE NETWORK+ PREREQUISITES
Individuals may refer to the Network+, CompTIA A+, and Security+ certifications as entry-level credentials only necessary for those with small to no experience in the information technology field and lack essential networking information. When searching for jobs, you will notice the classification of "entry-level" varies on job descriptions and according to human resource managers.
Entry-level applies to novice IT professionals with 0 to 3 years of job experience.
4) DOES NETWORK+ ALIGN WITH YOUR CAREER GOALS?
If you pursue CompTIA Network+, Security+, A+ at this point, I doubt you mapped out a perfect career path for the next five to ten years. You have an interest in and even a passion for workstations, but I doubt your level of understanding goes beyond fundamental knowledge to the point where you know where your real interests reside.
Only if you foresee yourself pursuing a path as a Network Administrator, then you should reconsider skipping the A+ certification. However, as you'll read in the next section, A+ and Network+ are connected in more ways than you realize.
5) WHAT DOES NETWORK+ COVER IN NETWORKING?
Networking does not allow you to dismiss knowledge of hardware altogether. Critics may decline or step right over the A+ certification calling it worthless for absolute beginners who know nothing. You can deny a beginner type certification or recognize the chance for those newer to IT to receive a complete, software and hardware, view of the fundamentals that even affect the networking side of things.
Networking is all about connecting physical devices together, more often than not, those devices are computers. The hardware, such as Network Interface Cards (NICs) in the computers is needed to allow networking to happen. Knowing how the NICs are executed and how the different networking protocols are configured, the differences between USB and serial devices, etc.. will assist you to get a solid foundation to build the rest of your networking knowledge on.
For a complete understanding of what Network+ addresses in networking, observe Network+ exam objectives below:
Network Technologies

Network Devices

Network Security

Network Media and Topologies

Network Management

Network Tools