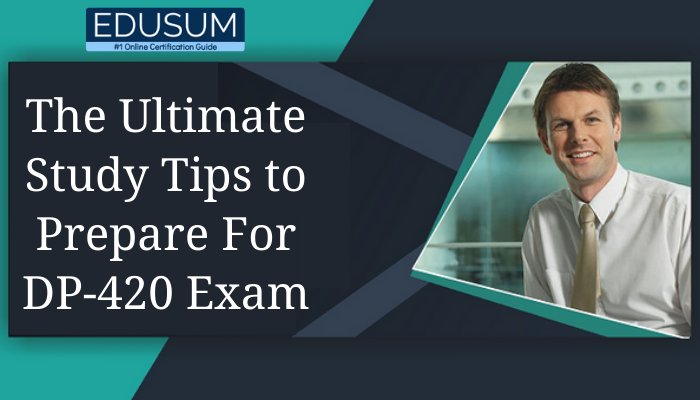 Suppose you are a professional who deals with Azure Cosmos DB to design and implement data models and distributions and knows how to manage and optimize a solution. In that case, the DP-420 exam should be your next step! By passing the Exam DP-420: Designing and Implementing Cloud-Native Applications Using Microsoft Azure Cosmos DB, you will obtain the new Microsoft Certified: Azure Cosmos DB Developer Specialty certification!
Why Obtain the Cosmos DB Certification?
Getting Cosmos DB certified has many benefits:
Organized Learning: New applicants can enhance their Azure knowledge with a quicker, more concise learning approach. Many online resources are accessible to master Azure services' theoretical and practical ideas, along with tutorials, e-books, and courses.

Asset for an Organization: Azure helps you reap the most out of the Azure cloud environment by delivering you a connection between on-premises data centers and the cloud, enabling small and medium-sized organizations (SMBs) to reinforce their infrastructure in the cloud.

Strengthen your DevOps Abilities: DevOps skills qualify you to deliver cloud services such as application design and implementation techniques, cloud monitoring, process automation, and continuous delivery.
Overview of DP-420 Exam
DP-420 exam comprises 40-60 questions that need to be completed in 120 minutes. This exam is conducted in the English language. The examination fee is $165. There are, as such, no official prerequisites to give this exam.
Exam Objectives
Design and implement data models (35–40%)

Design and implement data distribution (5–10%)

Integrate an Azure Cosmos DB solution (5–10%)

Optimize an Azure Cosmos DB solution (15–20%)

Maintain an Azure Cosmos DB solution (25–30%)
Top Tips to Help You Prepare for DP-420 Exam
Earning Microsoft certification to enhance your knowledge and skills will provide you with immense credibility, and this will prove a stamp of approval. So before starting preparations, make sure you're aware of every DP-420 exam detail. The proper preparation path will allow you to pass the DP-420 exam on the first try, exactly what we want. Use the following preparation guide to get through the DP-420 exam:
1. Microsoft Learning Platform
Now that you have decided to take up the Microsoft DP-420 exam, first, visit Microsoft's official website. For the Designing and Implementing Cloud-Native Applications Using Microsoft Azure Cosmos DB exam, you must first go through the most authorized website to get updated information about the exam. You can quickly find the DP-420 webpage, where you go through all the essential information about the exam. From exam details to all the syllabus topics and study, resources can be spotted on the official website itself. Free online course is also available on the Microsoft website itself. Briefly, every detail about the exam can be located there.
2. Enroll in an Instructor-Led Training Course
Make sure you enroll in the instructor-led training on the Microsoft website. Now what's best in this course is that you will see precisely the same modules for the DP-420 exam. Some of the benefits of instructor-led training are the facility to have on-demand classroom training. If you're dealing with so many tasks and fear you might skip one, this will allow you to arrange classes according to your suitability.
3. Forums and Online Communities
This specific step is not compulsory for your DP-420 exam preparation. This step of joining any study group or online community depends on you. At any moment, while studying, you can participate in any online community. But this can always be helpful. Study groups will make sure you can be associated with all other people going through the same journey as yours. You can always ask a question related to a topic you're facing difficulty with. Many people in study groups can also help you understand any query you have about the DP-420 exam.
4. Microsoft DP-420 Practice Test
Attempting practice tests is the last step in preparing for the DP-420 exam. This final step will provide you with a clear perception of your preparedness. Are you ready to gauge your learning? Make sure you attempt DP-420 practice tests only after completing the entire syllabus. Practice tests provided by Edusum.com are created in such a way that it mimics the actual exam environment. Remember, the more you take practice tests, the better you will perform in the actual exam.
5. Tip for the DP-420 Exam Day
At last! The day has finally come. Not to worry. Keep in mind that you've been studying hard and preparing for so long. You're going to get through this successfully. Just remember a few things while acing the exam.
Don't come under any stress. You won't be able to focus on the exam well.
Don't think too much. Feeling nervous is normal, but try to be calm.

Just be calm and composed; you're going to be okay.
Conclusion
Suppose you aspire to advance your career and are inspired to follow your dreams; Microsoft Certified - Azure Cosmos DB Developer Specialty certification will be the smart way to do so. To accomplish this goal, you may need to reform your DP-420 exam preparation strategies in accordance with the most advanced trends so as to result in the utmost output for your efforts.