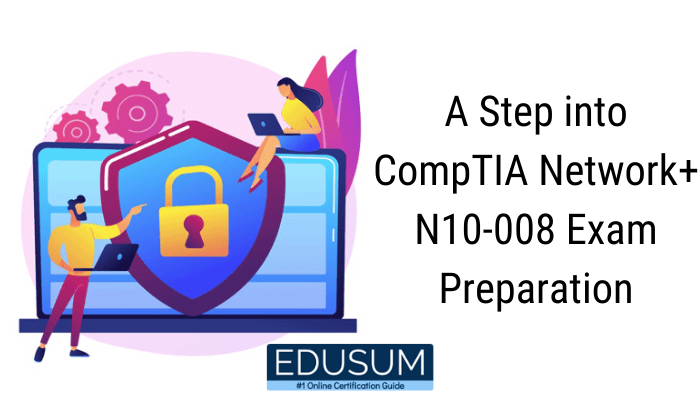 The contemporary world experiences the benefits caused by quickly developing technology. From the analog telephone booth to the modern devices, technology remains to make things easier. Currently, communication can spread around the whole globe within a few seconds over the internet. CompTIA is one of the leading tech organizations that has helped many innovations and is the best vendor for providing IT professionals in their area of expertise. It administers certifications under the Core, Infrastructure, Cybersecurity, and Additional Professional categories, and in this article, we'll discuss the Core ones — CompTIA Network+ N10-008.
CompTIA Network+ N10-008 Certification Overview
The CompTIA Network+ certification can be achieved after passing the N10-008 exam. With a few helpful tips given by Edusum.com, preparation for the Network+ N10-008 exam can be more accessible, and the applicants can pass this CompTIA exam with a flying score.
CompTIA N10-008 Exam Structure and Objectives
When studying for the N10-008 exam, the first thing to do is understand the Network+ N10-008 objectives.
CompTIA Network+ N10-008 Objectives:
Networking Fundamentals - 24%

Network Implementations - 19%

Network Operations - 16%

Network Security - 19%

Network Troubleshooting - 22%
You can get the complete list of syllabus topics from the official website or click here.
CompTIA Network+ N10-008 Exam Structure
Maximum of 90 questions

The questions are presented in multiple-choice (single and multiple responses), performance-based, drag-and-drop formats.

The exam duration is 1 hour 30 minutes.

The passing score is 720 / 900

The test is provided in English, Spanish, German, Japanese, and Portuguese.

Exam registration can be done at the Pearson VUE platform.

The registration fee is $329
CompTIA Network+ N10-008 Exam Preparation Tips
The CompTIA Network+ certification confirms that an IT professional knows both wired and wireless networking. This is regarded as an extremely ranked certification, but it is not easy to achieve. Follow these preparation tips for your success in the N10-008 exam.
1. Draft an Effective Study Plan
To study all the Network+ N10-008 objectives thoroughly, you need to draft an effective study plan. It should be practical. When designing one, you should also consider your work commitments and social responsibilities. It is always intriguing to delay and to even skip specific topics. In short, following your study plan can be a difficulty for most applicants. However, it would help if you committed to your study plan to benefit from it entirely. There is no requirement to have a solid plan and fail to follow it.
2. Allot Sufficient Time For Revision
No matter how busy your schedule is, prioritize your study and designate enough time for revision. Or else, you will not have sufficient time to study appropriately for the N10-008 exam. Candidates should designate at least two to three months for this CompTIA exam preparation. You need to devote a huge of time to your exam preparation exercises until you are convinced that you have incorporated and soak up all the CompTIA Network+ N10-008 Objectives.
3. Use Appropriate Study Resources
There are plenty of CompTIA Network+ certification exam preparation books, guides, practice tests, articles, and communities. Though, not all of them carry updated and authentic information. Moreover, some involve accurate information but are not comprehensive enough to help you perceive the Network+ N10-008 objectives in detail. Before you take any study material, make sure it is reliable and includes complete information.
4. Take Breaks
CompTIA N10-008 exam is not easy and demands a thorough preparation. Often, you might find yourself completely immersed in your preparation and forget that your mind requires you to have a rest. This is one of the significant exam preparation errors that many applicants make. To get the most out of your learning, have breaks between your studies and make sure you have sufficient rest. Your brain works more productively if you take short breaks now and then.
5. Take CompTIA Network+ N10-008 Practice Tests
Practice tests are an excellent way of assessing your overall understanding of the material. When you have learned the Network+ N10-008 objectives and want to know your preparation level, take a CompTIA Network+ N10-008 practice test.
The result of the CompTIA Network+ practice test will demonstrate whether you still need to work on some topics or are ready to take the exam.
Edusum.com provides a CompTIA Network+ N10-008 practice test, enabling the applicant to take the practice test in an exam-like environment. The core purpose of the practice test on this site is to increase your overall understanding of the process at a very affordable price.
6. Engage in an Online Community
Actively engage in an online community where the professionals and exam aspirants exchange their exam preparation experiences and knowledge. With a simple google search, you will come across a long list of forums, online communities, and wikis where the community helps with Network+ certification exam preparation doubts. Before following any group, you should first check its trustworthiness. You should also mark the source of every detail you get from the forum members.
Benefits of CompTIA Network+ N10-008 Certification
Owning a CompTIA certification concerning your area of expertise is a shining star on your resume and a solid proof of your skill. And CompTIA Network+ is one such significant tool that can take your career to the top level. Here are the top reasons for earning this certification.
The CompTIA Network+ N10-008 is a global certification that confirms your advanced networking skills and helps you first impact your potential employer.

It is solid proof that your knowledge has been thoroughly evaluated for any hiring manager, and you understand how network technologies operate.

This certification requires regular renewal. Hence, certification will make you acquainted with the most advanced developments in networking infrastructure and architecture.

Organizations and hiring managers are looking for professionals who have theoretical knowledge and a grasp of resolving real-world problems. CompTIA Network+ certification offers just that, demonstrating you are an expert in carrying out network solutions in an enterprise system.

The number of vacant jobs is constantly increasing, and the applicants must prove their skills in networking. With CompTIA certification, you can easily win over organizations with all it takes to maintain network infrastructure. Therefore, your odds of getting hired rise.

Once you hold such a certification, you become qualified for job positions like a Network Administrator, IS Consultant, or Systems Engineer.

With the CompTIA Network+, your possibilities to work in international organizations are higher, and the annual salary is more attractive. If you check out Payscale.com, you'll notice that the average CompTIA Network+ salary is approximately $66k.
Conclusion
Networking is one of the primary technology areas, and many individuals strive to build a career related to it. Fortunately, this goal is easily achievable due to the different certifications available such as CompTIA Network+. It checks and confirms a brief perception of the network infrastructure, topologies, and security, to name a few domains, and can help you advance your professional path. Start your journey now by passing the N10-008 exam. Good Luck!