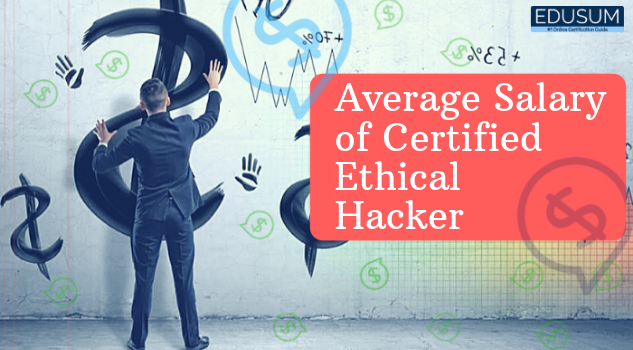 Introduction:
Are you considering a career as an ethical hacker or are you recently qualified with a CEH certification? Perhaps you are considering a career change or looking for a step up the ladder in your security job? Here are some answers to your questions about the many options in your cybersecurity career.
A much-asked question: how much do Certified Ethical hackers earn? The short answer, a lot. More than enough to make up for the cost of getting credentialed.
What is the CEH Certification?
The certified ethical hacker exam supports individuals in the network security discipline of ethical hacking from a vendor-neutral perspective. It shows graduates knowledge of information gathering, carrying out attack exploits, and social engineering techniques.
What makes the latest version of CEH Certification unique is that it focuses on an offensive, rather than a defensive, approach to cybersecurity. New modules for CEH v10 Syllabus cover Vulnerability Analysis, IoT Hacking and Malware Threats.
312-50
CEH Exam Details
Ethical Hacking Job Titles and Career Paths
The CEH certification can be a stepping-stone to a broad range of top-tier positions that need CEH skills, including Information Security Analyst, Homeland Security Specialist, Computer Forensics Analyst, Cyber Security Analyst, Security Engineer, Penetration Tester, Security Auditor, Information Security Manager, Vulnerability Tester, Security Consultant, Network Security Analyst, and Intrusion Detection Analyst, among others.
What is the Salary Range for CEH Certification Jobs?
How much do certified ethical hackers make? The certified decent hacker salary range varies by location, organization, position, and experience. To muddy the waters, the results of various salary surveys often give only an unhelpfully broad range and can be confusing. Let us unpack the data, primarily supplied by Indeed and Payscale, both excellent resources for CEH jobs and to investigate typical pay ranges for qualified, ethical hackers.
Based on years' experience
Entry-level – $50,000 - $100,000 - (0 to 5 years)

Junior – $100,000 - $120,000 - (5 to 10 years)

Senior – $120,000+ - (10 years+)
You can add up to 9% to the high wages if you have passed the CEH exam, and up to 10% if you are a certified penetration tester.
Based on Location
Surveys indicate that decent hacking jobs are paid huge by firms in San Francisco (up to $150 000), and lowest by firms in Minneapolis ($97,000).
California – $103,469

Washington, D.C. – $97,082

New York – $92,606

Virginia – $92,056

Maryland – $93,768
Based on Job Title
Certified ethical hacker job titles may vary even for the same type of role, but specialization – e.g., applications security, networking, or forensics – may give you an edge on your opponents. You do not have to take on a rigidly ethical hacking job to command a high income if you have CEH certification.
Cyber Security Analyst – $48,086 - $118,991 including bonuses

Security Engineer – $56,017 - $132,536 including bonuses

Penetration Tester – $50,845 - $127,714 including bonuses

Information Security Analyst – $48,522 - $107,004including bonuses

Information Security Manager – $73,241 - $153,163 including bonuses

Network Security Analyst – $41,362 - $106,823 including bonuses

Forensics Computer Analyst – $42,684 - $118,616 including bonuses
If you look at the salary range for a particular position, e.g., Penetration Tester, you can work out from the above averages what you can assume to command depending on your level of experience:
Entry-level – $50,855 - (0 to 5 years)
Junior – $50,846 - $127,723 - (5 to 10 years)
Senior – $127,714+ - (10 years+)
Are You the Best Fit for Current Certified Ethical Hacker Jobs?
Besides a CEH qualification, an ethical hacker should have the following skills:
Analytical skills to painstakingly review and analyze large amounts of complex data

Interpersonal and communication skills to convey information to an organization's stakeholders, often in non-technical language.

Problem-solving and logic skills to reverse engineer software and break it down into its parts

Computer language skills to analyze software code and follow processing logic.

Advanced knowledge of programming and networks, security protocols and standard operating systems, exploits and countermeasures, encryption and cryptography techniques, and telecommunications

Patience to keep making repeated attempts to infiltrate a system, much as a black-hat hacker would by, for example, attempting to crack passwords

Software skills to immediately learn how to use new tools and applications, e.g., penetration testing techniques or port scanning tools.

Social engineering and psychological insights to be able to get into the mind of a black-hat hacker.

Conceptual knowledge of cybercrime terminology and common threats
What's Next?
A study says that the Global Security Testing Market accounted for USD3.36 billion in 2016 and was expected to reach USD11.97 billion by 2023.
If you want to jump on the bandwagon, and are new in the cybersecurity game or have a great ambition to become a digital super sleuth, you can get a great idea of your future financial prospects in the industry by doing a browser search on cybersecurity jobs entry-level salary or cybersecurity starting salary.
Are you looking for Online Practice Exam for the EC-Council CEH Certified Ethical Hacker (312-50) exam? Edusum.com is here to help! We have number of comprehensive set of questions to help you prepare for and pass your CEH exam on the first attempt. All CEH Questions on the site are up to date and verified by industry experts.