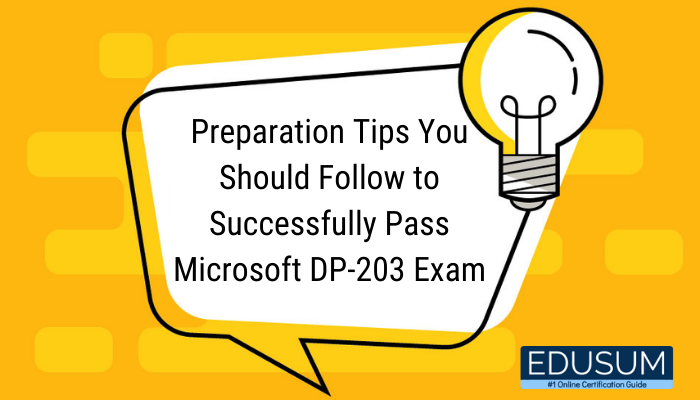 Azure Data Engineer is the most rewarding career profile one can work toward. The individuals armed with the skill sets needed to become Azure Data Engineers are always desired by IT organizations globally. Azure Data Engineers are amongst the highest-paid professionals in software companies, and the market trend demonstrates they immediately receive big paycheques. Though, it is alarming for freshers to begin as Azure Data Engineers. Boost your career by becoming certified, i.e., Microsoft certified Azure Data Engineer. To achieve the certification, applicants need to pass the DP-203 exam.
Who Should Opt For the Microsoft DP-203 Exam?
The primary audience for this certification exam is data architects, data professionals, and business intelligence professionals who want to learn about data engineering and build analytical solutions utilizing data platform technologies that exist on Microsoft Azure.
The secondary audience for this exam is data analysts and data scientists who work with analytical solutions built on Microsoft Azure.
Microsoft DP-203 Syllabus Topics
Design and implement data storage (40-45%)

Design and develop data processing (25-30%)

Design and implement data security (10-15%)

Monitor and optimize data storage and data processing (10-15%)
Why Go for Microsoft DP-203 Certification?
Most IT organizations produce a considerable amount of raw data every day, requiring the creation of a technical team competent to integrate, transform, and consolidate data from multiple structured and unstructured data systems into structures appropriate for generating analytics solutions.
As a result, there is a substantial inequality between the need and supply for Data Engineers. As reported by different surveys, the average income for a Data En gineer is $116,591 per year, more than the $44,564 average. For that reason, a Data Engineer earns 261% more than the average salary.
Steps to be Followed for the Data Engineering on Microsoft Azure DP-203 Exam Preparation
Below is the list of steps that you need to follow to get a flying score in the DP-203 certification exam.
1. Visit the Microsoft Official Webpage
The foremost step in your Data Engineering on Microsoft Azure DP-203 certification exam preparation is to visit the official webpage. This page offers all the essential information about the exam.
Exam takers should always comprehend the official web page's significance as a reference for helpful exam information. Understanding the DP-203 exam info such as duration, registration fee, and languages of the exam can help candidates prepare accordingly.
A basic mindset about the exams plays a vital role in defining an applicant's success. Moreover, the information about skills evaluated in the exam is available on the official webpage of the DP-203 exam. The official certification page is the most reliable platform for finding essential information about the relevant learning resources.
2. Understand the DP-203 Syllabus Topics
The next vital step in the Microsoft DP-203 exam preparation guide is the review of exam objectives. DP-203 syllabus topics are essential tools to anticipate the questions you can expect in the actual exam. Study the Microsoft exam DP-203 syllabus topics and their sub-topics in detail.
Also, you should find the actual weight for each domain in the DP-203 exam. As an outcome, you can develop a preparation plan that concentrates profoundly on syllabus topics with higher weight. Understanding DP-203 syllabus topics also help in giving the right path to your exam preparation journey.
3. Register for Official Training Course
The following crucial step in your preparation for the DP-203 certification exam should be Microsoft official training course. You can also take instructor-led or online training courses from the Microsoft official website. You need to determine your learning style for choosing the right course.
4. Take Microsoft DP-203 Practice Exams
The last yet most crucial step in this preparation guide for the DP-203 exam refers to practice tests. Many online certification training providers offer DP-203 practice exams, so you can choose one or more to gauge your preparation level. The practice tests are a great way to support your DP-200 exam preparation.
How Are DP-203 Practice Exams Helpful in Obtaining Flying Score?
First of all, the DP-203 practice exams provide a clear insight into the type of questions candidates can expect in the actual exam. Moreover, applicants could track their results and evolve new skills and techniques for time management during the actual examination.
Most importantly, DP-203 practice exams offer a complete impression of the applicant's preparedness. The thorough evaluation of the applicant's performance in practice tests and the results provide significant help. The most prominent benefit of practice exams is identifying the applicant's weak and strong areas.
DP-203 Practice exams from Edusum.com provide a unique way to gauge how prepared you're for the final exam. These practice tests are also essential in allowing you to manage your time. Microsoft practice tests on edusum.com are designed to help you become familiar with the exam environment.
Conclusion
DP-203 exam unlocks the door for a career as an Azure data engineer. So, it is inevitable for many candidates to apply for such an esteemed and rewarding job position. The conclusive inference is that passing the Microsoft DP-203 exam preparation is easy with the proper guidance, and applicants could use this guide as the starting point for their preparation.
However, applicants should always concentrate on the significance of trusted and authentic learning resources, such as online courses and practice tests. Applicants should always look for reliable training providers that can adapt to their learning style and convenience. Also, check your preparation level with the DP-203 practice exams; it will make you confident enough to crack the exam on the first try.