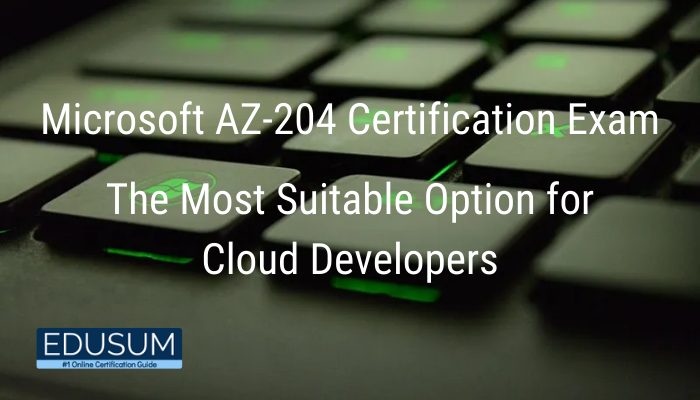 If you like cloud operations and eager to establish a career in Microsoft Azure, the AZ-204, Developing Solutions for Microsoft Azure certification is the best fit for you. This certification can direct you along this path if you are learning the ropes and aren't entirely familiar with Microsoft Azure.
The AZ-204 – Developing Solutions for Microsoft Azure is a certification offered by Microsoft to qualify developers about devising end-to-end solutions for Azure. It gives applicants the skills to execute compute solutions, perform Azure functions, implement and manage web applications, develop Azure storage solutions, implement authorization and authentication, and secure solutions using Managed Identities and KeyVault. Professionals with experience in programming or who want to make a career in this field can opt for this certification.
The AZ-204 certification exam is the perfect launchpad for getting a stable job and a lucrative salary. With this certification, you are almost promised a career as a Junior Cloud Developer, SSAS Developer, and several other positions.
Reasons to Earn Your Microsoft AZ-204 Certification Exam
Reason 1: Greater Knowledge of Microsoft Azure
If you are a sincere developer who utilizes .NET but doesn't have sufficient experience with Microsoft Azure, this certification adds to your knowledge. With this certification, you can gain an understanding of how the different functions of Azure work. You will also understand how particular codes with Azure work better than other platforms and analyze how your innovatory skills can do miracles with Azure.
AZ-204 certification has been meant for developers who want to improve their skills in the Microsoft Azure platform. Once you get through the exam, you become a certified Azure developer and are suitable for jobs based on this position and higher salary.
Reason 2: Confirm Your Skills and Accelerate Your Career
If you are a seasoned coder/developer working with Azure, you might already have a solid knowledge back along with your technical skills. Earning a certification for these skills boosts your understanding of the platform and confirms that you own the required skills to potential employers. Besides, with this Microsoft certification, there are several skills that you might perceive, which you don't understand in your present job as a developer. At all events, this certification is a boon for you.
Reason 3: AZ-204 Certification Accelerate Your Career
Apart from the reasons given above, an added perk of passing the AZ-204 exam and earning certification is accelerating your career. When you gain the AZ-204 certification, you can set out from being a coder to a programmer. You can acquire greatly valued and intricate programming skills as you prepare for the exam, which will boost your CV.
Though the AZ-204 exam is challenging to pass but is accomplishable, becoming an Azure developer is an impelled career you always require to be prominent. There is a significant degree of competition in the market as coders look for career growth opportunities. To hold a leading role and keep your career future-proofed, you must work hard and pass the AZ-204 certification.
Preparing for Microsoft Azure AZ 204 Certification Exam
For Microsoft exam preparation, there are plenty of study materials available. It doesn't matter which learning path you choose; start with reviewing the AZ-204 exam syllabus topics.
Microsoft Azure AZ 204 Exam Syllabus Topics:
Develop Azure compute solutions (25-30%)

Develop for Azure storage (15-20%)

Implement Azure security (20-25%)

Monitor, troubleshoot, and optimize Azure solutions (15-20%)

Connect to and consume Azure services and third-party services (15-20%)
Reviewing the topics included in the certification exam will give you a perception of what you must emphasize during your study. Purchase some relevant study guide from Amazon or Microsoft Press Store to increase your technical understanding of the exam topics. If you feel that you require the help of a more qualified professional, go for the official training course, AZ-204T00-A: Developing solutions for Microsoft Azure". You can also look into convenient learning paths to cement your knowledge. As a final stage of your preparation method, performed AZ-204 practice tests to gauge your readiness for this Microsoft exam.
Few Tips to Follow Before Taking the AZ-204 Certification Exam
To gain more information on the services included in the exam, browse the Microsoft Office Docs website or talk to your trainer.

Microsoft learning modules cover a broad spectrum of activities and practical information, which you should not ignore.

Perform the AZ-204 practice test as many times as possible to get familiar with the type of questions you could face in the actual exam.
Why Take the AZ-204 Practice Test?
Before taking a certification exam, an applicant's core objective should always be to take practice tests as a part of their Microsoft certification exam preparation. Proactively practicing the expert-curated Microsoft Azure AZ 204 exam questions would allow the applicant to enhance their time management and fast thinking skills. As a result, the applicant's odds of passing the exam would also rise. Edusum.com provides the updated AZ-204 practice test.
Conclusion
All in all, you can still take command of your career growth today! Undoubtedly, with the tips mentioned above, you can rest assured of cracking the Microsoft AZ-204 certification exam with excellent scores. And therefore, you get to present yourself to a world of brilliant opportunities by getting the associated certification.