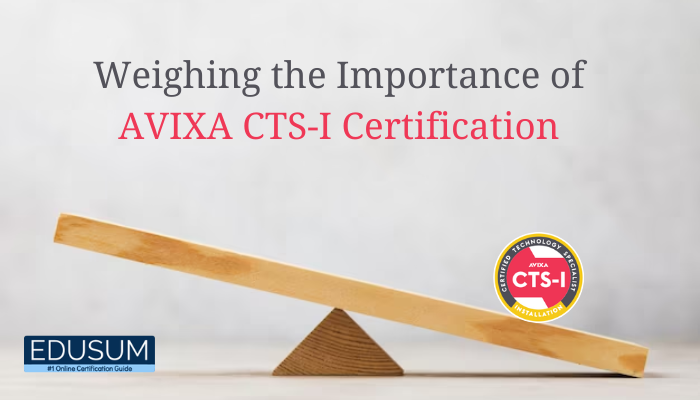 AV industry certifications offer several advantages to professionals, including the potential to increase their earnings and access to better career prospects. The AVIXA CTS-I is a specialized certification for CTS professionals in setting up and maintaining audiovisual systems.
The role of an AVIXA Certified Technology Specialist - Installation involves:
Managing the logistics of the installation process.

Maintaining equipment and tools.

Resolving issues and troubleshooting audiovisual systems.
They also communicate with stakeholders such as clients, designers, other trades, installers, and staff to ensure optimal audiovisual solutions' timely and cost-effective delivery. To become a CTS-I, candidates must fulfill experience requirements and pass a written exam.
AVIXA CTS-I Exam Information
The AVIXA CTS-I Exam contains 110 questions you must solve in 150 minutes. The exam cost is $490 for members and $590 for non-members. Refer to the CTS-I Exam Candidate Handbook for more details.
Prerequisite
The candidate should have an active CTS certification and a favorable standing with the Certification Committee to be eligible.

The candidate must possess at least two years of experience in audiovisual industry installation and provide appropriate documentation to verify.
Tips To Pass AVIXA CTS-I Exam In One Go
These are some tips that, if followed, can help you achieve good grades in just one attempt!
Create a schedule for yourself and adhere to it until the end.

Get inspired by your peers and colleagues. Being an AVIXA Certified Professional can lead to better earning opportunities!

Engage in a relevant community to stay updated on the latest developments regarding your exam.

Check out the official AVIXA CTS-I Exam webpage and review the exam policy and content carefully.

Acquire the most up-to-date and dependable study materials to understand the exam concepts thoroughly.

Develop your time management skills by attempting the CTS-I practice test, which requires you to answer 110 questions within 150 minutes.

Attempt all the questions and aim to answer them all. If you encounter difficult questions, skip them and return to them later during the review process to save time.

After completing the practice tests, review the results and focus on improving in areas where you are weak.

Utilize the skills and knowledge you have acquired by preparing for the CTS-I exam in real-world scenarios and confidently approach them.
How AVIXA CTS-I Certification Makes Life Better and More Easier for AV Professionals
The AVIXA CTS-I certification is the initial step towards achieving your goal of ensuring AV systems are installed according to plan. Through the AVIXA CTS-I exam preparation process, you will learn how to prepare for and evaluate a design to ensure that the system is constructed and installed in adherence to your expectations and industry best practices. AVIXA certification equips you to audit AV systems to confirm compliance with industry standards and performance. The AVIXA Certified Technology Specialist - Installation certification offers added advantages, including:
1. Reduce the Possibility of Risk and Enhance Performance
Non-standardized AV implementations pose risks such as compatibility issues between new and existing components, delays caused by manufacturers, AV systems that fail to meet changing requirements, and inadequate support and follow-up when problems occur. AVIXA CTS-I certification advocates for the development and installation of high-quality, complete, and fully functional AV systems with zero defects. Adherence to industry standards also enables the ongoing enhancement of AV systems as needs and technologies change over time.
2. Minimize the Costs of Low-Quality Products or Services
AV systems that frequently require repairs or replacement can result in significant time and financial losses for an organization. By obtaining AVIXA CTS-I certification, professionals can guarantee that AV systems are thoroughly tested, validated, and calibrated, which helps to prevent such issues. Without this certification, individuals may encounter the following problems:
Delays in project completion

Extended inventory of faults

System downtime during repairs or maintenance

Expenses for supplementary suppliers or parts
3. Increase the Level of Satisfaction for Audiovisual Technicians
There are several advantages for technology managers who work exclusively with AV integrators with AVIXA CTS-I certification. These advantages include reduced need for system revisions, change orders, and costly last-minute adjustments. Additionally, system readiness can be achieved more quickly, and maintenance will require less downtime. Finally, technology managers will have more opportunities to establish positive and stronger vendor relationships.
Conclusion
Professional who values their performance and career should take advantage of every opportunity to enhance their skills and make them better employees. Taking the AVIXA CTS-I exam is an opportunity that should be considered. Passing this exam will not only improve your skills but also increase your prospects for career advancement. Obtaining the AVIXA Certified Technology Specialist - Installation certification is the best way to showcase your technical expertise. So, ensure you are well-prepared and confident for the exam, and success will follow.