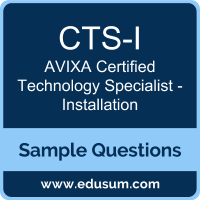 The purpose of this Sample Question Set is to provide you with information about the AVIXA Certified Technology Specialist - Installation (CTS-I) exam. These sample questions will make you very familiar with both the type and the difficulty level of the questions on the CTS-I certification test. To get familiar with real exam environment, we suggest you try our Sample AVIXA CTS-I - Installation Certification Practice Exam. This sample practice exam gives you the feeling of reality and is a clue to the questions asked in the actual AVIXA Certified Technology Specialist - Installation (CTS-I) certification exam.
These sample questions are simple and basic questions that represent likeness to the real AVIXA Certified Technology Specialist - Installation exam questions. To assess your readiness and performance with real-time scenario based questions, we suggest you prepare with our Premium AVIXA CTS-I Certification Practice Exam. When you solve real time scenario based questions practically, you come across many difficulties that give you an opportunity to improve.
AVIXA CTS-I Sample Questions:
01. A technician installs a condenser microphone. It is not picking up audio. What is the MOST LIKLEY cause?
a) Pins 2 and 3 are swapped at the XLR connector
b) The cable run is too long
c) Phantom power is turned off
d) The microphone is defective
02. For an ethernet cable (UTP) to meet certification standards, the maximum length is
a) 98' or 30m
b) 328' or 100m
c) 492' or 150m
d) 984' or 300m
03. A customer has recently added a second wireless microphone to an existing system. The customer now complains that the sound quality from both microphones has degraded.
Of the following, which is the MOST LIKELY cause for the problem?
a) The existing wireless microphone is too old to be used with the new wireless microphone.
b) The new wireless microphone shares a similar frequency as the old wireless microphone.
c) The new wireless microphone is from a different manufacturer
d) The old wireless microphone battery is dying.
04. How would a commissioning technician establish substantial completion/practical completion?
a) Complete all preliminary tests, confirm systems installation and readiness for final test
b) Generate a punch or defects list, getting architects to sign off on repairs
c) Generate a list of all damaged equipment, setting up the DSP
d) Complete a request for changes form, filing an RFQ
05. There is a conflict between the wall plate height specified in AV documents and the height the electrical contractor is saying must be used on site.
Which of the following forms would be used by the integrator to seek clarification of the correct mounting height of wall plates?
a) Construction Change Directive (CCD)
b) Request for Information (RFI)
c) Request for Change (RFC)
d) Change Order (CO)
06. An amplifier can supply 100w at 2 ohms. How many 8 ohm speakers can be wired in parallel without exceeding the capabilities of amplifier?
a) 2
b) 3
c) 1
d) 4
07. What method can a technician use onsite to verify that the AV device is set to the proper IP address?
a) Connect directly to the CPU using an XLR connector and the Ping program
b) Use an S-video hook up on a DVD drive and the Mac program
c) Use a USB connection to the CPU and the HyperTerminal program
d) Use a DVI-D connector and dial in on a phone device
08. The original LCD monitor specified on the project was not available. The model used to replace it has a lower native resolution than the original monitor.
What device could be used to keep the EDID table from now calculating the EDID table to a lower resolution for the whole system?
a) Scan Converter
b) Scaler
c) Transcoder
d) EDID emulator
09. Which mounting hardware will provide the MOST support when mounting a camera bracket to sheetrock/plasterboard not located near a wall stud?
a) Self tapping screws
b) Plastic wall anchors / wall plugs
c) Snap toggles / hollow wall anchors
d) Masonry bolts
10. Before audiovisual equipment can be brought to a site what MUST occur?
a) General contractor must obtain a CO
b) The site must be clean and dust free
c) All cable must be installed
d) The rack must be wired
Answers:
Question: 01




Answer: c

Question: 02




Answer: b

Question: 03




Answer: b

Question: 04




Answer: a

Question: 05




Answer: b

Question: 06




Answer: d

Question: 07




Answer: c

Question: 08




Answer: b

Question: 09




Answer: c

Question: 10




Answer: b
Note: For any error in AVIXA Certified Technology Specialist - Installation (CTS-I) certification exam sample questions, please update us by writing an email on feedback@edusum.com.