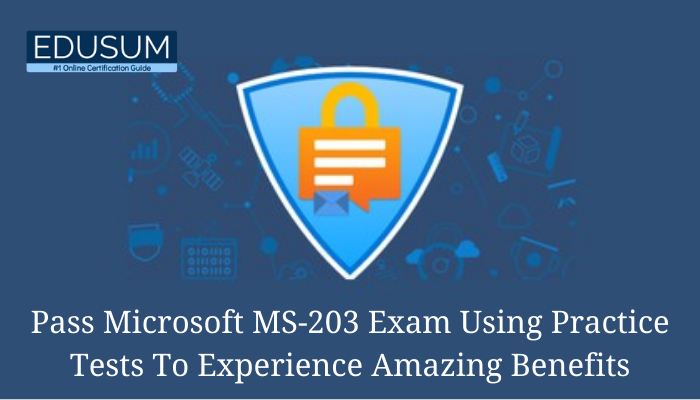 Microsoft 365 Messaging - MS-203 exam enables you to carry out tasks of a Messaging Administrators with the skill to configure, deploy, manage, troubleshoot, and monitor recipients, permissions, mail protection, mail flow, and public folders in hybrid and cloud enterprise environments. Messaging Administrators work together with the Security Administrator and Microsoft 365 Enterprise Administrator to execute a secure hybrid or cloud-only topology that fulfills the business requirements of an organization.
What is the Microsoft 365 Messaging MS-203 Exam?
The MS-203-Microsoft 365 Messaging certification evaluates an applicant's skills to carry out the duties and tasks of a messaging administrator. These tasks include skills such as:
Configuring Exchange servers with security protocols

Managing servers

Troubleshooting
Along with these skills, an applicant is expected to complete the duties above for cloud servers, on-premise servers, or hybrid.
The MS-203 is divided into four domains. Here is a list of them and how they are weighted:
Manage organizational settings and resources (30-35%)

Plan and manage the mail architecture (20-25%)

Plan and implement a hybrid configuration and migration (20-25%)

Secure the messaging environment (20-25%)
How to Prepare for the Microsoft MS-203 Exam?
The Information Technology field is rapidly growing. This has set off continuous competition in several fields. You must defeat other professionals in terms of your understanding, skills, and certifications to make it big in this field. This is to remind you that you must step out of your comfort zone. You must work hard and look out for brilliant opportunities. In this situation, earning a prestigious certification and being known as a certified administrator is what you should focus on. If other people have done it, you can also reach it by giving your best and doing what's required to accomplish your coveted career.
If you've made up your mind to carry on a messaging administrator career in the IT field, here are few tips to help you crack the Microsoft MS-203 exam:
1. Visit Microsoft Official Website
Microsoft offers all the essential information concerning the exam on its official website. Moreover, the site traits list of other role-based certifications and exams. So, you can reach what you require by screening the available options as per the job profile or technology. For instance, to obtain the details for Microsoft 365 Messaging MS-203, you'll require to click the messaging administrator for the job role. Also, the site provides essential information like how to register for the exam. You'll also learn about the exam objectives. All these details are useful in exam preparation.
2. Obtain MS-203 Study Guide
When you explore Microsoft's site, you'll come across a helpful guide to help you during the exam preparation. It includes guidance on instructor-guided training courses to take and online forums to participate in. One of the resources you need to obtain is the MS-203 study guide. The extent of detailed information they provide will help you determine your exam preparedness.
3. Take Up MS-203 Practice Test
Practice tests are the best revision tool as they provide you a solid perception of the exam preparation level. It may sound silly, but it's good to keep in mind that practice develops perfection. Repetition will improve your memory of the exam syllabus you're studying and increase your understanding of them. Never delay or slack off. Plan your time correctly and prepare for the exam well.
Make sure you take MS-203 practice tests from trusted site like Edusum.com. It will help you identify your weak areas for the sole purpose of improving on them. Get familiar with the exam environment with the MS-203 practice test, review your results, and feel confident in your skills and expertise at the actual MS-200 exam.
Why Obtain Microsoft 365 Certified - Messaging Administrator Associate MS-203 Certification?
The question must have come into your mind why do you have to work hard to become certified? Is Microsoft MS-203 certification worth it? Yes, it is. And here's reasons:
1. Skills Acquired by MS-203 Exam Makes You a Pro
Becoming Microsoft certified confirms you are an expert by proving your skills. It's the best way to obtain current skills associated with Microsoft technologies. And as these certifications are accepted and accepted by popular organizations, you will have a greater chance of becoming hired as well.
2. Brilliant Job Opportunities
Many high-level jobs demand you to own certifications that can prove your expertise in the relevant subject. For the most part, Microsoft certifications benefit you well in such situations. So having a certification from this renowned vendor can give you the way to those jobs.
3. Attractive Salary Packages
Organizations always look for means to increase the performance of their organization. The most common way to do it is by carrying out adaptable solutions and hiring professionals who can use those services to get the most out of them. So if you hold a Microsoft certification, organizations will be notified of your skills and will be very happy to engage you with good pay packages.
4. MS-203 Certification Boost Your Chances of Promotion
If you want a promotion in your current organization, you have to acquire the skills required for a higher-level job. Microsoft certification can solve this purpose. Once you show your certification to your management, they will be assured that you hold the essential skills required for it.
5. Increase Job Security
A secure job with one organization is increasingly challenging to find as the new developments come around every day. If you want to stay updated, Microsoft certifications are the best way. With relevant Microsoft certification, you can prove your skills and be assured about job security.
Conclusion
With Microsoft 365 Certified - Messaging Administrator Associate certification, you can relish plenty of career-oriented perks such as brilliant job opportunities, attractive salary, promotion, and much more. And to become Microsoft 365 Messaging Administrator, now you need to pass the MS-203 exam. Take advantage of practice tests and other great resources to prepare for the MS-203 exam, pass the exam with a flying score, and enjoy the perks of becoming certified.