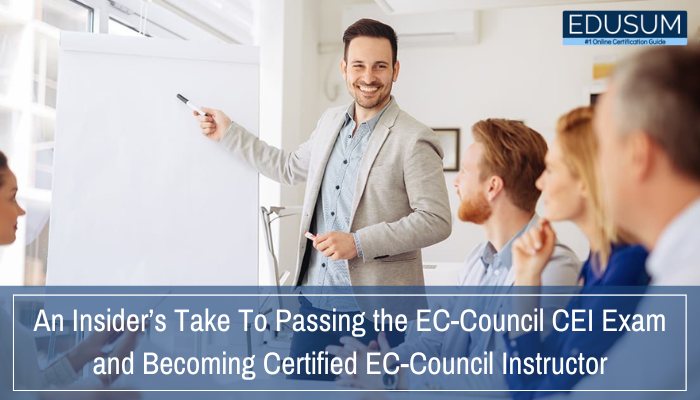 The Certified EC-Council Instructor (CEI 312-75) certification is intended for individuals who aspire to become certified to administer EC-Council's suite of professional certification programs. The EC-Council CEI certification offers resources for individuals to become industry-recognized trainers specializing in information security.
Certified EC-Council Instructors are expected to be technically skilled with good instructional competencies. The instructors require to retain a high standard of professionalism and teaching willingness.
About the Certified EC-Council Instructors - CEI 312-75 Exam
EC-Council CEI 312-75 exam includes the following objectives, among others, and will train the potential instructor to accomplish instructional excellence:
Analyze EC-Council course material and learner information

Assure preparation of the course

Establish and maintain instructor credibility

Manage the learning environment

Demonstrate effective communication skills

Demonstrate practical questioning skills and techniques
EC-Council CEI 312-75 Exam Details
Exam Name: Certified EC-Council Instructor (CEI)

Exam Code: 312-75

Exam Price: $250 (USD)

Duration: 180 mins

Number of Questions: 50

Passing Score: 70%
Prerequisite
To be eligible to become a Certified EC-Council Instructor (CEI), you need to:
Submit the finished and signed CEI Application Form and the Agreement.

If you are not an existing certified trainer for other significant certification programs (e.g., MCT, CTT+, etc.), you will have to get through the CEI Exam.

You must be certified in the program that you want to teach (e.g., to teach CHFI, you need to be CHFI qualified, and to teach CEH, you need to have CEH certification.

Make sure you have revised your EC-Council Continuing Education (ECE) credits through the Aspen Portal, as your certification level must be in a good position.

An EC-Council Accredited Training Center (ATC) will require to endorse your application. If there is none, EC-Council may, at its foresight, approve the application.

You must own technical skills and practical background with security technologies and applications.

When a CEI application is approved, EC-Council will send an email notification to the CEI detailing the approach to the CEI Resources, and this will be accompanied by a physical CEI Certificate which will be mailed to the CEI within two months from the date of approval.
How to Get Ready to Ace the Certified EC-Council Instructor - CEI 312-75 Exam?
Now that you know the procedure for becoming a Certified EC-Council Instructor, you will need the most competent ways to prepare for the 312-75 exam. Here are some practical tips to pass the exam and become an instructor quickly.
1. Make an Effective Study Schedule
Having a specific time to study for your exam could be important in assuring that you hold off the path in the context of learning all the topics. Try to avoid all the distractions throughout the exam preparation phase. You can even ask your organization to allow some time during your working hours to prepare for this exam.
2. Get Familiar with the Exam Pattern
Take enough time to become familiar with the pattern of the EC-Council CEI 312-75 exam. If you are familiar with the exam pattern, it will help you eliminate surprise elements in the exam.
3. Take Advantage of Certified EC-Council Instructor Instructor Manual
You can buy the CEI Instructor Manual, which makes you ready for the Certified EC-Council Instructor 312-75 exam, straightaway from any EC-Council ATC.
4. Take EC-Council CEI Practice Tests
Practice tests are always beneficial in offering the information you require. They let you know where you stand and how much more you require to prepare. There are reliable and updated practice tests available on the edusum website.
The more practice tests you attempt, the more familiar you will be with taking them on exam day. This indicates that if there are any traps or difficult questions during actual testing conditions, there's no need to worry because you've possibly answered a similar EC-Council CEI question.
5. Have a Positive Mindset
It is an innate inclination to get anxious and worried while studying for the EC-Council CEI exam. Practicing meditation daily eases your stress-related issues, profoundly calms the mind, and re-energizes the system. Keep in mind a calm mind, and positive mind can think clearly and help you competently resolve the most challenging questions.
Benefits of Becoming Certified EC-Council Instructor
Apart from being in the select group that is authorized to lead EC-Council training, other advantages include:
Entry to Secured Instructor Resource Portal
All CEIs get admission to a CEI portal which includes instructional resources comprising presentation slide decks, lab setup guides, labs, videos, best practices, and tools that will allow you to provide your training successfully.
Special CEI Logo Usage
Dependent on the terms and conditions of the CEI agreement, all CEIs have unique rights to utilize the CEI logo for websites, marketing materials, business cards, and other documentation.
Zealous Communications and Support
You have admission to internal EC-Council training experts who will tackle any instructional queries or feedback which is associated with the exam syllabus, exercises, and setup conditions of the course(s) you are certified to teach.
Conclusion
As you start your journey to become Certified EC-Council Instructor, you should know that it demands a lot of effort and time. The EC-Council CEI certification will equip the candidates with a common knowledge framework for becoming skilled instructors.