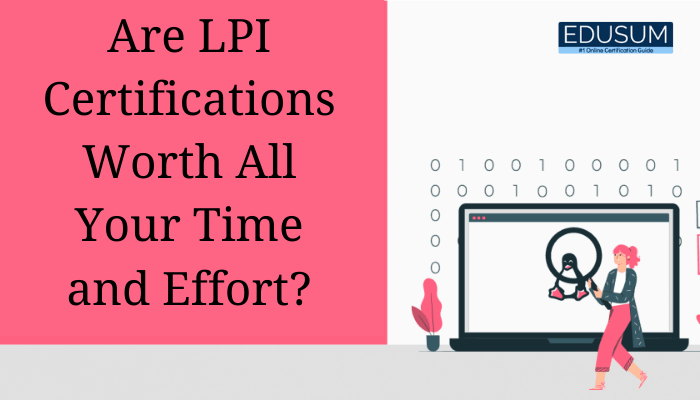 Getting hired as a sysadmin is more difficult than it's ever been, but the appropriate sysadmin certification will keep you active in an ever-evolving IT field. With cloud and hybrid services disturbing the traditional model (in-house servers maintained by an in-house sysadmin), present and future sysadmins must never stop learning. And while the majority of sysadmin jobs don't expect more than a bachelor's degree, it's going to be your certifications and your skills that make you sought-after. In this article, we will see an emphasis on LPI certifications that can boost your resume, enhance your skillset, and ensure that you're placed to look as appealing as possible in any job interview.
Overview of Linux Professional Institute - LPI Certifications
The Linux Professional Institute (LPI) is a nonprofit training organization that evaluates and confirms tech professionals in distribution-neutral Linux programming, maintenance, and common use.
LPI offers a few sysadmin certifications you should apparently explore. Each higher certification demands passing the certification that comes formerly: you can't get the LPIC-2 cert until you've earned the LPIC-1 certification, and so on.
1. Linux Essentials
This is a very fundamental certification, comprising a comprehensive knowledge foundation of Linux structure, components, and significant applications. If you're already an expert in Linux, it may not be the wrong idea to take the exam quickly and receive the LPI Linux Essentials certification. If you're new to Linux, it's a great starting point to commence your journey. To receive the certification, you need to pass the following exam.
2. LPIC-1 Certifications
The first certification you would get on the LPIC professional certification track. LPIC-1 is meant to evaluate and prove your knowledge of the Linux/GNU/Unix command lines, security permissions, system architecture, basic maintenance, and, definitely, installation of Linux. Earning LPIC-1 certification requires passing two tests:
3. LPIC-2 Certifications
The next level of certification, the LPIC-2 certification, and exams validate your understanding of network configuration, purchasing and consulting, system administration, file systems and storage, and VPNs. Even LPIC-2 certification demands you to pass two exams to receive the certification:
4. LPIC-3 Certifications
This higher-level certification is divided into three exams, with their own exams and individual certifications:
LPIC-3 Enterprise Mixed Environment is an extremely acclaimed certification because it includes hybrid server/cloud administration for Linux systems.
LPIC-3 Enterprise Virtualization and High Availability are certainly for measuring skills on operating/maintaining virtual Linux machines and for maintaining high-availability systems that require little to no time off.
LPIC-3 Enterprise Security presents a certification on skills associated with cryptography, network security, and permissions/access control at a high level.
All LPI Linux System Administration Certifications are valid for five years and then need to be renewed.
Benefits of LPI Certifications
Earning LPI certification equips you with advanced technical skills and proves that you're yearning to invest in yourself, but there are other compelling benefits.
Here are the top 5 benefits of earning LPI certifications
1. Competitive Advantage
Whether you're just beginning in IT or updating your skills through additional certifications, your objective is to receive jobs and stay engaged. Having extremely valuable LPI certifications on your CV makes you more in demand. Presently, more than 70% of hiring managers are seeking for relevant certifications to verify applicants have thorough skills and expertise. Having LPI Linux System Administration Certifications provides you that competitive advantage.
2. LPI Certifications Enhance Your Professional Credibility
Achieving LPI certifications enhances your professional credibility and recognizes you as a specialist in a vendor's product. Working for LPI certification exams proves your
ambition, focus, and professional commitment to co-workers and managers. Many organizations encourage their employees to earn LPI certifications and compensate these efforts with promotions and salary hikes.
3. Networking and Peer Support
Earning LPI certification provides you quick access to a group of IT peers around the world. Getting attached to a peer network is crucial for career progression down the line, also, as connections can help with job references, professional references, and giving new technical knowledge and resources.
4. Stay Current With Technology Trends
Earning LPI certification in a lately developing or rapidly evolving technology is an excellent way to excel in IT. When you get your LPI certification, your knowledge is not only current; it's usually ahead of the curve. This is especially true in SysAdmin careers. Having LPI certifications listed in your resume demonstrates that future employers have the solid foundations to perform the given tasks competently.
5. LPI Certifications Help Advance Your Career
Many IT professionals are attracted to the industry because it's ever-evolving. When each day makes innovations and crosses new boundaries, there's always something new and interesting to learn. Career-wise, that involves countless progression opportunities for people who take the initiative to accept new challenges and have the inspiration to innovate. Industry leaders have come to expect these qualities from LPI-certified professionals. Having LPI certifications will get you recognized and promote you to the top of your field.
Useful Tips for LPI Certifications Exam Preparation
Managing your time is essential when you are sitting for LPI certification exams. Though it may seem you get enough time to answer all the questions, some tricky questions may take more time. So, when you are preparing for the LPI exam, it is always advisable to assure and know that you have taken plenty of LPI practice tests as that is the only way in which you will be able to manage your time efficiently.
The syllabus for LPI exams is vast, and you require to make sure that you are studying and understanding all the topics covered on the exam syllabus. It would be best if you had an absolute understanding of the entire syllabus.
Conclusion
LPI Certifications are not simple certifications that can be accomplished with ease. You will have to strive a lot to get that certificate. You need to spend at least 2 to 3 hours a day to pass the exam. Many people accept that it can be earned in one attempt if you take up training, learn the concepts thoroughly, and attempt practice tests. Stay focused and prepare for the exams because you can enjoy many benefits once you pass the exam.