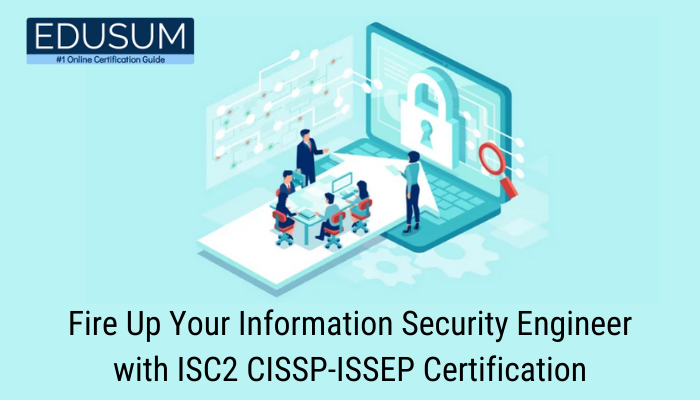 The CISSP-ISSEP certification is for CISSPs who specialize in implementing systems engineering principles and methods to create a secure system.
Who Should Obtain CISSP-ISSEP Certification?
This certification is meant for CISSPs who have a minimum of 2 years of recent full-time professional work experience in engineering and are interested in CISSP-ISSEP certification to prove mastery in security engineering to progress within their present information security careers. This certification is best suited for those working in positions such as, but not limited to:
Information assurance officer

Information assurance analyst

Senior security analyst

Senior systems engineer

Information assurance systems engineer
Reasons to Obtain CISSP-ISSEP Certification
You're on the cutting edge of your profession. Here are some alluring reasons to challenge yourself with this information security certification:
Evidence of excellence. You want to distinguish yourself from your colleagues; this CISSP concentration confirms you have an exclusive level of knowledge and skill.

Brilliant Opportunities. The CISSP-ISSEP unlocks doors to new career opportunities and jobs to more exciting functions.

Growth and Knowledge. This is an opportunity to explore further and sharpen your skills. You'll find greater ways to flourish and stay at the leading edge of information security. And achieving your concentration CISSP-ISSEP is a big task.
To pass the ISC2 CISSP-ISSEP exam, it is vital to study hard for this certification. In this respect, the applicant should work in a structured way and take advantage of the best available materials in the means of preparation for this certification. Definite points require to be kept in mind, which will help the applicant outshine in the exam. This article covers some of the best methods to prepare for this certification and pass the exam with a flying score. All you have to do is to follow them and avail great benefits.
Tips for CISSP-ISSEP Exam Preparation
1. Take a Training Course
The best way to study is by taking a CISSP-ISSEP online training course offered by ISC2. This course will help them improve their concepts and skills. Along with this, they will also be able to identify which topics are more essential for the exam. There is no other better way than a training course to understand the exam domains and acquire appropriate knowledge for the exam. You might think that you can go for the self-study option, but this might not be true for this exam.
2. Make a Study Schedule
ISC2 CISSP-ISSEP certification covers many domains of varying weightage. This adaptability in the exam domains calls for a requirement to prepare for it in an organized manner. You should try to make a practical study schedule in which you should outline how much time you should give to each exam domain, and you should also decide the order in which you will study them. Along with this, you should also allot enough amount of time to take practice exams.
However, creating a study schedule is not sufficient. You should make sure that you follow the schedule and follow it in an orderly way.
3. Allocate More Time to Tough Domains
While preparing for the exam, you should make sure that you allocate the appropriate time to each topic according to their corresponding weights. One of the biggest mistakes many people make is that they try to give equal importance to each topic without realizing which ones are more important. Following are the domains that will be covered in the exam and the weights they carry.
Domain 1. Systems Security Engineering Foundations (25%)

Domain 2. Risk Management (14%)

Domain 3. Security Planning and Design (30%)

Domain 4. Systems Implementation, Verification, and Validation (14%)

Domain 5. Secure Operations, Change Management and Disposal (17%)
It is manifest from the list that each domain carries a varying weightage. Each domain with a higher weight will be having more questions in the exam. For instance, you will be having the most questions from the Systems Security Engineering Foundations domain. So, you should try to allot this topic the most time. This will help you in your preparation and will also allow you to score well in the exam.
4. Take CISSP-ISSEP Practice Exams
Studying all the topics in detail will not be enough for ISC2 certification exams. Learning the topics in-depth only provisions for 70% of the preparation. You need to take a lot of practice exams in order to conclude your preparation. This is essential to identify your mistake so you could improve on them. There is a load of platforms available online which provide practice exams. You should make most of these practice exams. Moreover, taking practice exams will give you an idea of how the real exam will be. It will boost self-confidence in you and will let you do well in the exam. Edusum.com provides the updated and reliable practice questions for the ISC2 CISSP-ISSEP exam.
5. Make The Best Use Of Online Communities And Forums
Throughout your preparation for the ISC2 CISSP-ISSEP exam, you will face many issues and problems. So, the best way to solve these issues is to discuss them with someone else who is going through the same process. Online forums provide a fantastic opportunity in this regard to eliminate any issues which you are facing. In addition to this, you also get to know a lot of important information from these sources, which help you exceedingly in preparation.
If you follow the above tips like an exam ritual, you will pass the exam with a good score. CISSP-ISSEP can be a milestone in your career. So, leave no stone unturned with your splendid performance and take your career to new heights.