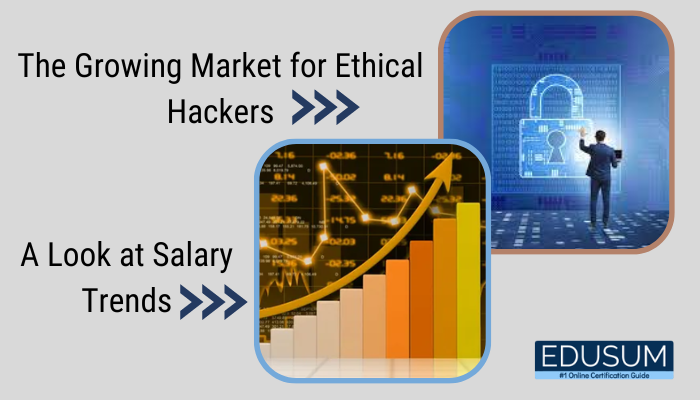 Ethical hacking is a crucial component of modern cybersecurity practices. It requires using the same methods as malicious hackers to identify and fix computer systems and network vulnerabilities. Ethical hackers play a vital role in protecting organizations from cyber-attacks and ensuring the security of sensitive information. They are also known as White Hat Hackers or Pen Testers. And ethical hacking salary is also soaring as day passes.
Ethical Hacking Salary: Average and High-end Earnings
The average salary of an ethical hacker varies depending on location, experience, and type of organization. However, the average salary in the United States is around $90,000 annually. The highest-paying ethical hacking jobs typically include positions in the government and finance industries, with salaries ranging from $120,000 to $160,000 per year.
The salary of an ethical hacker can also be influenced by various factors such as education, certifications, and additional skills. For example, certifications like Certified Ethical Hacker (CEH) and Certified Information Systems Security Professional (CISSP) can increase your earning potential.
Best Ethical Hacking Jobs
Several in-demand ethical hacking jobs include Penetration testers, Cybersecurity consultants, and Security analysts. These job titles involve identifying and addressing security threats to a company's information systems and networks.
As a Penetration Tester, you would use your hacking skills to simulate attacks on a company's systems to identify vulnerabilities. This helps the company to improve its security measures and prevent real-life cyber attacks.
As a Cybersecurity Consultant, you would provide expert advice and guidance to companies on improving their cybersecurity. You would help them to identify potential security threats and implement measures to prevent them.
As a Security Analyst, you would be responsible for monitoring a company's information systems and networks to detect and respond to security incidents. This requires a deep understanding of security protocols and the ability to use specialized tools and techniques to identify and remediate security issues.
Job and Responsibilities of Ethical Hacker
Before you explore career prospects as an ethical hacker, it is good to understand the role and responsibilities of an ethical hacker. Below listed are the responsibilities that constitute your role as an ethical hacker –
Evaluate the organization's system or network and determine the security gaps and vulnerabilities.

Check out the data flow, network activity, etc., to fulfill security standards.

Enforce strategies & actions for network security improvements.

Carry out penetration tests on the latest implemented security actions, etc.
These are the core KRA's that ethical hacker has to complete in any organization, but it may differ for the organization based on their size and diversification. An ethical Hacker is expected to reproduce all the practices performed by a hacker and overrun the system. If he can break through the network's vulnerabilities, he has to inform this to the concerned department.
Career Prospects in Ethical Hacking
The need for ethical hackers is growing, with more and more organizations acknowledging the significance of powerful cybersecurity measures. As a result, there are many opportunities for career growth in ethical hacking.
To succeed in this field, it is vital to have a strong computer science and information security foundation. You should profoundly understand programming languages, operating systems, and network protocols. Also, certifications like CEH and CISSP can confirm your expertise and increase your earning potential.
Finally, to advance your career in ethical hacking, it is vital to stay updated with the latest trends and technologies.
Factors Affecting Certified Ethical Hacking Salary
Location
Location is one of the most important factors influencing an ethical hacker's salary. In cities with a high demand for technology and security professionals, ethical hacking salary tend to be higher. For example, the average salary for an ethical hacker in San Francisco is $120,000 per year, while the average wage in a smaller city like Dallas is $75,000 per year.
Years of Experience
As with most careers, years of experience significantly determine an ethical hacker's salary. Entry-level ethical hackers can expect to earn $50,000 to $60,000 per year, while experienced, ethical hackers can earn upwards of $140,000 per year.
Education
Education also plays a role in deciding an ethical hacking salary. While a bachelor's degree in computer science, information technology, or a related field is often needed for entry-level positions, having advanced degrees or certifications can increase earning potential. For example, a Certified Ethical Hacker (CEH) certification can increase an ethical hacker's salary by 10% to 20%.
Industries That Hire Ethical Hackers
Ethical hackers are in high demand across several industries, including finance, healthcare, government, and technology. In particular, the finance and healthcare industries seek individuals with ethical hacking skills to help protect sensitive customer data and financial information. Government agencies also employ ethical hackers to improve the security of their systems and protect against cyber attacks. Technology companies like Microsoft and Google hire ethical hackers to test and improve their products and systems.
Conclusion
Ethical hacking is a lucrative and growing field that offers a range of career opportunities for those with the right skills and education. The average ethical hacking salary is around $90,000 per year, with the potential to earn even more in high-demand jobs.
In conclusion, if you are interested in pursuing a career in ethical hacking, now is a great time to do so. With the increasing importance of cybersecurity and the demand for skilled, ethical hackers, there are plenty of opportunities to grow and advance your career in this field.