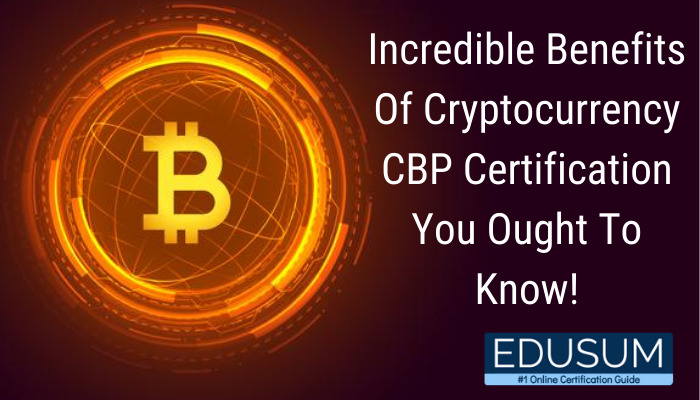 The Certified Bitcoin Professional, CBP exam is an exam administered by the Cryptocurrency Certification Consortium (C4 for short) to evaluate the fundamental working knowledge of bitcoin. As a Certified Bitcoin Professional, you will obtain knowledge about the Bitcoin blockchain, Bitcoin transactions, and how the Bitcoin network works. As a Bitcoin Professional, you will be able to employ Bitcoin technology in your professional area of expertise and perceive privacy aspects, double-spending, and other matters that relate to the currency.
Pre-requisites
No former knowledge of Cryptocurrency is required.

Fundamental knowledge of computer and smartphone operations is required

Windows Laptop and Android OS.
Who Should Obtain CryptoConsortium CBP Certification?
Accountants and Controllers

Sales & Marketing professionals

Professors, Teachers, and Educators

Entrepreneurs

Bloggers and Journalists

IT Professionals

Project Managers

Anyone who uses Bitcoin in their everyday lives
CryptoConsortium Bitcoin Professional (CBP) Certification Exam Information
The CryptoConsortium CBP exam comprises 75 multiple choice or true/false questions, including each of the 33 topics listed below.

The exam is time-limited to 20 minutes.

A passing score of 70% is needed to apply for certification.

If you fail the exam, you can pay to retake the exam.

You will not be able to apply for certification until you have successfully cracked the CBP exam.
CryptoConsortium CBP Exam Syllabus Topics
History of Money and Ledger-based Economics

Basic Cryptography

Basic Cryptography

Mining

Wallets, Clients, and Key Management

Bitcoin Commerce
How to Become Certified Bitcoin Professional (CBP)?
If you are aspiring to become a Certified Bitcoin Professional, you will have to pay the fees and pass the CryptoConsortium Bitcoin Professional certification exam. For this, you must have obtained the appropriate study material. The study material will be sufficient for you to study for up to 2 years. It will include 33 topics and six domains.
The exam is taken in the English language. The fee for the exam is $99, and the extra exam fee and the renewal fee are under $50.
To pass the exam, make sure that you obtain at least 70% marks. If you fail to pass the exam on your first try, you can pay the fee and take the exam again.
There is also a strict time limit during the exam. You have to answer 75 questions in only 20 minutes. CBP exam question types are true and false and MCQs. The short time limit is to prevent the exam takers from browsing a search engine to look for the true answers.
Does Cryptocurrency CBP Certification have a Value?
In the contemporary world of increasing digital adoption, businesses are shifting to blockchain environments. Blockchain organizations have a requirement to associate cryptocurrencies and utility tokens to their business portfolios.
This, hence, the leader in high demand for blockchain and cryptocurrency professionals. Certification is the way to sealing consultation and development opportunities. It allows holders with the knowledge to make new profit tokens and Cryptocurrencies and support their clients in developing profitable blockchain businesses.
If you get through the CBP examination, you will be able to get a certification. It will enhance your professional standing. In this section, we are going to find out why you should pursue a CryptoCurrency Certification Consortium Certified Bitcoin Professional (CBP) certification. Read on.
1. Qualification
First and foremost, if you opt for the CBP certification exam, you will become a skilled and qualified professional. So, you can become more well-known among the group as far as professional and personal experience is concerned.
2. Demand
The job opportunities are plentiful. As the need for Cryptocurrency has grown, the requirement for jobs has grown remarkably. Industries today want to prefer skilled professionals who have a thorough knowledge of the field. It generates job opportunities for a plethora of job profiles such as Cryptocurrency analysts, Blockchain developers, traders, Mining technicians, sales associates, reporters, DevOps engineers, consultants, technical product managers, and more.
3. Extensive Knowledge
After you have received your CBP certification, you will have a profound knowledge of Cryptocurrency. As a result, you can implement your knowledge in a much better manner.
4. Expertise
If you earn a CBP certification, you can practice the techniques in your area of expertise. The intention is that you will have a much more sound understanding of a lot of problems, such as privacy and double-spending.
5. CBP Certification Give Your CV a Boost
Certification conveys recognition of a skill that significantly mitigates a recruiter's effort in making a hiring decision. Hiring managers have the best option to hire the applicant that has more experience and skills. Hiring managers may be able to notice experience with live blockchain projects from the previous experience. Though, the applicant is still free to check the fact of how much hard work they may have given to the project. Thus, a CBP certification is always a shining star for a CV.
Make your space in the world with CBP certification where Cryptocurrency is creating a revolution!