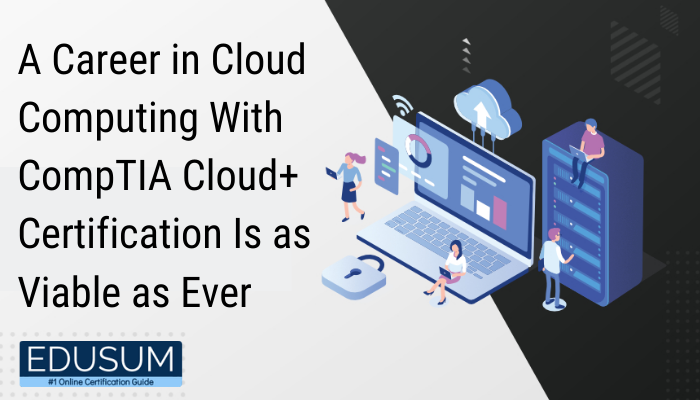 Cloud computing has evolved into one of the most powerful paradigms in business, as the need for cost-effective and expandable resources increases. Today, cloud computing services power businesses of all sizes and from all industries. As cloud computing and networking take over more and more functions traditionally handled by local servers, you may find that it is getting more difficult to find qualified personnel who are conversant with the new technology. That is why CompTIA has updated its industry-leading certification with the Cloud+ certification.
What is CompTIA Cloud+ Certification?
The CompTIA Cloud+ certification confirms the skills and expertise of IT practitioners in executing and retaining cloud technologies. Cloud+ imputes IT professionals with the consistently evolving and strengthening knowledge they require to succeed in today's cloud environment.
CompTIA Cloud Plus certification deals with the growing broad array of knowledge and skills required of today's system administrators and engineers, confirming the skills required to execute successfully on the job. CompTIA Cloud Plus is the vendor-neutral, performance-based cloud certification with a perspective in cloud-based infrastructure services in more comprehensive IT systems operations.
CompTIA Cloud+ Certification shows a focus on combining and managing cloud technologies in the frame of broader systems operations. It assumes an applicant will weave together solutions that satisfy specific business requirements and work in different industries.
This CompTIA certification will prove your skills in cloud security, configuring, and deploying cloud infrastructures, troubleshooting, maintenance, and management. To get CompTIA Cloud+ certification, you need to clear the CompTIA CV0-002 exam successfully. As a prerequisite, you must have 2-3 years of work experience in system administration, networking, or IT data center administration.
CompTIA CV0-002 Exam Details
Maximum of 90 questions

Time Length 90 minutes

Passing Score 750

Format Multiple Choice and Performance-Based Questions
Skills You Will Acquire in the CompTIA CV0-002 Exam
Configurations & Deployment (24%) – Analyze system requirements to execute workload migrations to the cloud efficiently.
Management (20%) – Find out the appropriate allocation of cloud resources and implement necessary changes, based on performance data.
Maintenance (18%) – Apply relevant technologies and processes, comprising automation and orchestration, to assure coveted system performance.
Security (16%) – Apply appropriate security controls given requirements.
Troubleshooting (22%) – Troubleshoot capacity, automation, connectivity, and security issues concerning cloud implementations.
How to Pass CompTIA Cloud+ CV0-002 Exam
1. Know the CV0-002 Exam
Explore the official exam page, understand your exam details, i.e., its objectives, prerequisites, exam cost, etc.
2. Take Experts Advice
Head to online forums and communities, this helps. Experts who already passed this exam will guide you on how to ace the exam.
3. Obtain Reliable Study Material
Keep in mind your study materials are your preparation's foundation. So choose wisely. A lot of professionals suggest the CompTIA Cloud Plus study guide.
4. Practice Your Skills
How much time you spend to practice test will decide fines of the result. CV0-002 Practice Test is an excellent way to measure your skills and sharpen them.
5. Stay Confident
After giving it all to your practice, it is vital to stay confident. Believe in yourself and your preparation.
Why Obtain CompTIA Cloud+ Certification?
Every organization is using the cloud in one way or the other. Cloud computing has become more of a requirement than a choice. So, the need for cloud computing professionals is only going to increase.
Let us explore why you should be obtaining a CompTIA Cloud+ certification–
Rising Demand for Cloud Computing Professionals
Almost 90% of organizations are using or plotting to utilize cloud services and computing to an extent. This involves cloud infrastructures, individual services, and distributed storage.
While some organizations have already moved completely, others are still growing or executing their cloud migration policies. Having CompTIA certified professionals in-house that can help conduct these migrations and manage cloud environments afterward is a vital need and one that is increasing.
The Opportunities are Plentiful for CompTIA Cloud+ Certified Professionals
Because cloud computing is still comparatively new, the field is completely open for freshers and innovators. Becoming a CompTIA Cloud Plus certified professional now provides you greater potential to get promoted at your current organization or receive more prominent profiles at high-profile organizations.
Acquiring the knowledge, you require now enables you to be in the first row of emerging developments. If you intend to expand your career opportunities and secure a better future, entering cloud computing earlier expands your growth potential.
Career Growth
CompTIA Cloud+ certification can raise your demand and your salary. This certification shows a level of expertise that allows you to determine your worth to an organization and encourage organizations to appreciate your efforts properly.
Jobs You Get After Passing CompTIA Cloud+ Exam
As a CompTIA Cloud+ Certified, you can take on any of the following positions:
Cloud Developer

Cloud Specialist

Cloud Project Manager

System and Network Administrator

Cloud, Systems and Network Engineer

Data Center SANs Manager

Cloud Computing Business Analyst
Flexibility
Cloud computing certifications can provide you additional flexibility when it comes to looking for your next job. These certifications are valuable for cloud architects, solution architects, and developers alike.
Moreover, CompTIA Cloud Plus certification is a vendor-neutral, you can access positions in a broad range of environments and organizations. These can incorporate entertainment, healthcare, finance, or government.
Meeting Employer Qualifications
Many organizations seek employees with Cloud+ certification because it allows them to benchmark an employee's skill upon known standards. Company teams may not understand what skills are required for their environments. However, they can trust industry leaders, such as Microsoft and Google, to specify necessary skill sets.
Conclusion
In the past few years, the way businesses work has been changed beyond recognition by virtue of cloud technology. Nowadays, nearly all organizations, big or small, rely heavily on the cloud to not just host but also carry out their vital applications. Whether you want to enter the industry or wish to advance your career, the CompTIA Cloud Plus certification can help you sharpen your skills and better your career prospects.