Making the appropriate decision about your professional area can be a bit tough once you're incompetent in finding appropriate guidance. In this case, you should mainly concentrate on a sphere with the possibility of providing you significant benefits.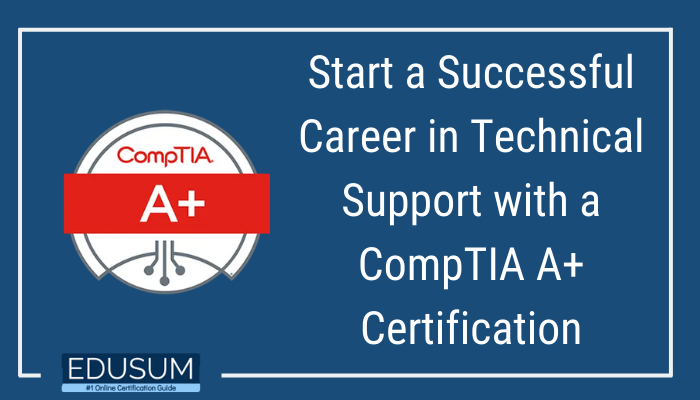 That's why the must-have is to figure out the CompTIA A+ certification, its two associated exams, 220-1001 and 220-1002, and the benefits that this most in-demand certification brings.
CompTIA A+ Exams
The two CompTIA A+ exams are important in becoming a successful IT support specialist. Initially, applicants were needed to take 220-901 and 220-902 exams, but since the IT-sphere has been rapidly evolving, there is a need to update professionals' skills, making them suitable to the requirements of the current IT field. Thus, new exams (220-1001 and 220-1002) comprise more topics to test you on, and these exams are explained in this article below. The 220-1001 exam includes networking technology, hardware, and connected devices, cloud computing with virtualization, and associated technology.
While 220-1002 comprises areas such as operational procedures, software troubleshooting, and enhanced security. Each of the exams includes 90 questions needed to be taken in the time duration of 1 hour and 30 minutes.
This way, you're going to answer multiple-choice, drag-and-drop, and performance-based questions in the exams. Applicants' lowest eligible marks' number for the 220-1001 exam is 675/900, while the least score for 220-1002 is 700/900 points.
Benefits of Earning CompTIA A+ Certification
Defined as the standard for the IT field, the CompTIA A+ certification has several benefits to every professional who prefers to pursue it. The IT professionals' knowledge of software, including hardware, will be proved through the certification. Here's what it means to earn the certification:
1. Confirms Your Commitment
Organizations are always on the prospect of experts who have confirmed their commitment to the potential work that a sound badge is intended to prove. With CompTIA A+ certification, you'll automatically prove the HRs how much you concerned about your career and responsibilities. It also helps applicants in acquiring the skills that can propel their careers. No hiring manager would want to overlook such a person during the hiring process!
2. CompTIA Certification Is Vendor-Neutral
CompTIA A+ gives you an opportunity to learn how to operate any of the IT vendors' systems available. It doesn't restrict you to the products of a specific IT enterprise. More to add, the reliable CompTIA A+ certification provides you flexibility and presents an opportunity to expand your knowledge as you'll be dealing with products from various tech producers.
3. It's Satisfying and Alleviating
Nothing is as comforting as perceiving; you have eventually accomplished the goal you have been pursuing. Even though there are many more career heights to reach, you'll feel totally satisfied with your efforts and the good outcomes obtained with this certification under your belt.
4. Becoming Skilled
Expanding skills and expertise in a specific IT field is what all technical exam applicants are looking for. The CompTIA A+ 220-1001 and 220-1002 exams' target is to equip you with profound skills and understanding. You'll be able to execute your IT support responsibilities without any significant revolutions since you already understand how to go about delivering the required solutions.
5. Greater Career Opportunities
There will come across infinite opportunities related to your certification, with employers hiring you out from other applicants because of your exclusive and distinguishing qualification. In addition, you will have a chance to proceed in your preferred field, thanks to multiple opportunities. These are the fields you can become part of once you keep the certification:
Technical support specialist

IT support specialist

Help desk technician

Help desk technician

PC technician, or

You are authorized to become a freelance contractor by starting your own PC repair business.
6. Higher Pay Scale
With the renowned CompTIA A+ certification, it's highly possible for you to get a job position offering you a good salary already at the primary level. IT professionals with certifications get paid much more compared to their uncertified colleagues. And the more you progress and gain more experience, the greater the possibilities you get for promotions and salary hike. An average annual salary of $51,276 is what you'll be receiving as you begin your career.
7. Paves Way to Pursuing Advanced Certifications
The CompTIA A+ certification acts as the basis for anyone seeking to sharpen the technical scale. It gives aspiring professionals an opportunity to get basic skills helping them work towards higher-level certifications with soothing. With experience and knowledge gained from this credible CompTIA certification, you can confidently move ahead in your CompTIA certification career path to pursue any other certification you wish for, such as CompTIA Network+, Security+, and more, according to your interest and present job.
Tips to Pass CompTIA A+ Exam in One Go
The method of learning and eventually passing the exam shouldn't be daunting. To help you out, we have listed some tips, especially for the applicants who are about to opt for the exam to become CompTIA A+ certified. If you follow these tips, we are sure that passing the exams will become easy for you. Continue reading to figure out the best tips to pass CompTIA A+ exams, both 220-1001 and 220-1002, in the first try.
1. Underastand Exam Objectives
You will be surprised by the number of individuals who appear for the CompTIA A+ 1001 and 1002 Exam without understanding the exam objectives. You can obtain these objectives on CompTIA official website. They are easy to understand, and every skill is noted to learn and pass the exams. Not particularly do these look what can be found on the exam, they are extraordinary windows into the universe of CompTIA A+ exams. The exams are updated usually at regular intervals and constantly drop old heritage things from the required information as look ahead toward new Tech. A common sign you can finish the exam is the point at which you observe specific you can do every one of the objectives covered by CompTIA.
2. Get a Study Guide
Another thing that you should do while studying yourself for the CompTIA A+ exam is to obtain the relevant study guides. The study guides and other e-books can be downloaded from the official website and can be purchased from the book shops.
3. Learn Online
The internet is filled with useful and informative blogs and videos to help you understand how PCs are built. Many organization specialists publish many articles and videos associated with the subject through YouTube and different platforms on CompTIA Certs and PCs in general. You can precisely search and find several videos and articles explaining your doubts online. All you have to do is to explore what is bothering you; the internet is there for you to solve your doubts.
4. Take CompTIA A+ Practice Tests
It's recommended to take practice tests. However, keep this in mind that practice tests don't necessarily have the same questions as you will face the actual exam. But these questions are always important and prepare you for the exam. Taking these practice tests also help you learn stress management, time management, and how to answer all the questions within the given time efficiently.
How Do Practice Tests Help You Earn CompTIA A+ Certification?
CompTIA A+ practice tests are intended to help you pass your 220-1001 and 220-1002 exams. Obtaining them now becomes easier than ever.

Practice tests will help you in outlining all the test pitfalls they've gone through. This will guarantee you great results in your CompTIA exams.

Practice tests will make you familiar with the exam questions and answers by scoring your results to prepare for the test comprehensively!
Conclusion
Confirming your skills through the CompTIA A+ certification and relevant exams is the only way you can prove your commitment to succeed in the ever-expanding IT world. Acquiring tech skills isn't something to be overlooked or neglected.
Assure to go for skills that will help you promote your professional career that others may lust after. Starting here might be difficult, but the moment you engage yourself in the learning, things will fall into place!