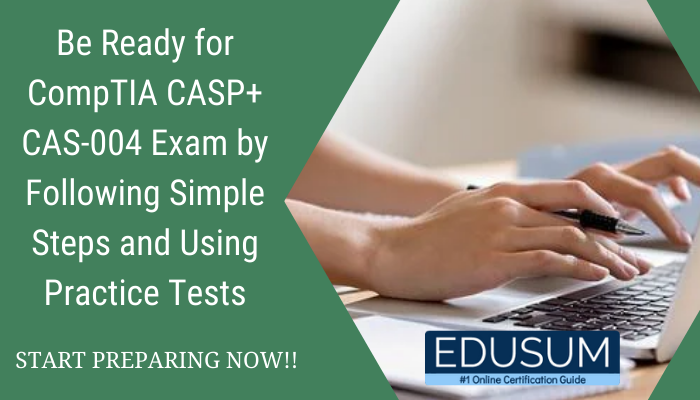 The CompTIA Advanced Security Practitioner certification is a perfect fit for technical specialists who like to work practically at a higher-level skill in the cybersecurity field. While cybersecurity managers recognize what cybersecurity strategies and frameworks can be completed, CASP certified professionals formulate implementation solutions that work within those strategies and frameworks. To obtain CASP+ certification, individual needs to pass CompTIA CASP+ CAS-004 exam.
CAPSP+ certification is equivalent to CISSP but more technical. It is approved by ANSI to show compliance with the ISO 17024 Standard. The DoD also approves it for Directive 8140/8570.01-M.
The CASP+ CAS-004 certification evaluates advanced-level skills in the following domains.
Security Architecture

Governance, Risk, and Compliance

Security Operations

Security Engineering and Cryptography
CompTIA CASP+ Exam Details
The CompTIA Advanced Security Practitioner CASP+ exam comes with CAS-004 code.

CASP+ includes the technical knowledge and skills needed to architect, engineer, integrate, and carry our secure solutions across multiple environments to support a resilient enterprise while analyzing the impact of governance, risk, and compliance requirements.

The exam comprises 90 Multiple-choice and performance-based questions.

Also, the applicant gets 165 minutes to finish the exam; this exam has no scaled score; it's pass/fail only.

At least ten years of experience in IT administration and at least five years of hands-on technical security experience.
Preparation Options for the CompTIA CASP+ CAS-004 Certification Exam
CompTIA CASP+ CAS-004 exam required thorough preparation to pass it. Studying smart and complex is the only method to get through the CompTIA exams. The below-mentioned exam preparation tips will help you study thoroughly for this exam and pass it on the first attempt. Let's explore them:
1. Make a study schedule
Preparing for a CompTIA CAS-004 exam demands proper planning and hard work. For systematic preparation, it is vital to make a study schedule. You can only design your study schedule by having an exam syllabus at hand. You cannot read through the complete syllabus in just a day or a week. You must understand CASP+ 004 syllabus and create a study schedule on how you will study every topic.
2. Start Early
Starting preparation well in advance means distributing the study loads. Your study schedule includes time for spreading the exam topics throughout study days, creating short notes, obtaining study guides, and evaluating whatever you have covered to ensure no knowledge gap.
3. Concentrate on your goals
Before you begin preparing for the CompTIA CAS-004 exam, you should first plan your goals. When you understand them, you will know what you are working towards and accomplish your study goals systematically. Thus, be sure to know your goals and follow them.
4. Explain whatever you Study
Excellent study materials are written in the most straightforward language to understand. However, you can still make it even easier to understand by explaining to others whatever you have read and learned. This will make your revision more productive.
5. Enroll in an Instructor-Led Training
Training is the most efficient way of preparing for the CompTIA CASP+ CAS-004 exam, especially for those who are not good at studying independently. When you take a training course, you will learn in an environment conducive to studying. This will improve your learning and help you concentrate completely on the outcome, thereby boosting your odds of passing the exam. There are several training options to choose from.
6. Take CompTIA CASP+ CAS-004 Practice Tests
You need to gauge your learning before taking any exam. Practice tests are the best way to do so. When you take them, you will be able to know your weak areas and how well you have grasped the exam concepts. CompTIA CASP+ CAS-004 practice tests are also a great way of evaluating your preparation level. They mimic the actual exam environment, and you will know precisely what you should expect in the actual exam. This strengthens your confidence. Edusum.com is the trusted website for CompTIA practice tests, and it offers many questions comprising all the objectives of the CAS-004 exam.
Importance of CompTIA CASP+ CAS-004 Certification
CompTIA CASP+ CAS-004 certification is profoundly respected and has given great benefit to many organizations or businesses. All the entry-level certifications such as A+, Network+, and Security + certifications are recommended globally. It is useful for professionals who also wish to expand their career or future in technical IT. The same practical and straightforward way to the syllabus and exams structure has also been adopted for the CASP certification.
Now let's find out about the importance of CompTIA CASP certification in great detail. You can get all concepts of what is required or in which significant way this certification will help establish a career better and more steady.
Excellent Job Opportunities:
As you know that CompTIA CASP+ CAS-004 Certification is a leading certification across the globe, so there will be plenty of job opportunities available. No applicant will face any issues or difficulty while taking a job from any place globally, as most leading organizations want CompTIA Advanced Security Practitioners.

CompTIA CASP+ CAS-004 Certification is ANSI Approved:
The area of defense finally recognizes CompTIA CASP+ certification. It is also provided with the guidance to propose ways to defend and secure government data and the operations against cybercrimes or threats.

Enhances Knowledge Of An Applicant:
Once an applicant begins to study and opt for the CompTIA CAS-004 exam for the CASP+ certification, the applicant will eventually grasp everything and all type of concepts of cybersecurity and the needed tools or get involved in it. In addition, an applicant will also learn about the method and the techniques that may help them protect themselves from any attack.

Boosts Confidence:
In training and CASP+ CAS-004 exam preparation, an applicant will be able to solve all their doubts. In this way, that applicant would be getting more confidence in themself to take more work and do them more reliably without lacking their confidence.
Conclusion
Few IT certifications can boost your career in the same way as CompTIA CASP+ certification. And CompTIA CAS-004 is a certification exam that can serve as a powerful tool to enhance your value greatly. Though, passing it may be a challenging task. This is why you should use CAS-004 practice tests and other learning resources to make your preparation process exciting and more productive so that you can improve your possibilities of success.