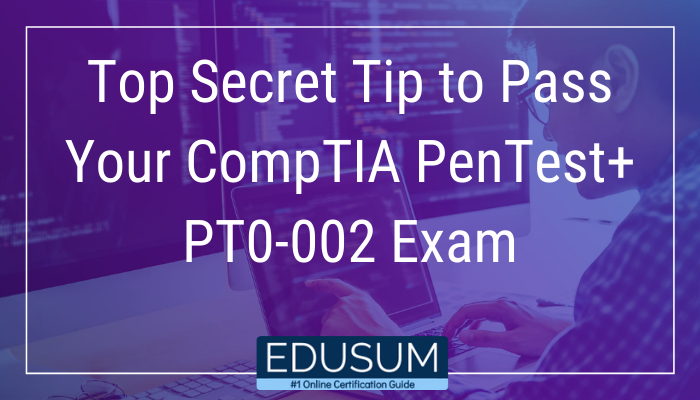 CompTIA PenTest+ PT0-002 certification exam enhances the most up-to-date penetration testing, vulnerability assessment, and management skills. This certification aims to offer the freshers in IT Security a clear route into a career in penetration testing. PenTest+ certification is particularly useful for professionals who conduct penetration tests to find, exploit, report, and maintain vulnerabilities on a network.
PenTest+ PT0-002 exam comprises 85 questions that are a mix of multiple-choice and hands-on, performance-based questions. The questions need to be completed in 165 minutes. The minimum passing score is 750 (out of 900). Applicants can opt for the examination offline at one of the Pearson VUE testing centers or proctor online. CompTIA PT0-002 exam cost is $370.
CompTIA PenTest+ exam includes the following five domains:
Planning and Scoping

Reporting and Communication

Information Gathering and Vulnerability Scanning

Tools and Code Analysis

Attacks and Exploits
Besides the fundamental penetration testing skills, CompTIA PenTest+ certification evaluates an applicant for basic management skills. Moreover, it confirms the expertise of carrying out pen testing in cloud-based and mobile-based environments in addition to the desktop and server environments.
Preparation Guide for CompTIA PenTest+ PT0-002 Exam
Most of the applicants fly high on last-minute preparation. As an outcome, applicants do not get through the exam. Thus, follow the below-listed steps for PenTest+ PT0-002 exam. Here is a step-by-step guide to passing the examination with the best use of time. So, why wait for more? Let's, start.
1. Visit the Official Website
The first step in your exam preparation is to visit CompTIA's official website. This is an intelligent step because you should always go by the most trusted platform to avail authentic information. On the official site, you can get all the PT0-002 exam information. From exam structure to all the syllabus topics and study materials are incorporated on this website.
2. Understand CompTIA PenTest+ PT0-002 Objectives
The second step is to understand the CompTIA PenTest+ PT0-002 objectives. Knowing exam objectives thoroughly will provide all the essential details. Moreover, this will give a clear idea about all the different topics and skills that are necessary. Therefore, the course outline is an essential part of the PT0-002 exam. Moreover, this will also make your preparation process organized.
3. Train with instructor-led training
The next step in the preparatory guide is to go through online training in the same vein. Moreover, CompTIA CompTIA offers applicants an instructor-led training course. Further, this training also comes with privileges such as flexible scheduling, increased convenience, and fast responses.
4. Use CompTIA PenTest+ Practice Test
Lastly, gauge your preparation level with the CompTIA PenTest+ practice test. This will give you clear insight into the weak areas. So, make sure you're attempting practice tests. But only after you have studied all the CompTIA PenTest+ PT0-002 objectives. Practice tests are mimic the actual exam environment. The more you perform practice tests, the better you're going to become.
Topmost Reasons to Pass CompTIA PenTest+ PT0-002 Exam
1. Passing CompTIA PT0-002 Exam Fetches Excellent Opportunities
Organizations have a shortage of cybersecurity professionals resembling to enter into this field. Penetration testers are deeply valued because resilient networks have become crucial for business. CompTIA PenTest+ prepares security pros to think like attackers and anticipate vulnerabilities. These cybersecurity experts agree that CompTIA PenTest+ is an excellent option for equipping penetration testers with the skills they need to bridge the skills gap.
Potential job roles may include:
Cyber Security Analyst

Penetration Tester

Vulnerability Tester

Security Analyst

Network Security Operations.
2. CompTIA PenTest+ Will Prove Your Skills
CompTIA is globally trusted and has a vendor-neutral certification. PenTest+ demonstrates knowledge beyond entry-level and that the individual can straightaway add value within a pentest team. The certification is valid for three years, and then you will need to renew.
3. Trustworthiness
Passing the CompTIA PT0-002 exam solidifies an individual's trustworthiness. Many industry standards demand technical evaluations, often every year. Automated pen testing does endure, but it is typically coupled with human pen-testing performed by a certified professional. This type of penetration testing is much more powerful and rooted in situational details.
Conclusion
CompTIA PenTest+ certification does impact your profession. Moreover, this will also prove your commitment to your dreams and ambitions. And, in terms of financial perks too.