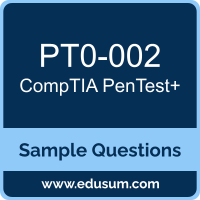 The purpose of this Sample Question Set is to provide you with information about the CompTIA PenTest+ exam. These sample questions will make you very familiar with both the type and the difficulty level of the questions on the PT0-002 certification test. To get familiar with real exam environment, we suggest you try our Sample CompTIA PenTest+ Certification Practice Exam. This sample practice exam gives you the feeling of reality and is a clue to the questions asked in the actual CompTIA PenTest+ certification exam.
These sample questions are simple and basic questions that represent likeness to the real CompTIA PT0-002 exam questions. To assess your readiness and performance with real time scenario based questions, we suggest you prepare with our Premium CompTIA PenTest+ Certification Practice Exam. When you solve real time scenario based questions practically, you come across many difficulties that give you an opportunity to improve.
CompTIA PT0-002 Sample Questions:
01. Bash is a command shell and language interpreter that is available for operating systems such as Linux, macOS, and even Windows. The name Bash is an acronym for Bourne-Again shell. What does a shell do?
a) It deletes temporary files.
b) It deletes application logs.
c) It suppresses Syslog messages.
d) It allows for interactive or non-interactive command execution.
02. When was the Security Standards for the Protection of Electronic Protected Health Information, known as the HIPAA Security Rule, published?
a) March 1963
b) July 2021
c) February 2003
d) September 1970
03. Cyber war and cyber espionage are both related to which type of threat actors?
a) Hacktivists
b) State-sponsored attackers
c) Organized crime
d) Insider threats
04. Job rotation, mandatory vacations, and user training are examples of which types of controls?
a) Operational controls
b) Administrative controls
c) Physical controls
d) None of these answers are correct.
05. During which phase of a penetration testing engagement does a penetration tester clearly define the scope of the engagement?
a) Master penetration rules agreement
b) Service level agreement
c) Planning and preparation phase
d) Pre-setup phase
06. How can an attacker maintain persistence of a compromised system?
a) Send phishing email links
b) Create a bind or reverse shell
c) Use an evil twin
d) Ping the core processor
07. Organizations sometimes require which of the following to feel comfortable with the penetration testing team that they are giving access to their environment and information?
a) Fingerprints
b) Polygraphs
c) Down payment
d) Background checks
08. Which of the following is the process of distributing, installing, and applying software updates?
c) Encryption of passwords
d) Process-level remediation
09. What type of attack uses a password hash collected from a compromised system and then uses the same hash to log in to another client or server system?
b) Evil twin
d) Pass-the-password attack
10. A company conducted a simulated phishing attack by sending its employees emails that included a link to a site that mimicked the corporate SSO portal. Eighty percent of the employees who received the email clicked the link and provided their corporate credentials on the fake site.
Which of the following recommendations would BEST address this situation?
a) Restrict employees from web navigation by defining a list of unapproved sites in the corporate proxy.
b) Implement a recurring cybersecurity awareness education program for all users.
c) Implement multifactor authentication on all corporate applications.
d) Implement an email security gateway to block spam and malware from email communications.
Answers:
Question: 01




Answer: d

Question: 02




Answer: c

Question: 03




Answer: b

Question: 04




Answer: a

Question: 05




Answer: c

Question: 06




Answer: b

Question: 07




Answer: d

Question: 08




Answer: a

Question: 09




Answer: c

Question: 10




Answer: b
Note: For any error in CompTIA PenTest+ (PT0-002) certification exam sample questions, please update us by writing an email on feedback@edusum.com.