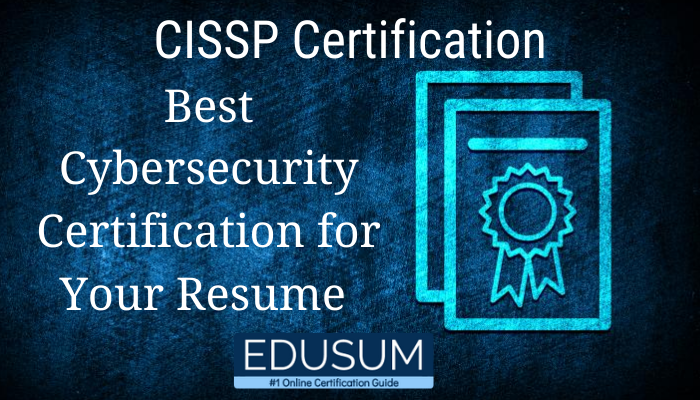 The ISC2 CISSP is one of the world's most renowned information technology and information security certifications at present. The CISSP certification indeed proves that you are at the top of your cybersecurity game concerning knowledge, skills, and experience.
CISSP Exam Information
The CISSP exam consists of multiple choice questions

Time duration of this exam is three hours.

100-150 Questions are asked in the exam

CISSP is a Computer-Based Test (CBT)

Passing score is 700/1000.

Multiple locations globally via Pearson Venue Testing Centers Available
Eight Domains of CISSP Certification
CISSP domains are defined by ISC2 based upon their research of the cybersecurity industry, formerly referred to by the term Common Body of Knowledge (CBK), and their periodical Cybersecurity Workforce Study. The CISSP exam contains eight domains:
Security and Risk Management

Asset and Security

Security Architecture and Engineering

Communication and Network Security

Identity and Access Management

Security Assessment and Testing

Security Operations

Software Development and Security
Preparatory Guide for ISC2 CISSP Certification Exam
The ISC2 Certified Information Systems Security Professional exam is challenging, and it will take you through various topics associated with security. For instance, you will have to confirm your knowledge of access management, security engineering, operations, etc. Risk management is also a crucial concept that you will be evaluated on. Even though the CISSP exam structure and syllabus might seem depressing, you can succeed if you have a structured study plan. Follow the steps below to assure you will get the passing score from the first try:
Begin with the exam blueprint from the official website. This will give you a precise overview of the exam domains. It is a powerful tool that will help you assess how prepared you are for the CISSP exam, and knowing them in detail will clarify more areas you need to work upon.
Make a Study Plan and Follow It to Avoid Cramming. Certified Information Systems Security Professional exam preparation is far more than quickly reading through the few resources and solving a few practice tests.
You will require to understand real-world examples and execute the knowledge in different business processes. So, you have to study hard to grasp the information and practice it in your working routine.
Use only trusted resources. The best source of information when you prepare for the CISSP exam is the ISC2 website, and there you will find different learning options. For instance, you can try live or virtual sessions and use self-study resources.
Can CISSP Practice Exam Boost Your Preparation?
When preparing for the Certified Information Systems Security Professional certification exam, it is crucial to expand your learning methods. CISSP Practice exam can become a powerful tool to strengthen your skills and have higher possibilities to pass the first attempt. CISSP Practice exam is efficient tools that help you understand the exam's structure and difficulty level. You also can opt for CISSP practice exam after learning all the topics and see how prepared you are to take the exam.
What Makes CISSP Certification a Worthy Investment?
Passing the Certified Information Systems Security Professional exam and earning Certified Information Systems Security Professional certification is not a walk in the park. You need to have experience, an endorsement, and you'll have to pass a tough, three-hour, 100-150 question adaptive exam.
But earning the Certified Information Systems Security Professional certification will be worth all the efforts. A CISSP certification is worth an investment, not just an expensive piece of paper. It is an entry ticket to an exclusive club of coveted professionals who hold the skills organizations will require for the coming years.
The following list highlights the incredible benefits of investing time and money in CISSP certification.
1. Demonstrate Your Worth
A CISSP certification is an excellent way to demonstrate what you comprehend. Maybe you're a cryptography expert who studies the most advanced asymmetric encryption practices. Perhaps you have the skill for creating and enforcing cybersecurity policies. Inappropriately, confirming these facts to potential organizations is often more challenging than it should be—specifically if you lack professional experience in specific areas. Having added Certified Information Systems Security Professional certification in your resume confirms that you own the skills essential to carry out the given tasks.
Though you don't have enough experience in the field to be eligible to sit for the CISSP exam, studying for this ISC2 certification exam is a worthy task.
Successful applicants become Associates of (ISC)2, a certification that flaunts your cybersecurity capabilities and sets you up for CISSP certification as soon as you acquire enough experience. By cracking the exam or achieving the designation of Certified Information Systems Security Professional, you guarantee you hold the following skills:
Technical security skills along with managerial expertise

Expertise in eight vital security areas varying from access control to software development.

Convenience with the technology and management that enhance a organizations' security posture.

Aptitude to partake in creating policies that set the infrastructure for enterprise-level cybersecurity.

The CISSP certification will help you differentiate yourself from other IT professionals. There are only 105,000 CISSPs across 160 countries.
2. Makes You Sought-After Professional
Organizations seem to improve their cybersecurity teams by hiring professionals with a CISSP Certification. CISSP is at the top of its eight most in-demand Information Technology security certifications. If you are aspiring to get a job in government, Certified Information Systems Security Professional is a few of the certifications that meet the requirements of Department of Defense Directive 8570 (DoDD 8570/8140). By earning Certified Information Systems Security Professional certification, you can take your pick from the thousands of jobs waiting to be occupied.
3. Make Yourself Irreplaceable
There's been substantial investment recently in technologies, namely artificial intelligence and automation, as ways to fight cyber threats. These innovations may frighten the existences of many cybersecurity professionals—although not Certified Information Systems Security Professional. The CISSP certification confirms that you are a cybersecurity leader. You will have all it requires to make decisions, perceive emerging technologies, and enforce enterprise-level strategies that consider technology and long-term business results.
4. CISSP Certification Jobs
CISSP certificate, information security experience, and education entitle you for a different kinds of distinct positions, such as:
IT Security Consultant

IT Security Specialist

Penetration Tester

Systems Auditor

Security Engineer

Computer Forensics Analyst

Homeland Security Specialist

Site Administrator

Network Security Specialist
5. CISSP Salary
Precisely, Certified Information Systems Security Professional earn a CISSP salary of $116,573, making it the third-highest CISSP salary for IT professionals across the globe.
Conclusion
If you are looking for a secure way to join an international organization, obtaining the ISC2 Certified Information Systems Security Professional certification is the solution. It will help you get a great offer from leading IT organizations. Becoming Certified Information Systems Security Professional is not tough if you have a complete study plan. So, follow the steps described above, don't forget about the CISSP practice exam, and soon you'll have the most coveted Certified Information Systems Security Professional certification under your belt!