A CISA or Certified Information Systems Auditor is a certification that offers credence to the role of an IT auditor. CISA certification is administered by ISACA (Information Systems Audit And Control Association), which itself is an internationally renowned association. Individuals who successfully earn CISA certification work towards assuring that a firm's systems are working in an expected manner by providing management, audit, and control level services.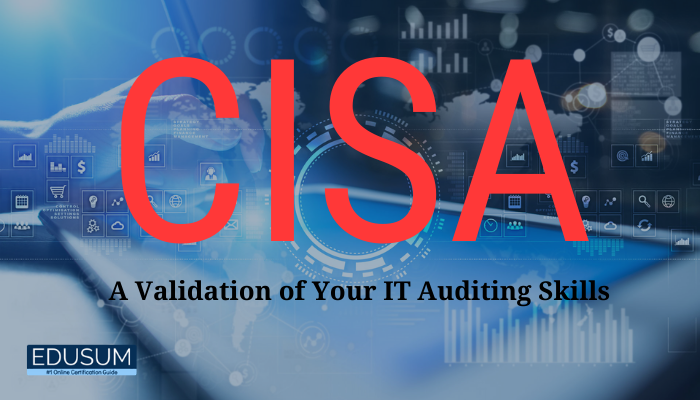 Passing the CISA exam is a rigorous process incorporating many different requirements. Only after an individual successfully satisfies all these criteria is it awarded the title of a CISA certified professional. Contemporary IT audits demand a considerable amount of skill towards understanding the risks, vulnerabilities, and problems in modern enterprise environments and then developing mechanisms that control or reduce the effect of these problems. CISA certification is designed to address the essential skills to execute this task.
ISACA CISA certification is mainly intended for IT auditors, but cyber-security experts, IT consultants, and even mainstream IT managers can benefit hugely from passing this certification.
Organizations throughout the world not just acknowledge this certification but often make it a mandatory or a highly recommend requirement when seeking talent in IT audit profiles. If an individual owns this certification, it will significantly benefit it by enabling it to obtain improved transparency among applicants that have applied for the same jobs.
However, the benefits that CISA certification guarantees have to be hard-earned. There is a 50% chance of an individual passing this exam in the first try, and the CISA exam is just one among the listed requirements an individual has to fulfill to gain and maintain the certification's validity.
Pre-requisites for CISA certification
Five years of professional work experience in an associated field like auditing, assurance, or security is needed for an individual to become eligible to opt for the CISA certification exam. So this can be regarded as a certification for mid-senior level professionals.
ISACA's guidelines further say that these five years of experience should not be older than ten years from the examination itself. An applicant can also give the exam and then obtain the expected work experience, but this experience must be gained within five years after appearing and passing the CISA exam. However, since the certification is only valid for three years before you have to renew it, it is highly advised that an individual gain the expected experience before appearing in the exam.
CISA Exam Details
The CISA exam is thorough and comprises of 150 multiple-choice questions. The time duration of the exam is four hours, and the course material assures that the applicants have the required knowledge in the following domains.
CISA Domains:
Information Systems Auditing Process (21%)

Governance and Management of IT (17%)

Information Systems Acquisition, Development and Implementation (12%)

Information Systems Operations and Business Resilience (23%)

Protection of Information Assets (27%)
Scoring is done on a scale of 200-800, and to pass the CISA exam, an individual must get 450 or a higher score to be considered pass on the exam.
ISACA test centers are located across the world, and the CISA exam is administered in many different languages apart from English, like French and Korean.
Retaining the CISA Certification's Validity
Once the exam has been cleared, the individual won't just receive the certification yet, as it has to comply with other rigorous requirements as well further. Firstly, it has to demonstrate adherence to ISACA's professional code of conduct. Secondly, it has to ensure its presence in the Continuing Professional Education (CPE) program, which expects an individual to invest 20 hours each year in the program. On top of this, 120 hours over three years in contact is also a requirement.
Is CISA Certification Worth the Effort?
CISA certified professionals become extremely skilled at not just auditing a firm's IT infrastructure and implementing controls. However, they are also extremely precious assets for organizations looking for combining their IT systems with high-end business objectives. These qualified resources create and execute the outline of a firm's policies, thereby assuring that they are working in the best possible way.
With the increasing demand for individuals possessing control and security skills, CISA has been one of the most preferred certification programs by individuals and organizations. For operation experts who are looking for a change in profile to scale up the career ladder, this is your stop. Available to all interested individuals, CISA certification fetches well-defined short-term and long-term benefits.
Credibility: A CISA certification will fetch you immediate credibility in the market.
Benefit over Colleagues: 89% of organizations believe it is important to hire cybersecurity certified professionals
Too many threats, also fewer professionals: 1 in 4 organizations have undergone a cyberattack, and 84% of organizations think very few applicants are qualified for open security jobs.
Job opportunities open up for individuals within a different field after earning CISA certification. Apart from IT audit profiles, these professionals can also apply for jobs in domains associated with security, management, control, and IT infrastructure development. All of these profiles often are in the mid-senior level positions allowing an individual to accelerate its career development and guaranteeing that the efforts paid off.
CISA Salaries
Given the need and the special expertise, it is no wonder that IT audit receives a higher salary than a generalist within the internal audit area. If you want to receive higher paychecks, CISA certification is going to help you get it.
The average salary for a CISA qualified individual ranges from $52,429 to $122,326 per year, according to the individual's prior experience, the kind of job roles he was earlier associated with, and the place in which he is currently situated.
Out of all job profiles that a CISA certified individual can achieve, the profile of an internal audit director holds the most advantageous earning potential with an average annual salary in the range of $136,082, which is certainly on the higher side.
The Bottom Line
The skills and practices that CISA supports and appraises are the stepping stones of success in the field. Owning the CISA proves proficiency and is the foundation for evaluation in the profession.