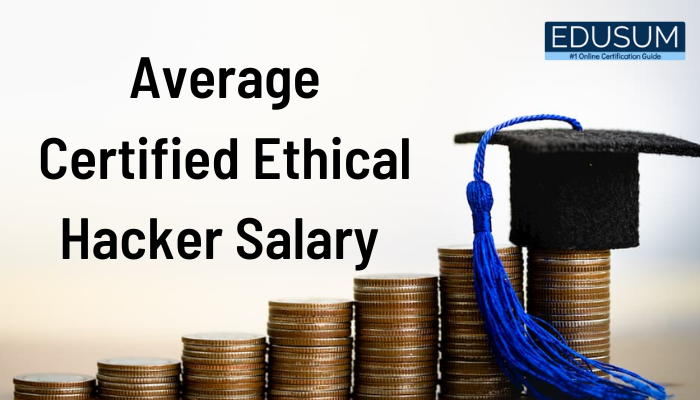 A trustworthy profession that helps others intending to defend their interests and potential data will always be respected. This profession is ethical hacking, which aims to help others use explicit hacking methods with good intentions. And we're here to discuss the career as an Ethical Hacker, the Certified Ethical Hacker Salary, or how much do ethical hackers make, including how much money a person may receive if they pursue an ethical hacking career.
We will also try to cover here all the other essential information about CEH certification and will answer questions like Is EC-Council Certified Ethical Hacker certification worth earning? Or Is CEH sufficient to get a job? And many further doubts and questions that people would have in their minds concerning ethical hacking.
What is CEH - Certified Ethical Hacker?
First of all, let's explain what an ethical hacker is. And what are their responsibilities?
Ethical hackers are also known as "white hats"; they are an organization's security experts. They secure the organization's precious assets by delivering security and making the organization more technological with the help of their knowledge and experience.
Ethical hackers work within their boundaries, have pre-defined boundaries, and cannot go beyond them. That is the prime reason for the divergence between an ethical hacker and a malicious hacker.
A Certified Ethical Hacker is a qualified expert who knows and understands how to search for loopholes and flaws in target systems and utilize the same tools and techniques as a malicious hacker to measure the security posture of a target system ethically and legally.
From a vendor perspective, the EC-Council CEH certificate authenticates individuals in the unique network and incorporates the responsibilities of Ethical Hacking.
Why do Businesses Need Certified Ethical Hackers?
Certified Ethical Hacker certification (CEH) is the fourth most desired among cyber security jobs.
Security and privacy are the top affairs of organizations at the present time. Organizations and businesses across the world have accepted the huge demand for ethical hackers.
The modern world does not utilize gun and bullets war. This digital era brags about cyber warriors capable of removing sensitive and confidential information from the networks and servers of multiple corporate rivals.
What is Certified Ethical Hacker - CEH certification?
The Certified Ethical Hacker certification is an exam conducted by EC-Council that qualifies an individual to be competently named as an "ETHICAL HACKER." A person must get through this exam after learning ethical hacking to be designated as proficient in this domain.
This certification was developed by the EC-COUNCIL Organization for qualified professionals with different e-business & cybersecurity skills and proficiency.
CEH exam is 4 hours long, comprising 125 questions and 20 practical challenges. You have to take 70% to pass this test/exam.
More than 237,000 security professionals from governments and organizations have been awarded the CEH certification by the EC-Council. They have increased employees' skills from many prominent organizations, namely IBM, Microsoft, the US Army and FBI, the UN, and so on.
The cyber security field has manifested its requirement for a reliable tool to identify persons with these capabilities by intensely supporting and affirming the EC-Council CEH certification.
The CEH's acknowledgment by the industry has strengthened the notion that ethical hacking is a helpful skill and honorable employment. Approval has given integrity to a group of network and computer skills that were earlier only chased by criminals.
CEH Job Outlook
Holding a CEH certification indicates you've learned the skills you'll need to work in the given positions/roles:
Security Consultant

Penetration Tester

Computer Forensics Analyst

Malware Analyst

Security Specialist

Security Code Auditor

Security Analyst

Security Engineer
Average Certified Ethical Hacker Salary
Here is the main part of this article.
Now come to the main point of this blog. In the same manner, it's impractical to illustrate a straight link between earning a CEH certification and obtaining higher pay packages. Though, it is incontrovertible that many of the jobs linked with CEH certification are the highest-paid.
The average pay will be different as EC-Council CEH certification spreads to various security jobs in a spectrum of organizations. Earning this certification will, unquestionably, qualify a person for promotion to higher-paying positions or additional perks with a salary hike in their current Job.
Certified Ethical Hacker Salary in the USA: The average certified ethical hacker salary in the USA is $90K.

Certified Ethical Hacker Salary in India: The median certified ethical hacker salary in India is Rs 599K.

Certified Ethical Hacker Salary in Canada: The standard certified ethical hacker salary in Canada is C$73K.

Certified Ethical Hacker Salary in UAE: The median Certified Hacker salary in UAE is AED 177K.
How Does Certified Ethical Hacker Salary Compare to Other Cybersecurity Jobs?
Ethical hacking is a covering term for varied information security positions. Ethical hackers, or white hat hackers, emphasis mainly hacking systems intending to solve data breaches. Ethical hacking can take the form of IT Security specialists, Information Security Analysts, and even Penetration Tester.
Other cybersecurity positions may emphasize distinct aspects of security, like monitoring databases. Moreover, some roles establish the layers of security a business or organization may utilize to prevent attacks at the outset, then an ethical hacker can be brought in to check the system.
At the End
From the above information on certified ethical hacker salary, we can conclude that ethical hackers are among the highest paid professionals and the most sought-after across the world.
Moreover, the CEH certification is possibly the best option available for professional certification for cyber security professionals who wish to demonstrate to their existing or potential employer that they hold the knowledge and skills vital to think like an opponent.
For many, it's just one stage to their "top of the industry" goal, but it's an essential one that shouldn't be ignored.