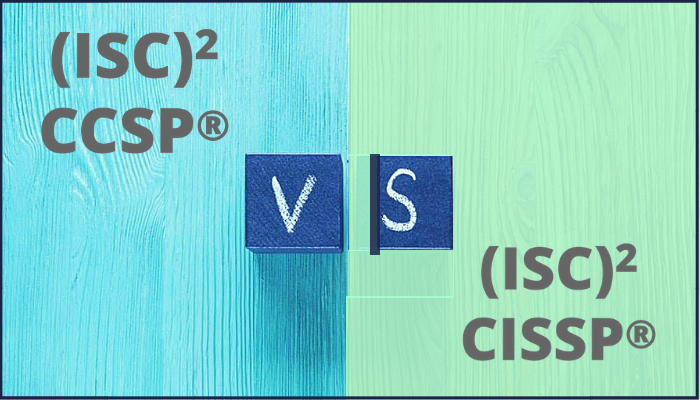 Choosing between CISSP (Certified Information Systems Security Professional) and CCSP (Certified Cloud Security Professional) can be a bit tricky as both the certifications are nearly the same and developed by (ISC)2. However, one of them can be chosen based on what an individual wants to accomplish. CISSP is a certification that allows you to further your career by moving into management, while CCSP helps you stay technical. Also, becoming a CISSP credential stands as the entire experience required for a CCSP.
Both the certifications have been elaborated hereunder for more precise and better understanding.
Certified Cloud Security Professional (CCSP)
CCSP Certification is a premier cloud security certification and recognized as a global credential representing the leading cloud security certification. Obtaining a CCSP certification validates your skills and hands-on experience in cloud security architecture,
operations,
design, and service orchestration.
The prerequisites for this certification include a minimum of 5 years of experience in IT, out of which one year must be spent dealing with the six domains of the CCSP Common Body of Knowledge.
The targeted audience for this certification
includes:
Enterprise Architect

Security Administrator

Security Architect

Systems Engineer

Security Manager

Security Consultant

Security Engineer

Systems Architect
A CCSP certification makes you eligible for instant credibility, and you gain recognition as it allows you to gain the crucial credential for cloud security expertise. It enables you to stay first of others by keeping you current on the newest technologies, threats, and mitigation strategies. This certification will enable you to work on various cloud platforms and enables you to preserve the sensitive data in a global environment. CCSP also helps you come across multiple opportunities and move into roles most appropriate for you.
Because the CCSP exam is relatively difficult CCSP Practice Test by MeasureUp are designed to help you gauge your competency and it will help you to cover all
CCSP Syllabus
topics.
Certified Information Systems Security Professional (CISSP)
CISSP helps advance your career in cybersecurity. Getting a CISSP credential shows your expertise in designing, implementing and maintaining a highly reliable cyber security program.
The prerequisites to becoming a CISSP include a minimum of five years of work experience in security, i.e., experience in at least two of the eight CISSP CBK (Common Body of Knowledge) domains.
The target audience for this certification include:
Chief Information Security Officer

Director of Security

Chief Information Officer

IT Director/Manager

Security Systems Engineer

Security Analyst

Security Consultant

Security Auditor

Security Manager

Security Architect

Network Architect
The advantages of obtaining a CISSP certification involve the immediate recognition that one gets as it is very respected by big organizations. According to the survey conducted by the Global Information Security and Workforce, the average salary earned by CISSP professionals is 25 percent more than the average wage earned by their non-certified colleagues. Also, the rate at which the wage hikes are achieved by CISSP professionals exceeds many other domains in the IT industry.
Ready to get started down the CISSP Certification? Edusum.com offers
CISSP
Online Practice Exam. You will receive 2 Months of access to CISSP Practice Test designed by industry experts.
it will help you to cover all
CISSP Syllabus
topics.
This will also help you pass your CISSP exam on the first try, which will prove your expertise and give your career a boost
Salary Comparison
If we compare the pays being withdrawn after pursuing these courses, a CCSP earns an annual average salary of USD100,800 according to Glassdoor, while the annual average wages earned by CISSP professionals vary between USD80,540 for an Information Security Analyst and USD110,451 for a Security Architect, as per research was done by the PayScale.