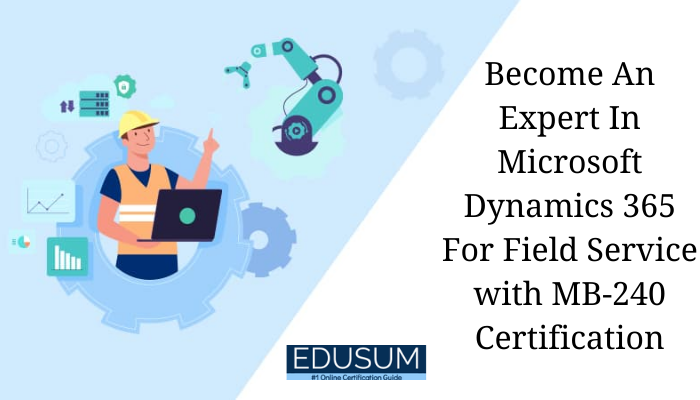 If you are on your journey of achieving your Microsoft Dynamics 365 certification, then you should think of opting for the MB-240 Microsoft Dynamics 365 Field Service exam. The Exam confirms the applicants' expertise to configure and deploy the Field Service application with the core client service application. The exam MB-240: Microsoft Dynamics 365 Field Service can get you the valuable Microsoft Certified: Microsoft Dynamics 365 Field Service Functional Consultant Associate certification that unlocks the doors to new opportunities for those looking for a career in this expanding platform.
Essential Details of Microsoft MB-240 Exam
MB-240: Microsoft Dynamics 365 Field Service exam comprises 40-60 questions asked in multiple-choice and multi-response. Applicants are expected to complete the exam within a time span of 120 minutes. A score of at least 700 or more points is required to pass the Exam. MB-240 exam cost is $165. Also, the MB-240 Exam is taken in the English language.
MB-240 Exam Covers the Following Topics:
Configure field service applications (15-20%)

Manage work orders (15-20%)

Schedule and dispatch work orders (25-30%)

Manage field service mobility (10-15%)

Manage inventory and purchasing (5-10%)

Implement Connected Field Service (10-15%)
Top Study Tips to Score Good Marks in MB-240 Exams
To score well in the Microsoft MB-240 exam, it is essential to know about the tried and tested study tips you can utilize to soak up or learn new topics, revise the learned concepts, and maintain a good tempo in your preparations. Here are the best study tips that will lead you towards a good score in the MB-240 exam:
1. Make a Study Schedule
Create a practical and achievable study schedule in advance by listing down the topics you need to study. While creating the study schedule, make concept combinations simpler with one complex concept, and this way, you will be able to study different topics in a day adequately.
2. Enroll in an official Training Course
Microsoft offers training courses for all their exams. Though an instructor-led training course can be costly, it will reward you greatly afterward. Still, if you feel the cost is too much for you, you can opt for the free online training. There are many variants related to various themes, so you can take any of them to fulfill your knowledge gaps.
3. Learn Concepts Rather Than Mugging Up
Many applicants use tricks to remember but don't ever remember, especially for Microsoft exams. Having clear concepts in your mind helps you learn faster and acquire the skills required to execute day-to-day tasks. Always get your doubts cleared so that your core concepts and basics of the subject are clear. Try learning and understanding every topic rather than solely remembering.
4. Use MB-240 Practice Tests
The best way to get a flying score in the MB-240 exam is to take up as many practice tests as possible. You can get MB-240 practice tests from a reliable site like Edusum.com and do them to assess your learning. After each practice test, you can review the result, note the topics where you perform poorly, and work on them until you get expertise over it. Thus, you'll get a solid grasp of the MB-240 exam topics and will be familiar with the exam structure and type of questions.
5. Take Good Care of Your Health
Don't forget about your health while preparing for Microsoft Dynamics 365 Field Service exam. While it is crucial to spend extensive hours to score good marks in the MB-240 exam, eating healthy meals and getting fresh air every day is also essential. Exercise every day or go for a run in the morning to energize your mind. Physical activities can greatly help you bring to the fore your learning process and will also keep you stimulated and encouraged.
6. Make Short Notes
Make your notes as it will help you revise the learned concepts in a more reliable way. Writing things down helps your mind in remembering them for longer. So, make your study notes and at least a month before the exam, which will boost your chances of scoring better.
7. Join a Study Group or Online Community
Joining a study group or an online community will be a great way to score well in exams. When you feel stuck in some topics, try to seek help from members of study groups. Staying in touch with like-minded people will help you boost confidence and motivation during stressful exams.
Conclusion
The MB-240 exam preparation process is a vital part of obtaining Microsoft Certified - Dynamics 365 Field Service Functional Consultant Associate certification, so you should not ignore it. If there's one thing you require to achieve in the most approaching future, then it's passing this Microsoft certification exam. Commit to fulfilling this goal without delay, and only then move on to the next step! Use the relevant resources, develop confidence in your exam-taking skills, and you will attain high results in the Microsoft MB-240 exam.