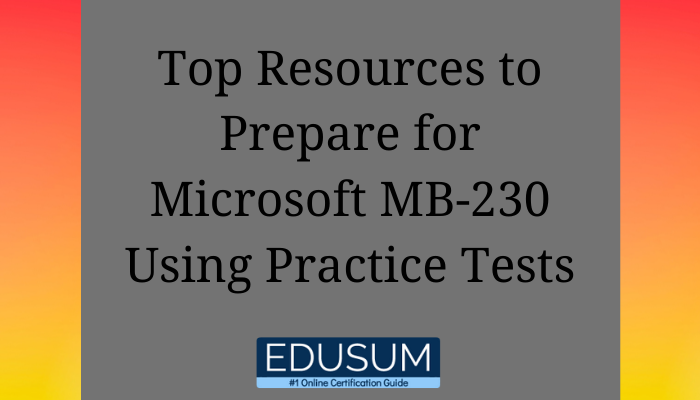 If you intend to present exceptional client service while generating new customer journeys, MB-230 is your best option. It allows you to obtain an insight into Dynamics 365's automatic case creation tools, and queue management frees up time to build strategies that produce the highest level of client satisfaction. The MB-230 exam will measure your skill to handle cases and knowledge management, execute omnichannel for client service and analytics management.
Microsoft Dynamics 365 Customer Service MB-230 Exam details
Microsoft MB-230 exam comprises around 40-60 questions that have to be completed in 120 minutes. The exam cost is $165. Though, the prices may differ from place to place. Applicants must keep in mind that the MB-230 exam questions are asked in different types such as multiple-choice, multiple select, case studies, and fill in the blanks.
MB-230 exam is available in the English language. You can take the online exam mode by creating an account with Pearson VUE. Though, there are no prerequisites to sit for the exam. You must get at least 700 points on a scale of 1000 to pass the exam.
Microsoft MB-230 Exam Preparation Process
Preparing for the Microsoft certification exam can be a significant challenge. Bearing in mind the routine of office workers, taking the exam might need additional effort. With all other daily responsibilities, Taking out some precious time for your preparation might be difficult. But, this has to be done because without thorough preparation, you will fail to obtain the certificate and waste your time, effort, and money paid for the exam. Here are a few tips and resources you can follow to get flying scores in the MB-230 exam.
1. Visit the official webpage of the MB-230 Exam
This appears to be the most straightforward thing to do, but many test applicants do not utilize the plenty of resources available on the Microsoft official webpage. On the official page, you will come across complete details of the exam syllabus page, training courses, study guides, and practice tests to help you acquire skills in the assessed areas.
2. Enroll in Instructor-Led Training Courses
Microsoft offers a three-day training course for the MB-230 exam preparation. Although you may wish to study for your exam using the self-paced method, instructor-led training is more useful in many cases. When you enroll in an instructor-led training course, you will have the opportunity to communicate with the specialists and learn straightaway from them. No doubt, the three-day instructor-led training courses will cost you some money, but it is worth the investment.
3. Avail Free Learning Resources
Nowadays, you can get plenty of websites offering free learning resources for Microsoft exam preparation. You can find many blogs which will be helpful for applicants to prepare for the MB-230 exam. Many websites provide a good number of practice tests.
4. Obtain the Relevant Study Guide
You can find many study guides written by seasoned professionals for the MB-230 exam. If you cannot sit to read a hard copy of the study guide, you can avail the e-copy alternative to preparing for your exam. To get the appropriate study guide, you should visit the official webpage for the most suitable options. Still, you can explore the other online platform to find study guides with good reviews from past exam takers. Buy such study guides and spend some time reading over them.
5. Attempt MB-230 Practice Tests
This is one of the vital resources that you can not ignore. Before sitting for the actual exam, make sure you have attempted as many MB-230 practice tests as possible. It helps you practice in real exam conditions. With it, you can gauge your exam-taking skills and perceive how swiftly you take the practice test in a simulated exam environment. In addition, you can enhance your time management skills and understand how fast you need to work on the exam.
6. YouTube Videos
If you have additional time, spend it intelligently by watching the free videos for Microsoft Dynamics 365 Customer Service MB-230 exam on YouTube. These videos support your exam success, particularly that these are mainly produced and uploaded by those who have already passed their exams. Therefore, you will learn innovative insights and develop your exam proficiency with the help of these online materials at no extra cost.
Conclusion
Using proper study materials can make a significant difference in your MB-230 exam preparation. Follow the tips highlighted above to find the best options to successfully prepare for your exam and pass it with flying scores.