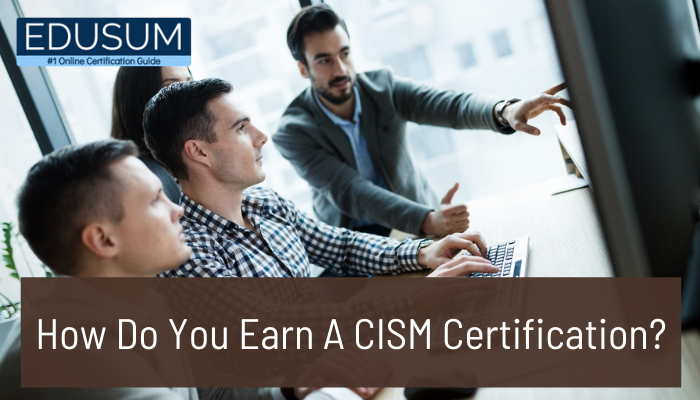 The CISM, Certified Information Security Manager certification is one of the most extremely coveted certifications in the IT industry. Getting your CISM certification demands dedication and time, but it can increase the job opportunities at your disposal and improve your earning power. Earning your CISM certification will help you to be part of a group of committed IT professionals that many organizations seek to employ.
In this blog, we discuss the benefits of CISM certification and how to get a CISM certification.
What is CISM certification?
A Certified Information Security Manager (CISM) certification is offered by the Information Systems Audit and Control Association (ISACA). Achieving a CISM confirms an individual's expertise in best IT security practices. Certified Information Security Manager can implement, design, and monitor an organization's comprehensive security network.
They can also point out and remove potential threats to networks and servers. In the event of a security breach, Certified Information Security Manager can lessen any wreck. A CISM is one of the most appreciated certifications available.
As organizations gradually depend on information technology, the requirement for proficient security professionals has elevated. A CISM certification can prove you're committed to IT security and have profound knowledge of the most advanced information systems inclinations and improvements.
Benefits of Having CISM certification
There aren't many professionals who own the CISM certification. Once you achieve this certification, you are part of a select group of people who perceive the development and administration of information security programs.
CISM certification exam is extremely difficult to pass. Passing the exam proves how much time, money, effort, education, and experience you put into.
Certified Information Security Managers are highly coveted professionals. Because of how tough the certification is to receive and how only a few people can be known as a Certified Information Security Manager, many employers are looking to hire candidates who own this certification. Acquiring the Certified Information Security Manager status can help you deserve many IT positions available at any level.
How to Obtain a CISM Certification
There are five requirements you must fulfill to get a CISM certification:
1. Crack the ISACA CISM exam
The first step to earning a CISM certification is passing an exam by getting mastery in the following domains:
Domain 1 - Information Security Governance

Domain 2 - Information Risk Management

Domain 3 - Information Security Program Development and Management

Domain 4 - Information Security Incident Management
The exam is multiple-choice, comprising of 150 questions, needs to be completed in four hours. If CISM candidates do not satisfy the rest of the prerequisites, then their exam score is canceled.
2. Stick to the Code of Professional Ethics
The next step to earning a Certified Information Security Manager certification is to consent to the "Code of Professional Ethics." ISACA put forward this ethics code to direct the professional and personal conduct of CISM certification holders. The code of ethics expects CISM holders to retain ISACA's standards and retain competence in the information systems field.
3. Fulfill Continuing Education
The third step to earning certification is to follow a rigorous continuing education policy presented by ISACA. You are expected to make a minimum of 20 hours of continuing professional education annually and a minimum of 120 hours of CPE within three years. The core objective of this continuing education policy is to ensure that you sustain an appropriate level of present knowledge and expertise in information security.
4. Obtain Needed Work Experience
The fourth step to earning your CISM certification is presenting evidence accredited by your employer of at least five years of information security work experience.
Moreover, these five years must involve at least three years of information security management work experience in three or more job practice analysis areas of CISM domains. The work experience must be acquired within five years from the day you passed the Certified Information Security Manager exam.
Because you require five years of work experience while also satisfying this certification requirement in less than five years, you will need to begin working in the information security field before passing your ISACA Certified Information Security Manager exam.
ISACA does authorize for work experience substitutions in which you can replace one or two years of information security work experience with the following:
Two years replaced if you are a Certified Information Systems Auditor

Two years replaced if you hols an active CISSP certification

Two years are replaced if you own a post-graduate degree in information security or a relevant field.

One year replaced with experience in information systems management of 12 months.

One year replaced for 12 months of experience in general security management.

One year replaced for every competence-based security certification you hold (GIAC, MCSE, CBCP)

One year substituted for completing an information security management program at an institution aligned with the model curriculum.

Even if you replaced all five years with a combination of some of these work experience substitutions, you still must have three years of work experience in an information security management profile.
5. Apply for CISM Certification
Once you have passed the exam, abided by the ethics code, paid your regular annual fee, followed the continuing education policy, and maintained the needed work experience, you can apply for the this certification. Once ISACA validates your information, you are awarded the CISM certification and designation.
Bottom Line
Study for CISM exam to demonstrate your skills, advance your career from technical-focused domains into the management / C-suite domains, and, as a result, boost your reputation and salary.