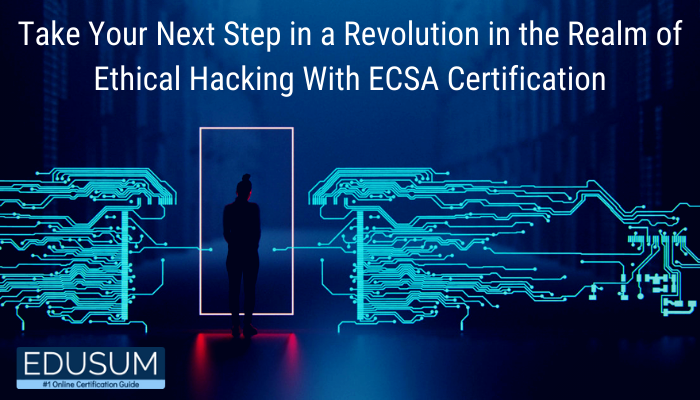 ECSA is a globally respected penetration testing program that addresses the testing of operating systems, modern infrastructures, and application environments while training the candidates on how to document and make a professional penetration testing report. EC-Council ECSA certification takes the tools and methods included in CEH to the next level by employing EC-Council's published penetration testing methodology.
Overview of EC-Council ECSA Certification
The new ECSA v10 exam includes updated curricula and an industry-recognized comprehensive step-by-step penetration testing methodology. This allows a learner to promote their ability in implementing new skills learned through extensive practical labs and challenges.
Unlike most other pen testing programs that only follow a general kill chain methodology, the ECSA offers a set of distinct comprehensive methods that can include different pen testing requirements through various verticals.
ECSA v10 Exam Information
EC-Council ECSA Exam consisting of 150 multiple choice questions to be answered in 4 hours. The cut off passing score is 70%.
If the candidate can not pass the exam on the first try, you can attempt 1st retake right away without any cooling period. After that, you have to allow for a cooling period of 14 days between every attempt. You cannot appear in an ECSA exam more than five times in a year.
Who Should Obtain ECSA Certification?
Ethical Hackers

Penetration Testers

Security Testers

Network server administrators

Firewall Administrators

System Administrators and Risk Assessment professionals
Why Should You Obtain EC-Council Security Analyst (ECSA) Certification?
Set forth industry-accepted comprehensive pen-testing standards over 44 domains

Include advanced topics such as Cloud, Mobile, and Virtual Machine pen testing

Maps to NICE's Protect and Defend, Operate and Collect, and Analyze Specialty Area Category

Satisfies all the requirements of the National Information Assurance Training Standard For

Information Systems Security Officers (CNSS – 4014) and National Training Standard for System Certifiers (NSTISSI – 4015)
How ECSA Certification Will Contribute To Your Cybersecurity Career?
ECSA Certification is Globally Recognized
Because of rising cyberattacks, employees seek individuals with the skill to secure their sensitive data from being infiltrated and stolen. The ECSA is evidence of that skill and experience. This is primarily since a security analyst plays a vital role in its defense against the world's ever-growing cyber-attacks.
Having an EC-Council ECSA certificate also gives you the freedom to practice your skill anywhere globally without limiting yourself to any particular region. Additionally, since the ECSA certificate is not easy to achieve, and candidates have to go through rigorous tests to get certified, not many individuals have this qualification. This gives you an advantage when looking for a cybersecurity industry position and accelerates your journey in this field.
Set Your Own Pace
Taking into account the usefulness and high demand of the ECSA certificate, it is no surprise that the 12 modules will not be a breeze to go through. However, fret not! The EC-Council confers you the opportunity to learn and go through the modules at your own pace.
Cost-Effective
When analyzing the price of getting ECSA certified to the value it gives to your career, it is worth it. Getting certified involves not only a promotion from your current job profile but also an almost instant salary raise when compared with not being ECSA certified.
How to prepare for the EC-Council ECSA Exam?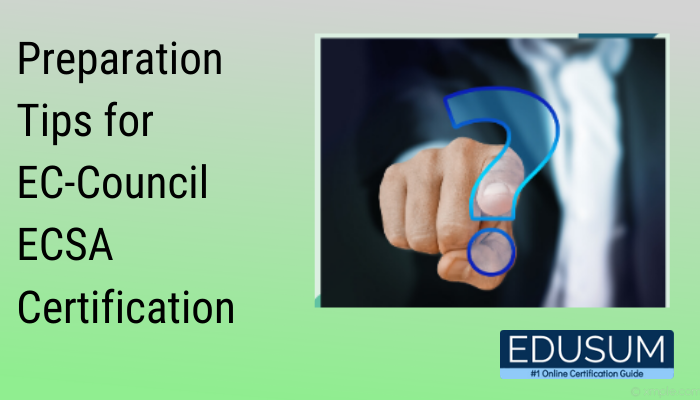 1. Make A Study Plan
Now at this point, you know what you require to study and all the ECSA exam topics you are expected to learn. The first step to distribute your time and ability to study every day. A study plan helps you not ignore any part of the course and subjects. You must be practical while designing the study plan as you will follow it strictly, and being unrealistic will place you in circumstances where you won't be capturing as much knowledge to follow the plan. You must know how much you can soak up per day. If you are working and are in the job, then planning hours when you are free and fresh would significantly help.
2. Get Information about the EC-Council ECSA Exam
Once you have determined to sit for the EC-Council ECSA exam, it is vital to know all the information. The official ECSA webpage helps you in this. It describes the structure and duration of the exam, along with information about the certification and regulations. You may find out the eligibility criteria of the exam from the site. The site can also be referred to throughout your preparations to help you with the ECSA syllabus. For any query related to the exam, you can go to the ECSA Exam FAQs on the site.
3. Study with a Study Guide
To prepare for the ECSA exam, you can avail the study guides provided by the EC Council. They describe in detail all the ECSA syllabus topics. You can count on these as they are officially from the EC-Council. The topics are comprehensively described in the books, which help you ace the ECSA exam questions competently. The books give an idea of how the hackers work in each area and what steps can be taken to solve the issues related to each area.
4. Enroll in an ECSA Course
Adopting a self-study-only approach could appear a brave decision, but it should not be the most candid strategy. Seeking a certification preparation course lets you spend time with an experienced instructor with actual knowledge of how to beat the exam. It's an excellent opportunity to induce all of your questions answered, share experiences and approaches, and even network if it's in-person training. This results in higher scores on the ECSA certification exam.
5. Practice More ECSA Exam Questions
Taking a practice test will let you know your preparedness for the exam. After taking the ECSA practice test, the result is obtained right away. Based on this, you can touch upon the areas where you lack knowledge. This will also help you connect your knowledge to the specific pattern of questions. The EC council website has a practice test, which is helpful as it is authentic. You may take this exam towards the end of your preparation to see if you have earned enough skills and knowledge for the exam.
6. Participate in an Online Forum
You may join a forum that has participants who are studying for the same ECSA certification. This will reveal you to more useful ideas and methods that can help you in your learning technique. You can ask your queries in the forum and even get help from people who have already cracked the exam. You will also perceive which areas to focus on more to obtain the certification.
Becoming ECSA certified demands you to put in a lot of time and effort to study for the exam. You have to work hard on the tips discussed above to get the confidence to appear for the exam.
Conclusion
ECSA exam will be the most difficult exam you will appear in, and this will expect you to give in the best shot throughout preparation to pass it on the first try. Having EC-Council certification will let you put yourself apart from the rest of your colleagues and will also entitle you to a splendid salary. People who have received this certification get more comprehensive knowledge about the hacking world and know what threats and vulnerabilities a system might be confronting.