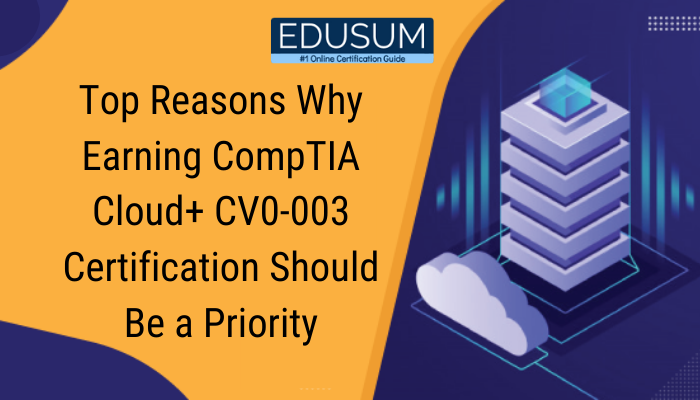 If you're looking for a job in cloud computing, such as cloud specialist, systems engineer, or cloud engineer, CompTIA Cloud+ CV0-003 should be your next move. It is the only vendor-neutral certification and includes more than one function. It is performance-based, and it will give you a greater return on investment for cloud infrastructure services.
Tips to Ace Your CompTIA Cloud+ CV0-003 Certification Exam
The CompTIA Cloud+ CV0-003 certification helps earn the skills, gain the potential, and have adequate knowledge of what is needed to work excellently in cloud computing jobs. To get started, below are some study tips for the CompTIA Cloud+ CV0-003 certification exam.
Tip 1: Make an Effective Study Plan
Once you have decided to opt for the CompTIA CV0-003 exam, it is captivating to begin right away. But it's essential to take a few moments to consider the following points at first.
Do you satisfy the prerequisites? CompTIA Cloud+ demands two to three years of hands-on experience working in a systems administrator role.

Do you have a study plan? It requires to be well planned and thorough upfront when it comes to passing CompTIA certification exams with flying scores.

What is your study style? Think whether to self-study or enroll in a training course. Consider all learning options thoroughly and take benefit from them.

How will you assess yourself? Perform practice tests correctly to determine how swiftly you take exams and classify weak areas to work upon.
Once you've performed many practice tests, you can perceive what you know and what you require to study more. You need to download the exam objectives, to have an idea of what to study. You can also get started using the training solutions that are right for you.
Tip 2: Know the CompTIA Cloud+ CV0-003 Exam Objectives
Exam preparation starts with the exam objectives. How else will you know what to study? You can get the exam objectives for the CV0-003 exam directly from the CompTIA website or click here.
After reviewing the exam objectives, the first thing you need to do is list out the topics you are familiar with and those unfamiliar with.
Remember that the exam objectives are split into sub-topics. The domains are weighted, which also helps to create the perfect study plan.
Here are the new CompTIA Cloud+ CV0-003 domains and their relative weights:
Cloud Architecture and Design = 13%

Security = 20%

Deployment = 23%

Operations and Support = 22%

Troubleshooting = 22%
Tip 3: Study Smarter, Not Harder
Once you have gone through the exam objectives and know what you need to study, it's time to begin your preparation.
You can begin with the official CompTIA Cloud+ study guide, which covers all the exam objectives. This guide will cover the dreams in detail.
The CompTIA CV0-003 exam incorporates performance-based questions, which evaluate your ability to complete hands-on tasks related to the exam objectives. To get through your certification exam, you'll require to get some practical experience.
Tip 4: Acquire Hands-on Experience
While it may be easy to get hands-on experience with cloud technologies than other IT skills, there are still some obstacles.
Many platforms provide virtual labs to acquire hands-on experience for Cloud technology. You can also sign up with CompTIA Certmaster Labs to learn to apply your knowledge into an actual for environment.
Tip 5: Be Ready to Ace the Exam with Cloud+ CV0-003 Practice Test
You have studies all the exam objectives and acquired hands-on experience. Now it is time to ace the exam. If you have taken plenty of CompTIA Cloud+ practice tests, you can ace the exam with good scores. This will help you answer the questions in time without being stressed.
Edusum.com offers a complete, Cloud+ CV0-003 practice test, comprising performance-based questions and scenario-based multiple-choice – the same types of questions you'll confront when taking the CompTIA Cloud+ CV0-003 exam. This is a great feature that improves the learning process.
Here are a couple of definite instructions for taking the Cloud+ CV0-003 Practice test:
Identify if you tend to be quick or slow when taking exams

Find out the average time each question takes to answer

Get comfortable with the exam environment

Strengthen knowledge by working on topics you score poor on practice tests

Regular Practice gives you confidence as you go into your exam.
Reasons to Get CompTIA Cloud+ CV0-003 Certified
1. The Need for Cloud Computing Professionals Will Remain to Grow
There is a prominent advantage to cloud-certified computing professionals, as there are more than 25000 vacant positions in the USA. The organizations are looking for skilled professionals to help them implement a cloud environment in their organizations.
2. Maximize Your Income Potential
After achieving the Cloud+ CV0-003 certification, you can easily get six figures in your bank account because the average salary of CompTIA Cloud+ certified is approximately $118,758 per year and may reach up to $124,406-$173,719 per year. It can help to go the extra mile.
3. CompTIA Cloud+ CV0-003 Draws Job Security
Organizations are seeking professionally qualified cloud developers that can satisfy the capabilities they need so that they settle themselves with the evolving market context.
4. It Confirms Your Knowledge and Gives You Credibility with the Organization
Relevant certification and hands-on experience are two of the top four features that are expected by an organization when recruiting for cloud-related job profiles. A certification in cloud computing allows your organization to reduce risks and expenses to accomplish additional projects on various cloud platforms.
Are You Ready to Become CompTIA Cloud+ CV0-003 Certified?
Take your career to the next level by working hard to earning one of the best cloud computing certifications - the CompTIA Cloud+ CV0-003 certification exam. Start by creating a study plan and having a solid grasp of the exam objectives. Then, work on earning hands-on skills and prepare for your exam by taking the Cloud+ CV0-003 practice test.
Follow the above-mentioned steps to succeed in Cloud+ CV0-003 exam. Keep in mind; these skills will help you well on nearly any CompTIA exam you decide to pursue.