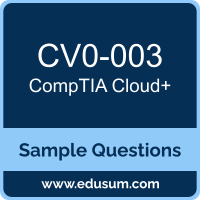 The purpose of this Sample Question Set is to provide you with information about the CompTIA Cloud+ exam. These sample questions will make you very familiar with both the type and the difficulty level of the questions on the CV0-003 certification test. To get familiar with real exam environment, we suggest you try our Sample CompTIA Cloud+ Certification Practice Exam. This sample practice exam gives you the feeling of reality and is a clue to the questions asked in the actual CompTIA Cloud+ certification exam.
These sample questions are simple and basic questions that represent likeness to the real CompTIA CV0-003 exam questions. To assess your readiness and performance with real time scenario based questions, we suggest you prepare with our Premium CompTIA Cloud+ Certification Practice Exam. When you solve real time scenario based questions practically, you come across many difficulties that give you an opportunity to improve.
CompTIA CV0-003 Sample Questions:
01. You have been tasked with migrating a VM to a new host computer. Which migration process would be required?
a) P2V
b) V2P
c) P2P
d) V2V
02. After a successful P2V migration, which of the following tests, if any, should be completed on the new VM?
a) Testing is not required.
b) Remove all unnecessary software.
c) Verify the IP address, DNS, and other network configurations.
d) Run a monitoring program to verify compute resources.
03. Capacity management has responsibility for ensuring that the capacity of the IT service is optimally matched to what?
a) Demand
b) Future trends
c) Procedures
d) Availability
04. Which of the following are requirements for adequate application performance when using synchronous replication?
a) Object storage
b) Low latency
c) Multipathing
d) High-speed links
05. With PKI, which key is used to validate a digital signature?
a) Private key
b) Public key
c) Secret key
d) Signing key
06. Sean configures a web application to allow content managers to upload files to the website. What type of access control model is Sean using?
a) DAC
b) MAC
c) RBAC
d) GBAC
07. Quotas are a mechanism for enforcing what?
a) Limits
b) Rules
c) Access restrictions
d) Virtualization
08. Which of the following gives a cloud provider the ability to distribute resources on an as-needed basis to the cloud consumer and in turn helps to improve efficiency and reduce costs?
a) Elasticity
b) Shared resources
c) Infrastructure consolidation
d) Network isolation
09. You are planning your migration to a virtual environment. Which of the following physical servers should be migrated first?
a) A development server
b) A server that is running a non–mission-critical application and is not heavily utilized day to day
c) A highly utilized database server
d) A server running a mission-critical application
10. An administrator is trying to enable hardware-assisted virtualization in the BIOS of a computer and notices it is not an option. He checks the specification on the manufacturer's website and finds that the system should support hardware-assisted virtualization. What is most likely the reason why he can't enable it?
a) The BIOS needs a firmware update.
b) The BIOS is corrupt.
c) Hardware-assisted virtualization is enabled in the operating system, not the BIOS.
d) The firmware is corrupt.
Answers:
Question: 01




Answer: d

Question: 02




Answer: c

Question: 03




Answer: a

Question: 04




Answer: b, c

Question: 05




Answer: b

Question: 06




Answer: c

Question: 07




Answer: a

Question: 08




Answer: b

Question: 09




Answer: a, b

Question: 10




Answer: a
Note: For any error in CompTIA Cloud+ (CV0-003) certification exam sample questions, please update us by writing an email on feedback@edusum.com.