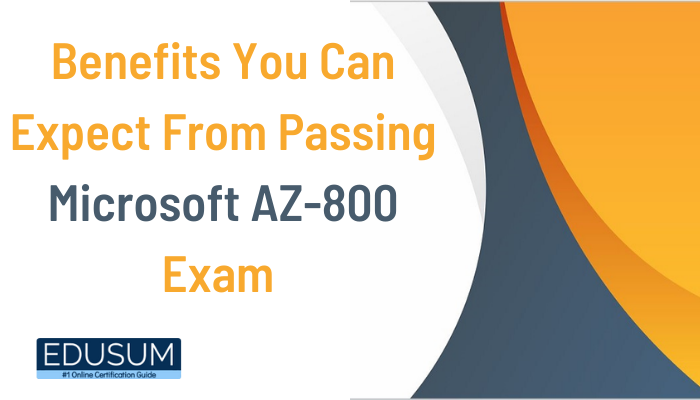 Microsoft acknowledges that hybrid work is a new workplace breaker since the pandemic has become a truth for many organizations. The Windows Server Hybrid Administrator certification is created to help those creating new cloud-native applications while still supporting existing on-premises applications. To achieve the Microsoft Certified - Windows Server Hybrid Administrator Associate certification, passing two exams, AZ-800 and AZ-801 exams are required. This article is dedicated to the Microsoft Administering Windows Server Hybrid Core Infrastructure AZ-800 exam.
All About Microsoft AZ-800 exam
The Microsoft AZ-800 exam measures how well you control the administration of a Windows Server hybrid core infrastructure. An ideal applicant for this exam must hold the expertise needed for the implementation and management of on-premises and hybrid solutions. These comprise identity, networking, compute, management, and storage solutions. The exam takers should also have a mastery of using different technologies and tools, including PowerShell, Azure Arc, Windows Admin Center, and more.
The Microsoft AZ-800 exam consists of 40-60 multiple-choice, drag-and-drop, case studies, and multiple response questions. The time limit for this exam is 120 minutes. The passing score for the exam is 700 points out of 1000. The exam cost is $165. And the exam is available in English, Japanese, Chinese (Simplified), Korean, German, French, Spanish, Portuguese (Brazil), Arabic (Saudi Arabia), Russian, Chinese (Traditional), Italian, and Indonesian (Indonesia) languages.
There are five major objectives that you need to focus on:
Deploy and manage Active Directory Domain Services (AD DS) in on-premises and cloud environments (30-35%)

Manage Windows Servers and workloads in a hybrid environment (10-15%)

Manage virtual machines and containers (15-20%)

Implement and manage an on-premises and hybrid networking infrastructure (15-20%)

Manage storage and file services (15-20%)
Lucrative Reasons to Pass Microsoft AZ-800 Exam
Now that you are aware of what to expect from the AZ-800, let's talk about the benefits it draws and how it helps to take your career to the next level.
1. Passing Microsoft AZ-800 Exam Proves Your Expertise
Passing the Microsoft AZ-800 along with AZ-801 indicates your accomplishment of a renowned associate-level certification. Earning the Microsoft Certified: Windows Server Hybrid Administrator Associate certification confirms your expertise in running vital Windows Server workloads and on-premises and hybrid technologies. Such expertise opens you to amazing benefits.
2. Makes You More Appealing to Hiring Managers
One of the important advantages of being a certified professional is that organizations be prone to follow you rather than you searching for a job. This is very helpful, especially if you're looking for distinct career options. This is also valuable if you are planning to advance in your work. Hiring managers always prefer certified professionals over non-certified professionals. Hence, you will not undergo a lack of job proposals.
3. Higher Salary
More than the skills acknowledgment, passing the AZ-800 exam delivers a sign to organizations that you deserve high wages. Microsoft Certification holders often relish higher salaries than those with no relevant certifications. The annual salary of a Windows Server administrator is around $84,639 per annum.
4. Increases Your Self-Confidence and Motivation
But of course, personal contentment is one of the major reasons people want to achieve Microsoft certification. Passing the Microsoft Administering Windows Server Hybrid Core Infrastructure AZ-800 exam is an outstanding personal accomplishment that increases your self-confidence and allows you to reach new heights in your career.
How to Pass the Microsoft AZ-800 Exam?
Microsoft exams are difficult. This means thorough preparation is key to passing the Windows Server Hybrid Administrator Associate exam. There are various exam preparation techniques that earlier exam takers have used to crack the Microsoft AZ-800 exam. Here are some of the best means to make the most out of your preparation:
1. Figure Out the Skills Assessed
Make sure you are aware of what you will encounter in the exam. The complete exam objectives and skills measured are available on the official Microsoft website and here. Read through all the information before you register for your exam and start preparation.
2. Delve in Detailed Learning with an Official Instructor-led Training Course
Training courses are amazing if you delve deep into the exam syllabus topics. Enrolling in a training course, especially with an instructor, offers you a robust coverage of the needed material, and this is something that you must have. Microsoft provides an instructor-led training course, "Course AZ-800T00: Administering Windows Server Hybrid Core Infrastructure" particularly designed to equip you with much-needed coverage of the AZ-800 exam topics. Make sure you take notes during the training course.
3. Take AZ-800 Practice Test
Microsoft AZ-800 practice test will help you identify your preparation level for the exam. The result will allow you to track your progress. AZ-800 practice tests help you identify your weak and strong areas so that you can direct your efforts on weak areas.
Practice tests are an excellent way to know if you're grasping the knowledge you've been studying. Take AZ-800 practice tests as many times as possible until you're convinced of your exam preparedness.
Conclusion
With the Microsoft Certified: Windows Server Hybrid Administrator Associate certification, you can enjoy several benefits such as a high salary, respect from management and colleagues, and lucrative career opportunities. Adopt these great exam preparation techniques and make sure you ace your exam with confidence.