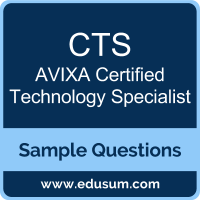 The purpose of this Sample Question Set is to provide you with information about the AVIXA Certified Technology Specialist (CTS) exam. These sample questions will make you very familiar with both the type and the difficulty level of the questions on the CTS certification test. To get familiar with real exam environment, we suggest you try our Sample AVIXA CTS - General Certification Practice Exam. This sample practice exam gives you the feeling of reality and is a clue to the questions asked in the actual AVIXA Certified Technology Specialist (CTS) certification exam.
These sample questions are simple and basic questions that represent likeness to the real AVIXA Certified Technology Specialist exam questions. To assess your readiness and performance with real-time scenario based questions, we suggest you prepare with our Premium AVIXA CTS Certification Practice Exam. When you solve real time scenario based questions practically, you come across many difficulties that give you an opportunity to improve.
AVIXA CTS Sample Questions:
01. What should an AV technician do during a preventive maintenance site visit?
a) Test the operation of each system and subsystem, adjust to optimize performance
b) Test or replace analog satellite television receivers with digital, recalibrate connections, and components.
c) Suggest replacing all analog cabling with digital cabling for futureproofing
d) Test and resynchronize all analog computer signals to each display
02. How are lighting requirements determined for the participants in a room?
a) By the task required of the participants (e.g. reading, drafting, line assembly work, etc.)
b) Doubling distance from the light source decreases the illuminated area by six times
c) Setting a predetermined standard of actual white light based on light temperature
d) By considering the inverse square law of light
03. What is the most likely problem if the projector keeps powering off?
a) There is a fluctuation in the power outlet causing an electrical surge to ground
b) Overheating due to dirty filter or cooling fan malfunction
c) Overcharging of the projector battery since previous use
d) Insufficient bandwidth to support the image resolution
04. Which of the following differentiates cable from wire?
a) Cable contains a shield.
b) Cable contains only one conductor.
c) Cable contains multiple conductors.
d) Conductors are insulated.
05. When creating specifications for a recording or archiving system, what recording factors need to be considered?
a) File conversion, hard disk space available, speed of network connections and IP addresses available
b) Compatibility with police surveillance equipment, local ordinance approval
c) Purpose of use, length of recordings, accessibility of recordings, signal type and location for the device
d) Use of bit processing versus maximum storage cache parameters
06. What typically causes alien crosstalk (AXT) in a network system?
a) UTP cables are bundled with other low voltage UTP cables
b) UTP cables set in the plenum space are draped across fluorescent lighting
c) Technician replaces a faulty RJ45 connector with a BNC connector
d) Technician installs UTP cables in conduit and uses a connection box
07. How should an AV manager support the ongoing technical education of the staff?
a) Provide staff with an unrestricted stipend to spend on coursework and equipment
b) Support staff development by providing free travel whenever possible
c) Maintain a liberal leave policy to allow staff as much time off as possible
d) Maintain current certifications, provide seminars and professional development opportunities
08. At the end of a rental event, how should one quickly and safely pack up the event?
a) Dismantle equipment by category and divide into teams
b) Bring in outside staff to quickly empty the room
c) Load the first equipment last and the last first
d) By packing up any unnecessary equipment while the event is still going on
09. Who should be in attendance when you present an AV proposal package?
a) The architect, general contractor, electrical contractor, and plumber's representatives
b) The decision makers who will make the purchase decision
c) The head of finance, insurance claims representative, and manager
d) The head of personnel, the training department, and installation managers
10. What could be the problem if a laptop-connected projector is not displaying a projected image?
a) Make sure the laptop's screen port has been enabled using the correct function keys
b) Make sure the connection is RJ-45 through an HDBaseT enabled network
c) Make sure you used an HD-15 to composite video output adapter
d) Make sure that the laptop is running only on battery power
Answers:
Question: 01




Answer: a

Question: 02




Answer: a

Question: 03




Answer: b

Question: 04




Answer: c

Question: 05




Answer: c

Question: 06




Answer: a

Question: 07




Answer: d

Question: 08




Answer: a

Question: 09




Answer: b

Question: 10




Answer: a
Note: For any error in AVIXA Certified Technology Specialist (CTS) certification exam sample questions, please update us by writing an email on feedback@edusum.com.