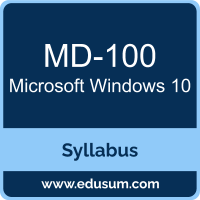 Use this quick start guide to collect all the information about Microsoft Windows 10 (MD-100) Certification exam. This study guide provides a list of objectives and resources that will help you prepare for items on the MD-100 Microsoft Windows 10 exam. The Sample Questions will help you identify the type and difficulty level of the questions and the Practice Exams will make you familiar with the format and environment of an exam. You should refer this guide carefully before attempting your actual Microsoft Windows 10 certification exam.
The Microsoft Windows 10 certification is mainly targeted to those candidates who want to build their career in Microsoft 365 domain. The Microsoft 365 Certified - Modern Desktop Administrator Associate exam verifies that the candidate possesses the fundamental knowledge and proven skills in the area of Microsoft Windows 10.
Microsoft Windows 10 Exam Summary:
Microsoft MD-100 Exam Syllabus Topics:
Topic

Details

Deploy Windows (15-20%)

Install Windows 10

- perform a clean installation
- perform an in-place upgrade - using tools such as WDS
- customize a Windows 10 installation using Windows ADK
- select the appropriate Windows edition

Perform post-installation configuration

- configure Microsoft Edge
- configure mobility settings
- customize the Windows desktop
- troubleshoot activation issues
- configure printers and external devices
- configure Windows 10 by using provisioning packages
- configure Microsoft Store settings
- configure Windows 10 built-in application settings
- configure and manage services

Manage devices and data (25-30%)

Manage users, groups, and devices

- manage local groups
- manage local users
- manage users, groups, and devices in Active Directory Domain Services
- manage users, groups, and devices in Azure Active Directory
- configure sign-in options

Configure devices by using local policies

- implement local policy
- troubleshoot group policies on devices
- configure Windows 10 settings by using group policy

Manage Windows security

- configure user account control (UAC)
- configure Microsoft Defender Firewall
- implement device encryption
- configure Microsoft Defender Antivirus
- manage device security using core isolation, secure boot, and TPM

Configure storage and connectivity (15-20%)

Configure networking

- configure client IP settings
- configure mobile networking
- troubleshoot networking

Configure data access and protection

- configure NTFS permissions
- configure shared permissions
- configure local storage
- manage and optimize storage
- configure file and folder permissions
- configure OneDrive/OneDrive for Business

Maintain Windows (30-35%)

Configure system and data recovery

- perform file recovery
- recover Windows 10
- troubleshoot startup/boot process
- create and manage system restore points

Manage updates

- troubleshoot updates
- select and configure the appropriate servicing channel for feature updates
- configure Windows update options
- plan for types of Windows updates including feature updates, quality updates, servicing stack updates, driver updates, and Microsoft product updates
- configure updates by using Windows Update for Business

Monitor and manage Windows

- configure and analyze event logs
- manage performance
- manage Windows 10 environment
- configure local registry
- schedule tasks

Configure remote connectivity

- manage Windows 10 remotely by using Windows Admin Center
- configure remote assistance tools including Remote Assist and Quick Assist
- manage Windows remotely by using Windows Remote Management and PS remoting
- configure remote desktop access
To ensure success in Microsoft Windows 10 certification exam, we recommend authorized training course, practice test and hands-on experience to prepare for Microsoft Windows 10 (MD-100) exam.