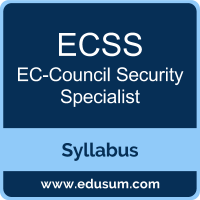 Use this quick start guide to collect all the information about EC-Council ECSS Certification exam. This study guide provides a list of objectives and resources that will help you prepare for items on the EC-Council Security Specialist (ECSS) exam. The Sample Questions will help you identify the type and difficulty level of the questions and the Practice Exams will make you familiar with the format and environment of an exam. You should refer this guide carefully before attempting your actual EC-Council Certified Security Specialist (ECSS) certification exam.
The EC-Council ECSS certification is mainly targeted to those candidates who want to build their career in Cyber Security domain. The EC-Council Certified Security Specialist (ECSS) exam verifies that the candidate possesses the fundamental knowledge and proven skills in the area of EC-Council ECSS v9.
EC-Council ECSS Exam Summary:
EC-Council ECSS v9 Exam Syllabus Topics:
Topic

Details

Weights

Information Security and Networking Fundamentals

- Overview of Information Security Fundamentals
- Understanding Information Security Laws and Regulations
- Overview of Networking Fundamentals
- Overview of OSI and TCP/IP Model
- Understanding Basic Network Security Procedures and Policies
- Overview of Secure Network Protocols

9%

Information Security Threats and Attacks

- Understanding Various Stages of Hacking Cycle
- Understanding Internal Threats (Sniffing, ARP Spoofing, etc.)
- Understanding External Threats (Malware Attacks, Password Cracking, DoS, Session Hijacking, etc.)
- Overview of Different Social Engineering Techniques
- Understanding Various Firewall and IDS Evasion Techniques
- Understanding Various Wireless and VPN Threats
- Understanding Various Web Applications and Network Threats
- Understanding Email Crime

21%

Information Security Controls

- Overview of Identification, Authentication, and Authorization
- Overview of Cryptography and Encryption Algorithms
- Understanding Different Firewall Technologies
- Overview of Intrusion Detection System (IDS)
- Introduction to Data Backup
- Securing Organization Against Various Information Security Attacks

23%

Wireless Network, VPN, and Web Application Security

- Overview of Wireless Networks and Topology
- Understanding Different Types of Wireless Encryption
- Securing Wireless Networks
- Understanding VPN and Protocols Used to Secure VPN
- Introduction to Web Applications and Securing Web Application Against Web Attacks

17%

Ethical Hacking and Pen Testing

- Introduction to Ethical Hacking
- Introduction to Penetration Testing

1%

Incident Response and Computer Forensics Fundamentals

- Overview of Incident Handling and Response Process
- Understand Different Computer Security Incidents and Computer Crimes
- Overview of Computer Forensics Fundamentals
- Understanding Computer Forensics Investigation Methodology

6%

Digital Evidence and File Systems

- Understanding Digital Evidence and Examination Process
- Collecting Digital Evidence from Electronic Devices
- Overview of Different File Systems (Windows, Linux, Mac OS X, and CD-ROM / DVD File Systems)

4%

Windows and Network Forensics

- Understanding Network Forensics Analysis Mechanism
- Understanding Windows Forensics (Collecting Volatile and Non-volatile Information)
- Collecting Metadata and Events Data
- Introduction to Steganography
- Understanding Different Types of Steganography based on Cover Medium

10%

Logs and Email Crime Forensics

- Examining Various Security Logs
- Overview of Event Correlation
- Overview of Email Technology
- Investigating Email Crime and Violation

6%

Investigation Report

- Writing Computer Forensics Report
- Understanding Best Practices for Writing Forensics Report

3%
To ensure success in EC-Council ECSS v9 certification exam, we recommend authorized training course, practice test and hands-on experience to prepare for Security Specialist (ECSS) exam.