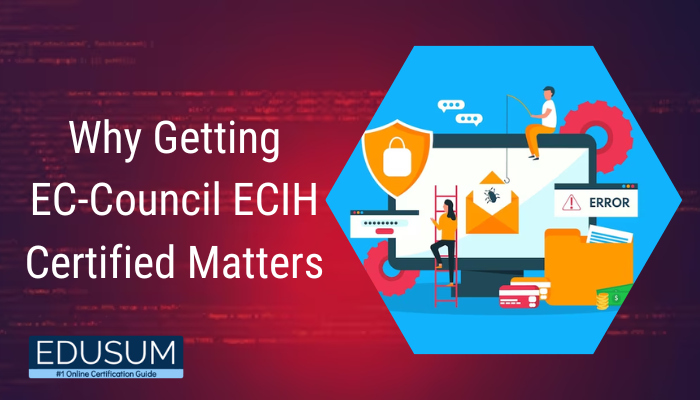 The EC-Council ECIH certification was created in partnership with cybersecurity professionals and experts in incident handling and response worldwide.
The ECIH certification focuses on implementing a structured approach to handling and responding to incidents. This process encompasses several stages, including preparing for incident handling and response, validating and prioritizing incidents, escalating and notifying relevant parties, gathering and analyzing forensic evidence, containing the incident, recovering systems, and eradicating the incident. By following this systematic process, incident responders gain awareness of how to effectively address various security incidents occurring in organizations today. The certification covers a range of cybersecurity incidents, such as malware, email security, network security, web application security, cloud security, and incidents related to insider threats.
Why Obtain EC-Council ECIH Certification?
The EC-Council ECIH certification provides an opportunity for professionals to enhance their skills and knowledge in incident management, serving as a valuable means for cybersecurity experts to showcase their expertise. Acquiring the EC-Council Certified Incident Handler certification can assist incident handlers in the following ways:
Develop a stronger understanding of the process involved in managing incidents.

Acquire the skills to effectively and efficiently handle critical security incidents.

Gain access to valuable resources that assist in resolving incidents in a timelier manner.

Authenticate their skills and experience in the field of incident management.
About the EC-Council ECIH Certification Exam
The ECIH 212-89 exam, offered by EC-Council, is a three-hour test consisting of 100 multiple-choice questions. It assesses knowledge in cybersecurity, incident handling, and response (IH&R) standards, laws, and policies. This certification empowers incident-handling professionals to align their practices with industry standards. Attaining the ECIH certification establishes global recognition as a certified incident handler. The passing scores for the exam can vary between 60% and 78%.
Eligibility
ECIH is an advanced training program designed for cybersecurity professionals operating at intermediate to advanced levels. To increase your likelihood of success, it is recommended that you possess a minimum of one year of practical experience in the cybersecurity industry.
Target Audience
The EC-Council certification offers substantial advantages to various professionals involved in incident handling and response, including incident handlers, risk assessment administrators, penetration testers, cyber forensic investigators, vulnerability assessment auditors, system administrators, system engineers, firewall administrators, network managers, IT managers, IT professionals, and individuals with a keen interest in incident handling and response.
How to Crack the EC-Council ECIH Certification Exam?
To excel in the EC-Council ECIH exam, it is essential to possess a solid understanding of incident handling and have practical proficiency in managing incidents. Familiarity with all the stages of incident handling and response is crucial. Here are some helpful suggestions to make the ECIH exam easier for you:
1. Understand the Exam Objectives
To get through the EC-Council ECIH exam, it's essential to have a thorough understanding of the exam objectives. Familiarize yourself with the official exam blueprint provided by EC-Council, which outlines the topics and subtopics covered in the exam. This blueprint will serve as your roadmap for exam preparation.
2. Obtain Comprehensive Study Materials
Having access to high-quality study materials is crucial for adequate exam preparation. Here are some resources you can leverage:
Official EC-Council Training: EC-Council offers a comprehensive training course tailored for ECIH exam preparation. This training provides in-depth knowledge and hands-on experience, covering incident handling processes, forensic analysis, and incident response management.

Textbooks and Reference Guides: Utilize well-regarded textbooks and reference guides that cover incident handling methodologies, incident response frameworks, and best practices. These resources will provide you with a solid foundation of knowledge to tackle the exam questions effectively.

Industry Publications and Whitepapers: Stay up-to-date with the latest trends and advancements in incident handling by reading industry publications and whitepapers. These resources will help you gain a broader perspective and deepen your knowledge in specific areas.
3. Acquire Practical Experience
While theoretical knowledge is essential, practical experience is equally valuable for excelling in the ECIH exam. Seek opportunities to gain hands-on experience in incident handling through internships, work assignments, or volunteering. This practical exposure will reinforce your understanding of concepts and enable you to apply them effectively during the exam.
4. Use EC-Council ECIH Practice Test
Practicing with sample exams is crucial to familiarize yourself with the exam format and assess your readiness. EC-Council provides official practice exams that simulate the actual exam environment. Additionally, you can find reliable ECIH practice exams on the edusum website. Regular practice will improve your time management skills and boost your confidence. TRY SAMPLE QUESTIONS NOW!
5. Join Study Groups and Forums
Collaborating with fellow exam aspirants can significantly enhance your preparation. Join study groups and forums dedicated to ECIH exam discussions. Engage in active discussions, share insights, and clarify doubts. Learning from others' experiences and perspectives will broaden your knowledge and help you discover new strategies for success.
6. Stay Updated with ECIH Certification Resources
EC-Council regularly updates its resources, including exam objectives, study materials, and sample questions. Stay connected with EC-Council's official website, blogs, and social media channels to access the latest information. This will ensure that your preparation aligns with the most current standards and requirements of the ECIH exam.
Conclusion
You're now equipped with a comprehensive guide to prepare for the EC-Council ECIH exam. Remember to focus on understanding the exam objectives, utilizing reliable study materials, gaining practical experience, practicing with sample exams, and engaging with the ECIH community. By following these strategies and dedicating yourself to consistent preparation, you'll be well-positioned to succeed in the ECIH exam and advance your career as a certified incident handler.