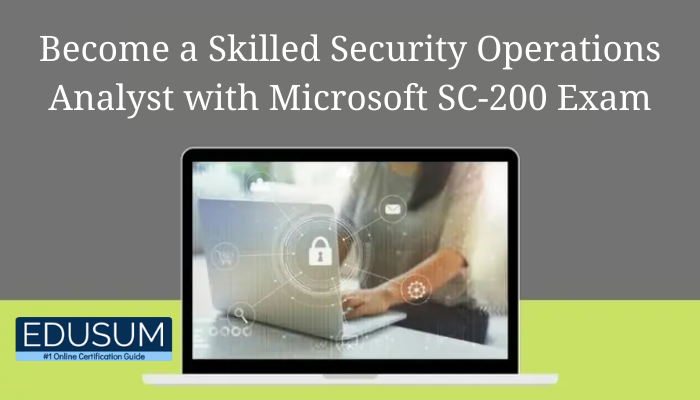 The Microsoft Security Operations Analyst's responsibility is to deliver secure information technology systems to an organization. They have to work with organizational stakeholders to accomplish this objective. Their objective is to determine violations of organizational policies and, report them, decrease risk by promptly determining active attacks in the environment and amending them. They can advise on how to enhance threat protection activities. This article will shed light on the Microsoft Security Operations Analyst SC-200 exam.
The SC-200 is an associate-level certification that emphasizes operations security. The Microsoft Certified Security Operations Analyst Associate is the certification you will receive once you've passed this Microsoft exam. Microsoft Security Operations Analysts work with business partners to secure the company's IT infrastructure.
The Microsoft Security Operations Analyst has many other duties that comprise monitoring, threat management, and response by utilizing different types of security solutions. They can conduct threat hunting utilizing Microsoft 365 Defender, Azure Security Centre, Azure Defender, Azure Sentinel, and 3rd-party security products.
Why Pass Microsoft SC-200 Exam?
Many applicants favor Microsoft certifications on top of diverse possibilities for establishing their careers. The prevalence of Microsoft certifications has been extremely growing lately because they draw a lot of benefits:
This certification provides threat management, tracking, and response utilizing a range of security solutions in their environment.

The Microsoft SC-200 certification will equip you with deep knowledge and skills in the security of operations.

It enhances your practical knowledge of Microsoft Azure Sentinel, Microsoft 365 Defender, and Azure Defender.

It encourages additional development of your skills.

Your security knowledge will be approved with this certification.

It also proves that you are sincerely dedicated to professional advancement and constant learning.

It will help you flourish in your career and deliver a huge hike in salary.

It is a value addition for businesses and clients looking for operations security for their organization.

Microsoft Security Operations Analyst SC-200 certification will interpret your vision of decreasing threats utilizing Microsoft 365 Defender, Azure Defender, and Azure Sentinel.

This certification unlocks doors to amazing opportunities as security is a foremost priority in the business world presently.

It delivers more promising approaches to circumstances and holds you ahead of the competition in the job market.
Targeted Audience
Microsoft Security Administrators

Cloud Administrators

Cloud Architects

Network Administrators

Cyber Security Analysts

Server Administrators

Azure Security Engineers

IT Professionals

IT Security Professionals
Microsoft SC-200 Exam Information
Microsoft SC-200 exam comprises 40-60 questions that must be completed within 2 hours. These questions are of different types, such as mark review, multiple-choice, build list, case studies, and many others. Microsoft SC-200 certification cost is $165, and candidates need to obtain a score of 700 out of 1000 to pass the exam.
Microsoft SC-200 Exam Topics
The applicants are evaluated precisely based on the definite skills that they need to master to achieve the certification. The skills evaluated in the Microsoft SC-200 exam are as follows:
Mitigate threats using Microsoft 365 Defender (25-30%)

Mitigate threats using Microsoft Defender for Cloud (25-30%)

Mitigate threats using Microsoft Sentinel (40-45%)
Top 5 Tips for Passing Microsoft SC-200 Exam
This Microsoft certification exam measures the core concepts, and you need to create a solid foundation before proceeding to the Microsoft SC-200 exam. Your preparation techniques should enable you to pass the exam and maintain the knowledge and skills for professional benefit. Here are tips you can use to pass the Microsoft SC-200 exam:
1. Make a Study Plan and Strictly Implement It
A study plan is important because it helps you assign time to every Microsoft SC-200 exam topic. Studying without a list of syllabus topics could be very puzzling because you might ignore specific important things. Our minds are not prepared to bear a lot of pressure. You, thus, need to find a harmony between study and rest for your mind to perform in your favor throughout the exam preparation. The exam syllabus topics that you find to be tough should get additional time than the easy ones. This will allow you to concentrate on understanding the difficult and essential topics of the SC-200 certification exam.
2. Enroll in a Training Course
Enrolling in a training course is crucial for Microsoft SC-200 certification. Take up "Course SC-200T00: Microsoft Security Operations Analyst" to have a great learning experience. There are many exam topics that you cannot learn by own your own, and you will require the guidance that only the instructor can give you. Make sure that you complete the training course and do not miss out on any topic.
3. Utilize flashcards
The best way to prepare for the Microsoft SC-200 exam is with the help of flashcards. With this preparation means, you will be able to write down the important points of a certain topic so that you have little information to go over when learning. This will allow you to enjoy your preparation journey because your mind will be working. Thus, you will quickly go through the exam topics and keep reminding yourself about them every chance you get because you can take the flashcards anywhere you go.
4. Use Microsoft SC-200 Practice Tests
Practice tests are the ideal way to prepare for the Microsoft SC-200 exam. But it would be best if you were confident that you could answer the SC-200 exam questions by attempting the practice tests. Visit Edusum.com to access updated and trusted practice tests. With each SC-200 practice test you perform, you will identify your preparation level. You can find out the areas you have learned and the areas that expect you to deliver more effort. On edusum.com, you will get access to a large number of practice questions to help you assess the direction you ought to take as you head to the SC-200 certification exam.
5. Participate in an Online Community
There are plenty of online communities where you can participate that have like-minded people who are studying for the same exam as you. In such forums, you will get to about which study resources to use and tips on passing the Microsoft SC-200 exam from professionals who are already certified. You can ask your doubts and get your problems solved. This is also a great place to get the emotional support you need as you prepare for the exam because people are going through the same journey.
Conclusion
Microsoft exams are not a cakewalk, but there's no place for worry with the proper resources for preparation. Using the tips given in this post, you can pass your Microsoft SC-200 exam on your first try and receive Microsoft Certified - Security Operations Analyst Associate certification. Knowing your dreams, Microsoft SC-200 exam objectives, beginning your preparation in advance, and using the most authentic and actual material like the practice test from Edusum.com will play an important part in your success. Be the winner, earn your certification from Microsoft.