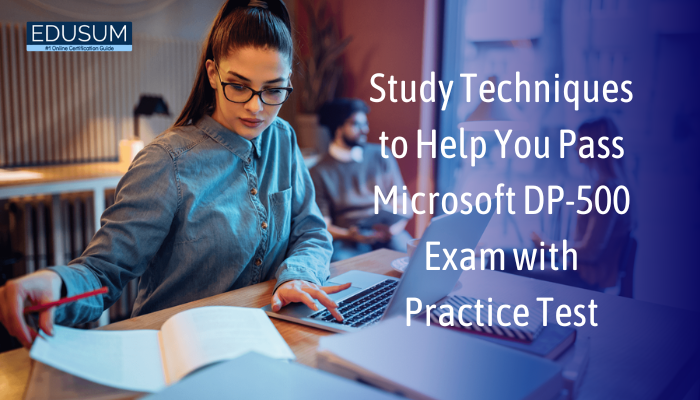 DP-500 Designing and Implementing Enterprise-Scale Analytics Solutions Using Microsoft Azure and Microsoft Power BI exam incorporate a wide range of skills and tools – beginning with Power BI advanced features and concepts, all the way to Azure Synapse Analytics and Microsoft Purview. Candidates with subject matter understanding in developing, creating, and executing enterprise-scale data analytics solutions should opt for the Microsoft DP-500 certification exam.
Microsoft DP-500 exam demands advanced Power BI skills, like handling data repositories and handling data both in the cloud and on-premises, along with utilizing Power Query and Data Analysis Expressions (DAX). Moreover, applicants should be able to use data from Azure Synapse Analytics and have previous proficiency in analyzing data with Transact-SQL (T-SQL), querying relational databases, and visualizing data.
Microsoft DP-500 Exam Overview
DP-500 Microsoft exam includes around 40 - 60 questions. To pass the exam, an applicant has to score 700 or more out of 1000. The exam cost is $165, which is only available in English.
Microsoft DP-500 exam questions are of different types, such as single-answer inquiries based on real-world scenarios, MCQs, and drag & drop and mark review.
Exam Objectives:
Implement and manage a data analytics environment (25-30%)

Query and transform data (20-25%)

Implement and contain data models (25-30%)

Explore and visualize data (20-25%)
Study Tips for Microsoft DP-500 Exam
The Microsoft DP-500 exam is not a walk in the park; it demands applicants to do thorough learning. But, with the right preparation, you can pass this certification exam with good scores. Below are a few tips that will help you prepare and crack this exam on your first try. Let's start!
1. Visit the Official Website
All the essential information about the DP-500 Microsoft exam can be found on the official webpage. You'll get the details of its syllabus topics, number of questions, types of questions, prerequisites, and any other information that will help you understand this Microsoft certification exam in detail. With this authentic information, you can decide if you are the right candidate for the exam and, if yes, than where to get the best learning materials to succeed in it.
2. Get Familiar with the Exam Objectives
To know about the exam in detail, take enough time and read over the exam topics. Make sure you understand these different topics and their sub-topics covered within the exam content. You should also consider the weight associated with each topic.
3. Enroll in a Training Course
Microsoft itself provides four day instructor-led training course, "Course DP-500T00: Designing and Implementing Enterprise-Scale Analytics Solutions Using Microsoft Azure and Microsoft Power BI," to equip applicants with the skills and knowledge essential for the exam. This course comprises techniques and practices for carrying out advanced data analytics at scale. Exam-takers will increase actual analytics experience and will learn to implement and manage a data analytics environment, implement and manage data models, query and transform data, and explore and visualize data.
4. Collect Relevant Material
Preparing for the DP-500 Microsoft exam will require you to collect all the source information you can find on your tab. Everything varies from study guides, books, videos, online courses, articles, and blogs, etc. Having structured learning materials on hand will boost your preparation process and raise your odds of passing the exam.
5. Sign up for Microsoft Community
Joining an online community is always a great idea. When more people are engaged, the probability of finding an answer to a question improve considerably. It's also more valuable when there are many viewpoints. These discussions extend the scope of the research. Individuals have an opportunity to ask their doubts and get the solution right away. An online community is an excellent way to get in touch with like-minded people.
6. Schedule DP-500 Practice Tests
Schedule DP-500 practice test well in advance of your actual exam date. This is the last step in the course of exam preparation. When you think you are done with the preparation, start taking practice tests. Practice tests are set in such a manner that gives you an actual exam-like environment. Performing DP-500 practice tests help you find your weak and strong areas so you can improvise your weak areas. Edusum website provides you with the best practice questions for the DP-500 exam preparation.
Why Take the DP-500 Practice Test on Edusum Website?
1. Analyze Your Performance and Preparation
Practice test on the edusum website acts as a reality check of your preparation level. It will help you grasp the concepts and topics you have studied. It will also help you revise all the syllabus topics again after you attempt a practice test.
2. Makes You Better at Time Management
Solving practice tests regularly will give you an idea if you are able to finish the exam on time or if you are running out of time. When you take up the DP-500 practice test, you might point out that you require more time for a specific topic and less for another.
Once you understand this, you can contrive how much time to spend on each question so that you can answer all the DP-500 exam questions.
3. DP-500 Practice Test Helps You Overcome Pre-Exam Jitters
Practice tests offered by edusum.com are like actual exams. So, by constantly attempting practice tests, you will get familiar with the actual exam environment. This will help you overcome pre-exam jitters, and you will ace the exam with a calm mind. When you gradually increase your score in the practice tests, you will also gain confidence that you will perform well in the exam.
5. DP-500 Practice Test Track Your Progress
You can keep track of your result from each practice test as you solve more practice exams. You can make out how much your score has increased or if you have lacked on a specific topic. The practice tests result from edusum will help you figure out the topic and section-wise analysis to weigh your accuracy and time spent: two important parameters for learning.
Benefits of Earning Microsoft DP-500 certification
Preparing for Microsoft certification enables you to study in an organized way, strengthen your knowledge and authenticate those aspects you ought to enhance.
Passing the DP-500 Microsoft exam demands time, effort, and money, but every second and penny spent will be well worth it. These are some of the advantages of becoming certified, and these will encourage you to invest time and effort in getting it:
Prove your knowledge and skills.

Promote your professional growth

Brilliant career opportunities

Build self-confidence.

Get a good pay raise at your current job

Be more productive in your work projects.
Conclusion
This Microsoft DP-500 exam is the best fit for professionals wanting to advance their careers. In the technical field, professionals who prefer to be Microsoft certified are privileged over non-certified professionals. If this isn't fair enough, allow the real-world knowledge and skills you'll gain in the course of exam preparation inspire you to become a top-performing IT professional.