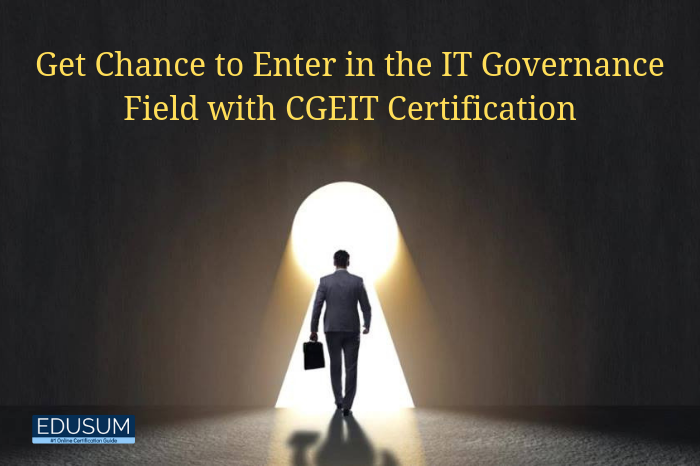 Management and boards have long realized the demand for corporate governance. Information technology becomes essential for the execution of Organizational goals and delivery of benefits, there has been an expanding understanding that governance must be stretched to IT as well. IT governance has eventually become an integral part of enterprise governance and consists of leadership, organizational structures, and processes assuring sustenance of IT in the organization and its expansion to organization approaches and objectives. The Certified in the Governance of Enterprise IT (CGEIT) certification acknowledges those who have the required level of professional knowledge, business experience, and personal skills to increase the contribution by IT to an enterprise's success meanwhile decreasing risks affected by IT.
Presented by the ISACA, the CGEIT certification has been designed for seasoned IT governance professionals who can prove 5 or more years of experience in management or advisory role concentrated on governance and IT control in an enterprise. The significant benefit of becoming a CGEIT is the international recognition of this certification and also that it is persistently listed as one, of the most in demand and moneymaking IT certifications. CGEIT is split into six job practice areas, namely:
IT governance framework

Value Delivery

Strategic Alignment

Risk Management

Resource management

Performance measurement
The Benefits of CGEIT certification are many, but specifically, the certification helps
Support increasing business demands associated with IT governance

Expanded awareness of IT governance and excellent practices

Explain the responsibilities of professionals executing IT governance work

Increase earning potential with career growth

Magnify credibility, reputation, and acceptance

Develop efficiency of an organization's IT and business systems, meanwhile implementing better value.

Demonstrate knowledge and practical experience in the field of enterprise and IT governance
This certification is a must attend for IT managers and directors expecting to grow the career in IT governance and IT consultants looking forward to joining the IT governance advisory board in larger organizations. So if you are looking forward to providing an advantage to your career, you can start your career in IT Governance field with CGEIT Certification.
Overview of Certified in the Governance of Enterprise IT (CGEIT) Certification
The CGEIT certification, by ISACA, acknowledges IT professionals with profound knowledge of enterprise IT governance principles and practices as well as the expertise to enhance value to the organization through governance and risk optimization standards and to follow IT with business policies and goals. Since the program started, more than 7,000 individuals have gained the CGEIT certification through ISACA.
To earn the CGEIT certification, you require to pass one exam (150 questions, four hours) covering five areas:
Framework for the Governance of Enterprise IT

Strategic Management

Benefits Realization

Risk Optimization

Resource Optimization
The exam costs $575 for ISACA members or $760 for non-members.
The prerequisite for the CGEIT certification is at least five years of cumulative work experience in IT enterprise governance, including the minimum one year defining, executing, and managing a governance framework. Applicants must also adhere to the ISACA Code of Professional Ethics and comply with the CGEIT Continuing Education Policy.