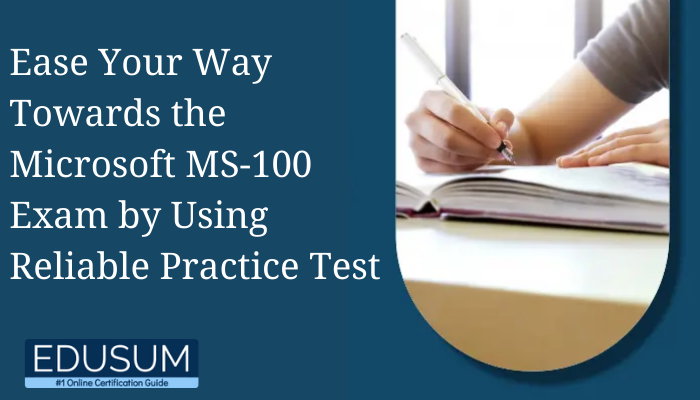 Have you ever thought about why many IT professionals want to add a Microsoft certification to their CV? Fundamentally, for example, when it comes to expert-level certifications, the Microsoft exam cost is about $165. This amount will be hugely rewarding in the future, so every penny you invest is worth it. And, there are plenty of study resources available to prepare for the exam, which makes this certification journey a lot smoother. In this post, we will talk about Microsoft 365 Identity and Services MS-100 exam. It is one of the exams that every IT professionals who want to become a certified Enterprise Administrator Expert should pass along with MS-101.
So now, let's explore more about the benefits this exam and its associated certification can convey to your career.
What is the Microsoft MS-100 exam?
If you are aspiring to take the Microsoft MS-100 exam, you need to ensure that you are familiar with all the essential information. If you don't carry out the vital research about the exam, there is a huge possibility that you will not be able to execute the way you want when you are sitting for the actual exam.
The precise number of questions that will appear in the exam is not specified; that is why you require to be prepared for anything. However, it has been noticed that usually, there are approximately 40 to 60 questions in any Microsoft exam. The type of questions can also differ, but if the syllabus topics are clear for you, you will answer them without any difficulty. You should know that you will have to answer the questions within 120 minutes.
There are certain skills that are evaluated in Microsoft MS-100, they are as follows:
Plan Office 365 workloads and applications;

Manage and access and authentication;

Manage user identity and roles;

Design and implement Microsoft 365 services.
Each of these sections makes up a definite percentage of the entire exam, and that is why it is essential to include all these areas. If you don't study for any of the subjects thoroughly, you will not answer some questions in the actual exam.
Benefits of Passing Microsoft MS-100 Exam
Microsoft MS-100 exam is the first step for achieving the Microsoft Certified: Enterprise Administrator Expert certification. Even though you require to go through an intensive preparation process and a high-paced examination process (you'll have to answer 40-60 questions in 150 minutes), you should always remember that you can obtain many benefits like those presented below.
1. Improved Skills in Managing and Implementing Microsoft 365 Services
Microsoft MS-100 exam preparation helps applicants formulate high-level skills in managing Microsoft 365 services and identity. This exam addresses four central pillars that usually concentrate on how to deploy Microsoft 365 features. The examined knowledge areas are the following.
Microsoft 365 services design and implementation

User roles and identity management

Access and authentication management

Office 365 workloads and applications planning
When you are skilled in all the above-specified domains, it gives you a competing advantage when compared with your co-workers. So, you will strengthen your position in the company and attain your manager's recognition.
2. Higher Salaries and Perks with MS-100 Certification
As the Microsoft MS-100 exam will help you acquire unique skills, and it is not straightforward, once you pass it with good points, you will be qualified to join an elite group of people acknowledged in the industry. Also, your manager will appreciate your efforts and understand that you are a valuable team member. Furthermore, this international certification added to your CV will attract the attention of many hiring managers. Thus, your prospects to receive a higher salary raise, generous offer, and great perks are higher. It is to be observed that, as reported by ZipRecruiter, the average salary for Microsoft 365 Certified - Enterprise Administrator Expert is approximately $97k yearly.
Tips for Microsoft MS-100 Exam Preparation
Microsoft MS-100 exam preparation won't be so hard if you can find the right resources and be ready to devote some time and effort throughout your exam preparation phase. Here are some tips to avail a good score in the Microsoft MS-100 exam: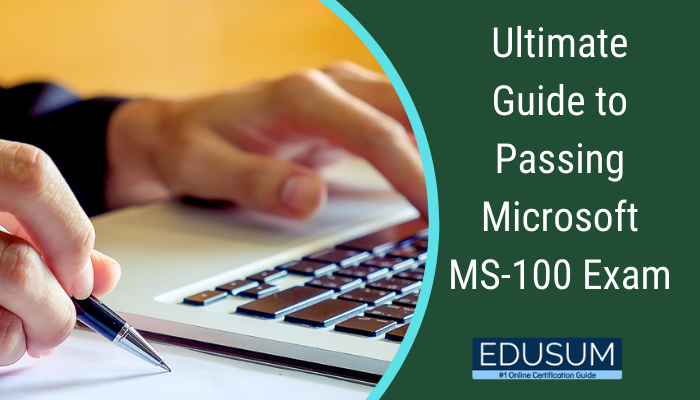 1. Gain Hands-on Experience
The MS-100 exam questions include a broad range of topics, so the exam may appear difficult to crack. It is suggested, to begin with, Microsoft 365 services, which work as the basis for the MS-100 exam.
Furthermore, to get through this exam, you must have both theoretical and practical knowledge. So, as you study for the exam, you should be able to implement theoretical knowledge to real-world troubleshooting and networking issues. For instance, it is basic knowledge that Microsoft Azure endpoints may be located using Azure AD Connect, but make sure you learn how to combine them with directory synchronization.
2. Obtain Relevant Study Resources
The Microsoft MS-100 exam preparation demands using the relevant learning material. The most worthy resources for Microsoft exams are the most updated edition of the Microsoft study guide, such as MS-100 Microsoft 365 Identity and Services by Orin Thomas. You can also decide on the free learning path created by Microsoft itself, which will help you include all the exam objectives in a practical format. If you require expert help, you can register in MS-100T00-A: Microsoft 365 Identity and Services course. This five-day training course will help you obtain theoretical knowledge and hands-on skills in lab exercises.
3. Take MS-100 Practice Test
Take the MS-100 practice test well in advance of your scheduled exam date. This way, you can find the essential material, plan your time efficiently, evaluate your preparedness level, and kill unnecessary excitement. What's more, you'll perceive what topics you require to study more deeply and what skills you require to work on.
4. Refresh Your Knowledge and Deepen Your Knowledge of MS-100 Exam Topics
Before the few days of the exam, stop studying new topics. All you need to do is to review the material. This can help you refresh your memory and find anything you may have overlooked. Moreover, you can commit this time to answer exam questions. Try to come up with new questions by exploring internet forums and other MS-100 practice test websites. You can find the updated MS-100 practice test on Edusum.com. This should be the platform at which you have completely comprehended the Microsoft 365 service concepts that will be examined on the MS-100 exam.
5. Don't Forget to Take a Break
Allow yourself some time off in the final few days before the exam. Try to relax and take things casually. What's more, a good night's sleep is just the night before the actual Microsoft MS-100 exam.
Five Ways MS-100 Practice Test Can Help You Score Much Better in Your Exam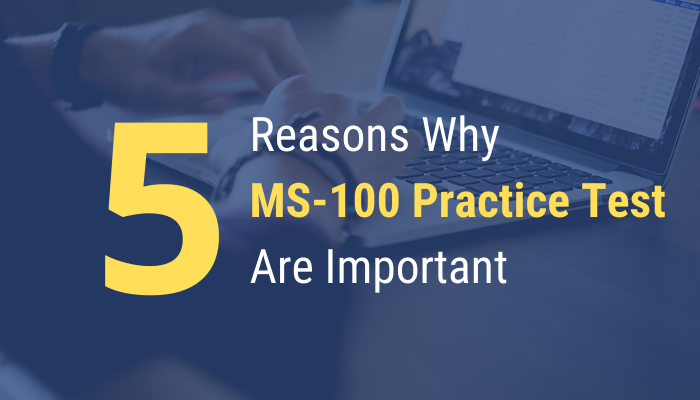 1. Improve Time Management Skills
For most candidates, a practice test will be an experience of sitting a test under exam environments. It's one thing to know to take the MS-100 exam, but another to answer the questions promptly under a time constraint.
2. Benefits in Revision of Complete MS-100 Exam Topics
As one proceeds with preparations, fail to recall earlier concepts becomes high, as newer concepts come to substitute. MS-100 practice test is known to include almost all exam topics of the syllabus. Solving them helps applicants in getting a complete revision. Practice tests are well-balanced in their way, and attempting them genuinely will prove to be an important help in revising topics in a better manner. Keeping in accordance with the exam topics is a determining factor in success for your exams.
3. Helps in Evaluating Your Strengths and Weaknesses
Self-analysis is important in tackling complex exams such as Microsoft 365 Identity and Services. Tests can help applicants perceive where they drag in and where they can benefit. Weaker MS-100 exam topics can be worked upon. The result of the practice test can provide applicants in-depth understanding of where they need to work on. The proper distinction would ultimately lead to mastering the MS-100 exam with confidence and assurance of amazing results.
4. Familiarizes with Actual MS-100 Exam Environment
Before sitting for the actual exam, getting used to the exam environment and the structure is important. Applicants get adapted to the exam structure and the required time frame for attempting every question by solving practice tests. MS-100 practice tests are parallel to the actual exam and have a vibe of what happens during the actual exam. Familiarity boosts confidence, which is of most importance in getting the better of a significant exam such as Microsoft 365 Identity and Services.
5. Prevents Nervousness
Nervousness turns out to be an essential detrimental factor as it raises a sense of self-doubt which can restrain applicants from reaching their goals. They can quickly overcome such weak moments by giving an exam similar to the actual exam. Rigorous practice of MS-100 exam questions prepares you for the real exam, boosting your confidence level and keeping the practice mode on high alert.
Conclusion
If you have been involved in Microsoft 365 technologies and wish to excel in your career specializing in this technology, you should take the Microsoft MS-100 exam. Passing this exam can be very beneficial for your job. Earning the associated certification will show your employers that you are serious about your tasks and are ready to take the essential steps in the interests of your career path. The Microsoft certification can be a great career booster, so what are you waiting for?