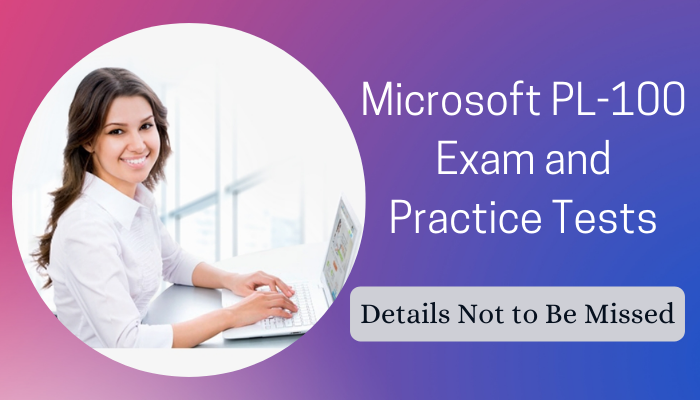 The PL-100 certification exam is one of the rapidly-growing certifications offered by Microsoft, and passing this exam will give your career a huge boost. The PL-100 Microsoft Power Platform App Maker Certification helps professionals acquire app-making skills for developing reliable solutions for automating, transforming, and easing the corresponding operational processes. The app makers, with this Microsoft certification, will have the capability to create and strengthen the business procedures and deliver other diverse solutions such as data collection, business automation, and repeatable tasks.
The individuals who want to implement these efficacies into their business operations can opt for this certification exam to master its basics. The Microsoft Power Platform App Maker PL-100 certification boosts any business, and this article was created to help you have an overview of the exam, PL-100 exam preparation, and the benefits of passing this exam.
Overview of Microsoft Power Platform App Maker PL-100 Certification Exam
Before you jump into the PL-100 exam preparation, you require to understand the primary definition of Microsoft Power Platform App Maker and its certification. Microsoft has greatly emphasized the Power Platform, and the need is on a hike for it. With the rising demands, individuals look for professional certification from Microsoft to manage the operational benefits out of it.
The topics that you will have to master for the PL-100 examination comprises the following:
Design business solutions (35-40%)

Create solutions (45-50%)

Analyze and visualize data (15-20%)
PL-100 Exam Structure
The Microsoft PL-100 is comprised of 40-60 questions that need to be finished within 120 minutes. You need to manage your time on that account. You need to get a score of 700 out of 1000 or more points to crack the exam. The PL-100 exam cost is $165, and the exam is available in the English language.
Microsoft PL-100 Exam Preparation Tips and Tricks
Microsoft exams, including PL-100 Microsoft Power Platform App Maker, are typically difficult to pass. So you have to employ a couple of tips and tricks to pass the exams on the first attempt. Here go some useful tips you can make use of to prepare for the PL-100 exam:
1. Create a Study Plan to Accomplish Your Goals
Studying according to a plan is the best way to guarantee that you get things accomplished on time and don't overlook anything. Create a practical study plan to ace the PL-100 exam and also boost your odds to do well in the exam.
2. Obtain Appropriate Study Resources
Generally, candidates just browse the Internet and believe whatever they come across. It's the same when it comes to PL-100 exam preparation and study resources. There is always a possibility that what you come across is not completely true and is offered by newcomers. Hence, it's better if you spend some time finding trusted and updated PL-100 exam preparation resources available on the Internet.
3. Know the PL-900 Pattern and Objectives
This is an important step that many exam takers ignore. Becoming familiar with the exam syllabus topics can lead your exam preparation in an organized manner. This indicates that you will organize your PL-100 exam preparation according to the topics you need to master, and eventually, this will lead you to success.
4. Reward Yourself for Reaching Your Goals
Exam preparation has always been boring. But if the reward waiting for you at the end will motivate you to study. So, you may adhere to a habit to reward yourself for accomplishing each phase towards your goal. This way, you can encourage yourself to make an effort to complete the upcoming tasks.
5. Take Up PL-100 Practice Test
Practice tests are an excellent way to become familiar with the exam structure and types of questions likely to be asked in the actual exam. This will also help you determine any knowledge gaps. You can take up an updated and reliable PL-100 practice test from Edusum.com.
While attempting practice tests on Edusum.com, you can determine your mistakes and evade them in the real exam. One thing to bear in mind is that you should only practice these questions, not remember them because they will not be asked in the actual exam.
6. Make Short Notes
Trying to remember nuggets of text is an ineffective and impracticable way to prepare for an exam. For the most part, you would finish up ignoring or mixing up more than half of the information. The best way to remember exam concepts is to rephrase them and put them into short notes that lead to the entire content. This way, you will be remembered less but convey more content into the exam.
Benefits of Earning the Microsoft Certified - Power Platform App Maker Associate Certification
Having relevant certifications can give you lots of benefits. And it's the same with earning the Microsoft Certified - Power Platform App Maker Associate certification by passing the PL-100 exam. Mentioned below are a few of the benefits you can relish:
1. You Can Confirm Your Skills
Just because you tell someone that you own definite skills, they won't clearly believe you unless you prove them. And even if they believe it, you will not be able to show your skills in the interview. A certification can help ease that matter. The primary cause of the Microsoft Certified - Power Platform App Maker Associate certification is to certify your skills and expertise to design, build, and deploy multi-device applications utilizing the Power Apps platform and tools.
2. Microsoft Certification is Accepted Globally
Microsoft is an organization at the highest level with regard to quality, reputation, or importance. So, everything produced by it is known to be of the best standard. So, an applicant with the Microsoft Power Platform App Maker certification is considered more skilled than non-certified peers.
3. Microsoft PL-100 Certification Draws Excellent Career Opportunities
Having different skills indicates that you are qualified to do better. And some jobs have the Microsoft Certified - Power Platform App Maker Associate certification as a hiring condition. This indicates you wouldn't have access to these jobs without said certification.
4. Increase Your Salary
Highly qualified professionals tend to make more money than uncertified peers. Passing Microsoft Power Platform App Maker PL-100 certification exam can make you qualified for more promising jobs with a higher salary.
Conclusion
Earning relevant certification is the best way to prove your skills. Though, to become certified, you have to pass different exams. Similarly, to obtain the Microsoft Certified - Power Platform App Maker Associate certification, you must pass the PL-100 exam. Now don't be disheartened by the fact that Microsoft exams are difficult to pass because with all the best resources at hand and the right amount of dedication, acing the PL-100 exam will be a piece of cake. Just follow the tips from the article and use reliable practice tests from Edusum.com to do your best in the exam! All the Best!