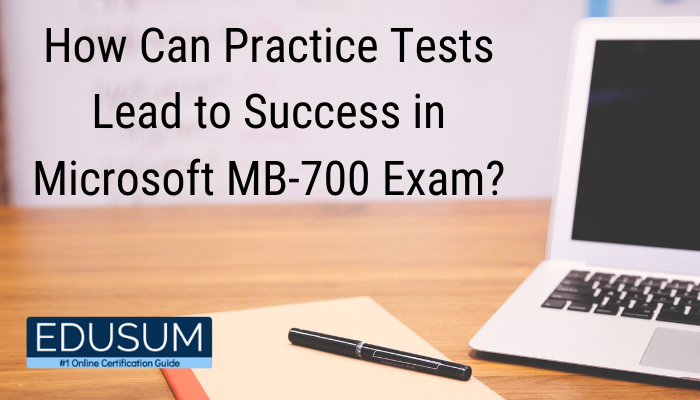 Microsoft Certified: Dynamics 365: Finance and Operations Apps Solution Architect Expert certification demonstrates the expertise to consult with organizations and the execution team to increase business requirements into an economical and explicit solution. To obtain this certification, you need to pass the MB-700 exam.
Targeted Audience
The target audience for the Microsoft MB-700 exam is IT professionals holding technical experience in Microsoft Dynamics 365. Yet, individuals aspiring to acquire knowledge in the Solution Architect Role can also take up this Microsoft exam.
Microsoft MS-700 Exam Topics
Architect solutions (25-30%)

Define solution strategies (25-30%)

Manage implementations (25-30%)

Manage testing (10-15%)
For a complete overview of the syllabus topics, visit the official Microsoft MS-700 exam webpage or Click here.
The percentage of each Microsoft exam topic is the possibility of that topic appearing in the exam. Understanding this makes knowledge about which topics you require to give more attention to.
Microsoft Dynamics 365 Finance and Operations Apps Solution Architect MB-700 Exam Preparation Tips
1. Stay Relevant
If you want to get through the MB-700 exam, you must stay relevant. There are plenty of ways to do that. Before everything, you can visit the Microsoft official webpage to acquire all the essential information regarding the MB-700 exam. Then you can participate in Microsoft's official community to be informed of all the happenings.
2. Engage in Groups
Aside from the Microsoft official website, there are lots of other websites, online study forums, and communities that you can join to interact with like-minded people. Join MB-700 exam groups, so you know whenever something is modified. Joining a relative forum or a community will help you learn all kinds of things. Like time duration, the number of questions, difficulty level of exam, and so on. Moreover, some tips to pass the MB-700 certification exam.
3. Obtain Study Resources
Attentively look for the options; tons of MS-700 study resources are available out there, and you don't want to get tricked.
4. Manage Your Time
After acquiring all the information, you require and obtaining MB-700 study resources. The next thing you need to do is to make a study schedule and follow it without fail. If you don't make a proper study schedule and aren't regular, there's a possibility you won't be able to study as much in the meantime.
5. Using MB-700 Practice Test
Practice tests are also one of the best means to prepare for your MB-700 exam. One reliable and updated online website to get Microsoft practice tests is Edusum.com. Performing the MB-700 practice test will give you a taste of the real exam but will also help you find out any weak areas in which you might need improvement. Taking practice tests is an ideal way to develop confidence and steadiness to ace a tough exam in a rigorous environment.
Benefits Of Passing Microsoft MB-700 Certification
Microsoft's certification is the most beneficial qualification that helps professionals receive a good position and professionals to get a better job than the existing one. More than 86% of managers prefer professionals that obtain relevant IT certifications. Let us explore the benefits of passing the Microsoft MB-700 certification exam.
1. Enhanced Adaptability
Latest technologies are evolving every day. Therefore, businesses and organizations require professionals who can embrace frequent technology developments and hold effective problem-solving skills. With Microsoft MB-700 certification, one can gain an understanding of the fundamentals of the software and the various apps that are available.
2. Enhanced Exposure
Individuals with exceptional skills are desired by organizations. Thus, standing out of the mass is difficult while searching for a new job or obtaining a promotion in a present job. Having Microsoft certification sets individuals apart from others by providing more extraordinary skills. Individuals can display their Microsoft certification on social media platforms or Linkedin and get great employment opportunities quickly.
3. Career Development Opportunities
One can reinforce the resume by adding Microsoft Certified - Dynamics 365 Finance and Operations Apps Solution Architect Expert certification. This will influence the hiring manager and allow an individual to ask for a salary hike. Furthermore, passing this Microsoft exam helps professionals receive better jobs and salaries in the present organization. Professionals with Microsoft certificates support organizations to be productive and thriving.
4. MB-700 Certification is Globally Accepted
Holding Microsoft certification fetches global acceptance. By passing the MB-700 exam, one can become a crucial part of any organization. Research has shown that Microsoft-certified professionals are 60% more competent and 90% more effective than others. Microsoft certification allows IT professionals to accomplish any intricate business operation with confidence and positivity.
Conclusion
With the Microsoft MB-700 exam, your skills in working with Microsoft technologies will be enhanced. In a cutting-edge competition, there is no gain without pain. Passing the Microsoft MB-700 certification exam demands dedication, effort, and persistence. This means you need to spend ample time learning and preparing for this Microsoft exam. The practice tests from Edusum.com, together with other study materials, are all intended to help you unlock your potential and reach your goals.