Python is one of the programming languages that evidences tremendous growth and prevalence year by year. It is the 4th leading programming language after the standard languages such as Java, C & C++. Python certifications are the standards that gauge your thorough knowledge about computer programming &, more especially, object-oriented programming. The market leader Microsoft provides certifications for a broad array of prevalent technologies like Java, JavaScript, and Microsoft Azure. These certifications are extremely valued in the IT community. Currently, Microsoft offers only a single Python programming certification put upon its certification list, the MTA 98-381: Introduction to Programming Using Python certification, which we will here in this article.
MTA 98-381: Introduction to Programming Using Python Exam Information
The 98-381: Introduction to Programming Using Python is a Python certification offered by Microsoft. The certificate is meant for applicants who can:
Write syntactically accurate Python code

Understand the different data types in Python

Interpret and modify existing Python code
After successfully passing the Microsoft 98-381 exam, the applicants will receive the MTA certification. Microsoft 98-391 certified professional can work with Python professionally and is qualified to delve into the advanced facets of the high-level, universal programming language and relevant technologies.
MTA 98-381 Exam Details
Name: Introduction to Programming Using Python

Code: 98-381

Total Number of Questions: 40

Duration: 45 minutes

Passing Score: 70%

Question Type: Drag & drop, a selection from the drop-down list, single-choice and multiple-choice questions

Level: Associate

Price: $127

Languages: English, French, German, Japanese, Korean, Portuguese (Brazil), Chinese (Simplified), Chinese (Traditional), and Spanish
Prerequisites
More than 100 hours of instruction/practical experience in the Python programming language, familiarity with the capabilities and features of Python, skill to understand, write, debug, and manage well documented Python code
MTA 98-381 Exam Objectives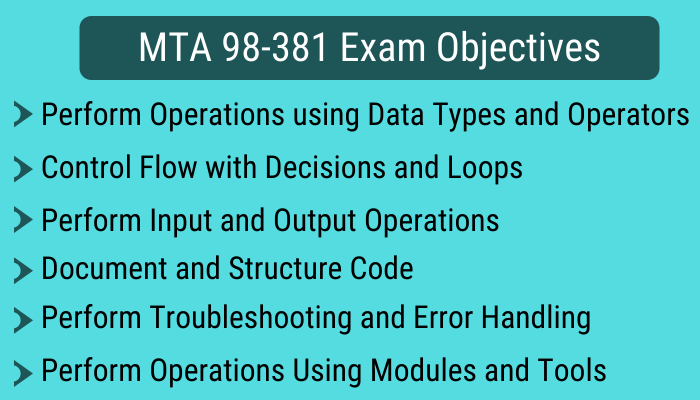 How to Prepare for MTA 98-381 Introduction to Programming Using Python Exam?
Being an important Python certification exam, Microsoft 98-381 is not an easy and regular one. It is a difficult exam. There is no way you can get through it without adequate preparation. This exam will be a key to the door of opportunities. Hence, you should be motivated to work hard and crack the exam with a flying score.
The following tips will help you prepare for your Microsoft Python certification 98-381 exam and pass it with good scores.
1. Know the 98-381 Exam Objectives
The Microsoft 98-381 exam questions are typically set on the basis of the exam objectives. So, to understand what you should study, you must first read through all the Microsoft 98-381 exam objectives.
2. Obtain the Best Study Resources
You need to work hard and smart to get through this Microsoft exam. But, you can only pass this Python certification exam if you use appropriate study resources. The worldwide web is saturated with sites, blogs, and forums that offer the best Microsoft 98-381 study resources. Unfortunately, not all of them provide reliable preparation resources. Some study resources are unauthentic, while others don't include all the information. Moreover, other resources comprise superficial information that won't be useful at all. Thus, before using any exam preparation materials, make sure that they are complete, updated, and reliable.
3. Take Instructor-Led Training
While some applicants prefer a self-study option when studying for the Microsoft 98-381 exam, some will benefit more from the instructor-led training course. You can enroll in a training course to learn everything that the 98-381 exam involves. When you enroll in such a training course, the instructor will explain the exam content and give you more exam-taking tips to improve your chances of passing the real exam.
4. Take Advantage of MTA 98-3881 Practice Test
MTA 98-3881 practice test will help you know what to expect in the real exam. Practicing with 98-381 exam questions gives you an insight into the exam and how to deal with the questions. With them, you can easily find out the areas that you still require to concentrate on. It's also important that you know how to identify MTA 98-381 practice tests are reliable or not. Remember that you need to get MTA 98-381 practice tests that are trustworthy, covering updated 98-381 exam questions and including all the exam objectives. You can take advantage of the most reliable MTA 98-381 practice tests offered by Edusum.com. Microsoft 98-3381 exam questions in practice test offered by the Edusum website are created in the actual exam format and can go a long way to assuring your success in the actual exam.
5. Be a Part of Online Community or Forum
There are plenty of Microsoft exam forums easily accessible on the Internet. You can explore the existing ones and enter into a study group that you feel most content with. The online community or forum must be active, and the members should take part in such forums professionally. Moreover, make sure that you join a group that discusses the Microsoft 98-381 exam doubts. When you join a forum, you will have the opportunity to communicate with those individuals who are also studying for the same exam as you. In addition, you will also interact with the experts in the field who have passed this Microsoft exam and will be ready to help you out with the most valuable information about preparation and exam-taking.
6. Watch Relevant Videos
Watching video tutorials should form a part of your Microsoft 98-381 exam preparation journey. Watch them online from reliable platforms.
Of course, Microsoft provides the applicants with some useful study resources. Though, you should use more than just those materials when studying for any Microsoft exam. Otherwise, you might skim over some essential pieces of information. Take training courses, watch relevant tutorial videos, go through articles and blogs, join forums, and use Microsoft 98-381 practice test, and so on. Using different exam preparation resources will help you have a thorough understanding of the complete syllabus.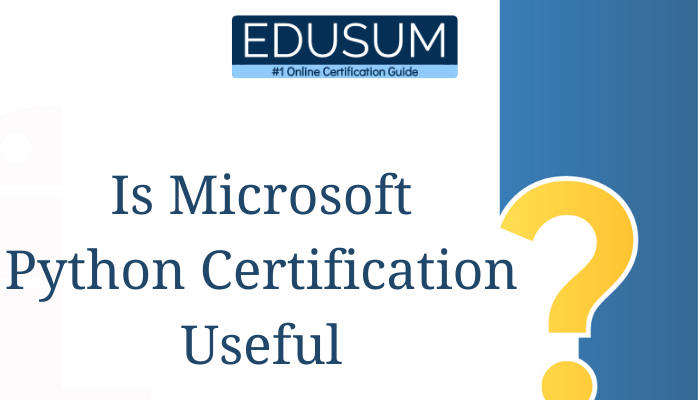 Advantages of Gaining a Microsoft Python Certification by Passing MTA 98-381 Exam
The prevalence of Python motivates the interest of many applicants, so certification will help you stand out among a pool of applicants. Here we are describing some of the benefits of Python certification:
Add Worth To Your Resume: Knowing Python programming language and being an authorized and certified Python programmer is two separate things. It offers proof of your knowledge and skills on the subject. Being a Microsoft Python certified programmer, you will be able to Value your resume and build a better impression among hiring managers.

Get Better Job Positions: Are you planning to switch careers? Presently, data science is a top career choice. Many organizations are inclined to engage those professionals having exceptional skills in Python. If you have a Microsoft Python certification, it will be easy to switch careers as it demonstrates that you have the required knowledge to manage and accomplish different projects.

Get Higher Salaries: Many hiring managers are likely to engage candidates who have a certification. It assists them in knowing that you are a proficient Python programmer. The certified professional can have a great salary package as it places you ahead in the competitive market and reveals your talent.

Expands Your Network: Once you obtain your MTA: Introduction to Programming Using Python certification, you become a member of skilled and certified professionals; some of them are already working and can help you to establish your dream career. These people share employment opportunities and referrals and are valuable peer support.
Conclusion
For apparent reasons, Microsoft certifications are among the most influential certifications across the world. Passing the MTA 98-381 exam is just one of the first steps to propel your IT career to the next level. Even though the 98-381 exam may offer such a huge syllabus to be studied, hard coupling work with the appropriate study resources gives you an edge as you work towards achieving your Microsoft Python certification quickly and hassle-free.